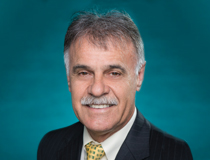 University of North Carolina Wilmington Chancellor Jose V. Sartarelli announced last week his plan to retire June 30, 2022.
UNCW officials said that during Sartarelli's tenure, the university and community worked together to overcome significant challenges in the aftermath of hurricanes Florence and Dorian, navigate the campus impacts of the COVID-19 pandemic and to focus more fully on issues of diversity, equity and inclusion.
For the past three years, UNCW has been one of three UNC System institutions ranked among the "Top 100 Public National Universities," according to U.S. News & World Report.
"The success that our students, faculty, staff and alumni have achieved in recent years has been nothing short of outstanding," Sartarelli said in a statement. "I am immensely proud to have served UNCW during such a pivotal time in history, and I want to thank the Seahawk community for making this great university so special. Leaving UNCW and the City of Wilmington will not be easy for my wife Kathy and me, but we are looking forward to a new adventure."
Sartarelli took office at UNCW July 1, 2015, after serving West Virginia University as chief global officer and Milan Puskar Dean of the College of Business and Economics. Before transitioning to education, he spent three decades in international marketing and management with Eli Lilly and Co., Bristol Myers Squibb and Johnson & Johnson.
"Chancellor Sartarelli has taken UNC Wilmington to new heights, leading with ambition all while handling serious challenges posed by hurricanes and the pandemic," said UNC System President Peter Hans. "UNCW has increased its student population by nearly 40 percent in the past decade under the Chancellor's direction, providing quality educational opportunities to more North Carolinians and expanding campus facilities to meet that growth. I'm so grateful for his steady and visionary leadership, and I know all Seahawks join me in thanking him for his service to UNCW and the state."
Sartarelli said that announcing now will give the UNCW Board of Trustees, Hans and the UNC System Board of Governors nine months to conduct a national search for the next chancellor.
A native of Brazil, Sartarelli earned his bachelor's from the São Paulo School of Business Administration in São Paulo, Brazil. He then attended Michigan State University as a Fulbright Scholar, earning a master's in marketing and his doctorate in business administration.
"What an exciting experience this has been for me and my wife Kathy, and my service to UNCW isn't finished yet," Sartarelli said, reflecting on his tenure thus far. "There's more to be done this year, and I am eager to be a part of helping our great university continue to focus on achieving excellence in everything we do. Go Seahawks!"