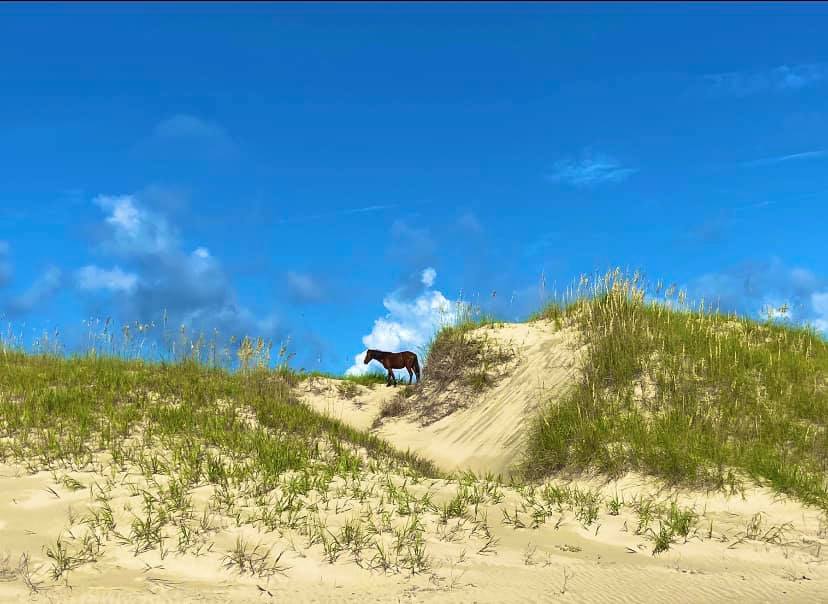 The Museum of the Albemarle will be "Celebrating the Banker Ponies" with the Corolla Wild Horse Fund 10 a.m. to 1 p.m. Saturday, Sept. 11.
Visitors to the event can learn about the wild Colonial Spanish horses of the Outer Banks — and meet one — as well as participate in hands-on activities at the facility, 501 S. Water St., Elizabeth City.
The film, "The Secret of Corolla: The Gift from the Outer Banks," produced by Jerry Thompson will premiere at 11 a.m. in the museum's Gaither Auditorium. Visitors will hear about the wild Colonial Spanish horses found on the Outer Banks and how they have made a home. Thompson of Big Dog Films and Meg Puckett, herd manager of the Corolla Wild Horse Fund will be available to answer questions.
Visitors can also meet children's book author, Kelley Grinder Horton. She will be at the museum to sign copies of her book, "Sebi the Colt: A New Life," a tribute to a young boy, Sebastian Lopez, and his mother Ravann Horton of the Outer Banks. A mustang colt was named after Sebastian when his and his mother's deaths in May 2020 preceded its birth by just a few days. Mother and son spend their days on the beaches of Corolla as a reincarnated Wild Spanish Mustang Colt, and a beautiful Black Raven.
Visit www.museumofthealbemarle.com to learn more about the museum that serves Bertie, Camden, Chowan, Currituck, Dare, Gates, Hertford, Hyde, Northampton, Pasquotank, Perquimans, Tyrrell, and Washington counties. The museum is the northeast regional history museum of the North Carolina Division of State History Museums.