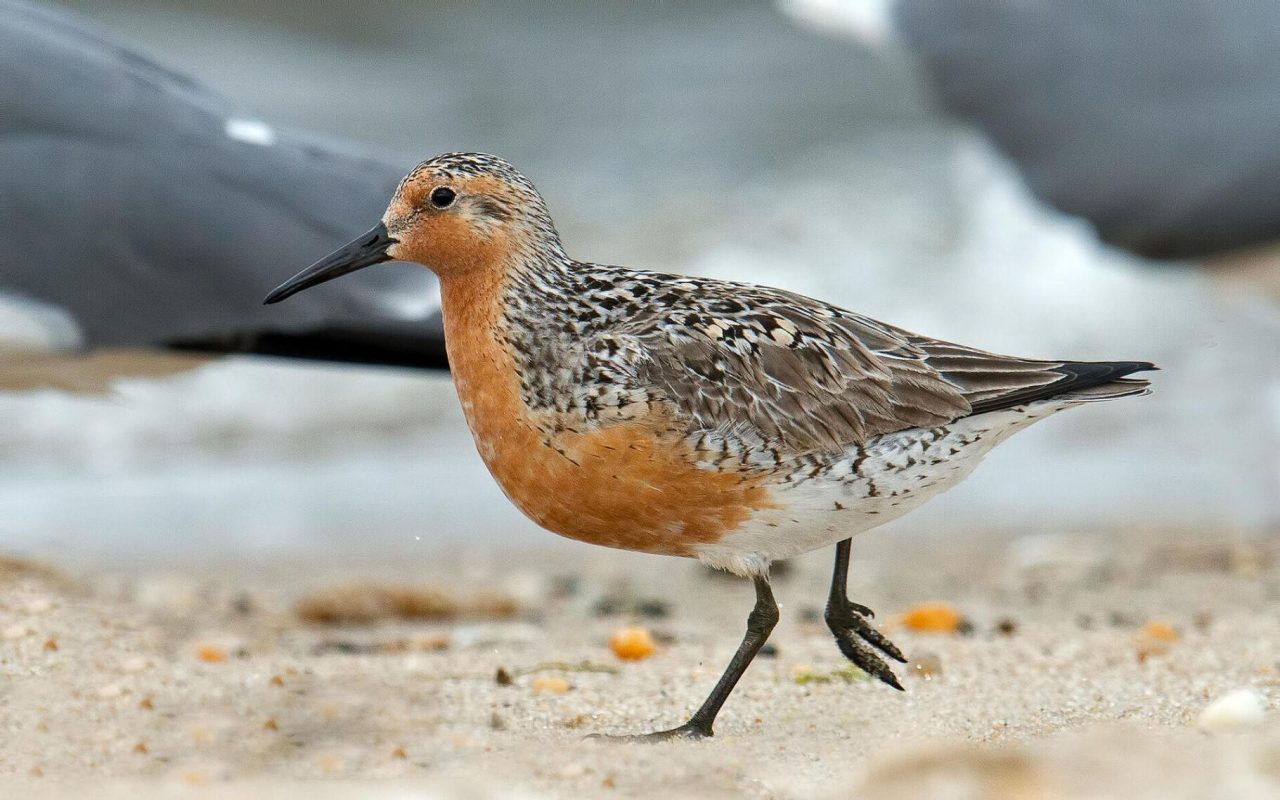 Reprinted from Carteret County News-Times
WASHINGTON, D.C. — A small shorebird might eventually pose new challenges for beach nourishment, dredging and other activities on beaches in Carteret County.
On July 15, the U.S. Fish and Wildlife Service proposed establishing critical habitat on all oceanfront Bogue, Core and Shackleford banks beaches for the rufa red knot. An online public meeting on the proposal has been set for later this month.
"We have been waiting for roughly five to six years for the US Fish and Wildlife Service to designate red knot shorebird critical habitat subsequent to listing the species as 'threatened' in late 2014," Carteret County Shore Protection Office Manager Greg Rudolph said in an email Monday. "Our position, in written comments, focused on the fact that wedo not possess major spring stopover areas and (we) contended the county should not be included in the critical habitat designation."
The rufa red knot is a robin-sized sandpiper with a wingspan of about 20 inches and a ruddy head. The bird is known for its 10,000-mile migration from the southern tip of South America to the Arctic and back each year, generally visiting North Carolina in the spring.
The red knot's U.S. coastal range overlaps with those of loggerhead sea turtles and piping plovers and the USFWS noted a major factor in the recent decline of the red knot was reduced food supplies in Delaware Bay due to commercial harvest of horseshoe crabs, Rudolph added.
"If the county's shorelines are designated as critical habitat for the red knot, then we requested the exact overlays already in place for the piping plover as meeting the red knot's critical habitat needs, as the piping plover overlays have yet to cause major permitting or land-use issues," he said.
The only piping plover critical habitat in the county is at The Point at Bogue Inlet in Emerald Isle, he said.
But, Rudolph said, "USFWS ignored our comments and factual arguments and are proposing to designate all of Bogue Banks oceanfront and Core Banks/Shackleford Banks as critical habitat."
Other North Carolina areas proposed as critical habitat for the rufa red knot are beaches of Hatteras Island in Dare County, Ocracoke Island in Hyde County, Topsail Beach in Pender County, Fort Fisher in New Hanover County and Sunset Beach/Bird Island in Brunswick County.
"We're very concerned," Rudolph said last week in a meeting of the County Beach Commission, which advises his office. "At the least, (critical habitat) is another thing to deal with."
He said the county might engage legal representation to fight the designation.
But this year, according to an email from the National Audubon Society, the number of rufa red knots visiting the Delaware Bay beaches during this spring's northbound migration was the lowest since counts began almost 40 years ago. A New York Times article referenced by Audubon in the email, published June 2, states the survey found only 7,000 of the rufa species of the red knot this year, less than a third of the number spotted in 2020 and less than a quarter of the number identified in 2018 and 2019.
Audubon for years has made saving the red knot from extinction one of its top priorities.
Lindsay Addison, a Wilmington-based coastal biologist with Audubon North Carolina, said in an email Tuesday that, given the declines in the population of the bird, "we are supportive of the USFWS's decision to list rufa red knots under the Endangered Species Act and to designate critical habitat for them.
"When knots stop over on migration, it's critical for them to find abundant food," she continued. "They feed on coquinas, mole crabs, and other intertidal invertebrates. It's like when you're on a long road trip and you need to find a gas station and a McDonald's to keep going. That's why barrier island beaches in NC are part of the proposed critical habitat units."
Addison said critical habitat designation helps ensure the knots' habitat requirements are taken into consideration when projects are evaluated by regulatory agencies.
"Anytime a project takes place where a listed species occurs, the USFWS does an evaluation and recommends modifications as needed, but having critical habitat designated helps to focus evaluation on the habitat features the species needs most," she said.
According to USFWS, critical habitat designation habitat "does not affect land ownership or establish a refuge, wilderness, reserve, preserve or other conservation area." However, it requires all federal agencies, in consultation with USFWS, ensure "any action they authorize, fund, or carry out is not likely to result in the destruction or adverse modification of critical habitat."
The USFWS is proposing critical habitat in Massachusetts, New York, New Jersey, Delaware, Virginia, North Carolina, South Carolina, Georgia, Florida, Alabama, Mississippi, Louisiana and Texas. In its Federal Register posting of the areas, USFWS states the birds "depend on multiple foraging and roosting habitat areas on local, regional, and range-wide scales.
It also states the birds' shore habitat is threatened by rising sea level and shoreline stabilization, and its food supply has been diminished by a decline in the population of horseshoe crabs, as a result of the commercial harvest for use of their blood in pharmaceuticals and their bodies in fertilizer.
The public comment meeting on the critical habitat designations for the rufa red knot, a subspecies of the red knot, will be held virtually Aug. 18.
To attend the public hearing virtually, visit zoom.us/meeting/register/tZAqc-yhqzMqE9PUvFbQ6JyhrJ1Rl4kmtS62.
This story is provided courtesy of the Carteret County News-Times, a newspaper based in Morehead City. Coastal Review Online partners with the News-Times to provide our readers with news of the North Carolina coast.