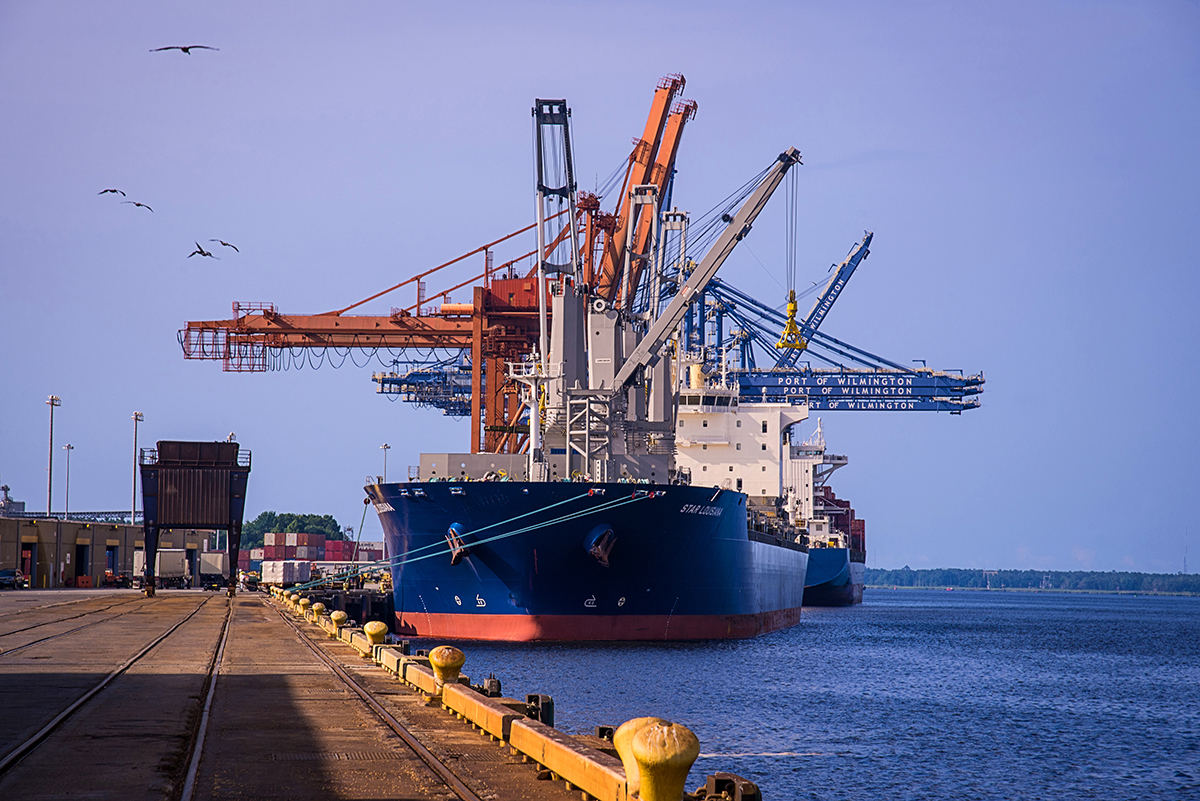 Updated 3:30 p.m. to include comment from Gov. Roy Cooper.
Prospects for major federal infrastructure legislation that would send billions to North Carolina for resiliency, transportation, ports and clean water projects improved dramatically this week with the announcement of a new framework agreement calling for $1.2 trillion in spending over the next eight years.
The final draft of the legislation has yet to be introduced, but a procedural vote in the Senate Wednesday evening drew 17 Republican supporters, seven more than needed to overcome a filibuster, including North Carolina Sens. Thom Tillis and Richard Burr. All 50 Senate Democrats voted for the measure.
Tillis joined a bipartisan group of 20 senators hailing the agreement.
"We appreciate our colleagues on both sides of the aisle, and the administration, working with us to get this done and we look forward to earning broad, bipartisan support among our Senate colleagues for this historic legislation," the statement read in part.
If it were to become law — a big if, but far more likely today than Tuesday — the legislation would be the largest public infrastructure investment since the creation of the Interstate Highway System in the mid-1950s.
"I support the bipartisan infrastructure package advanced by the Senate as it will help North Carolina emerge from this pandemic stronger than ever," Gov Roy Cooper said Friday in a response provided by staff. "Funding for roads, bridges, public transit, rail, high speed internet access and more will help our communities recover and become more resilient to natural disasters." 
How the funds would be prioritized and distributed and any appropriations for specific projects or initiatives are to be spelled out in the days ahead as the Senate debates amendments on the bill, but a spending breakdown in a fact sheet distributed by the White House after the deal was announced offers a first look at the initial $579 billion in spending.
It includes the largest federal burst of resiliency funding with $47 billion designated for both infrastructure and projects in natural and working lands.
The largest portion of the framework is $312 billion for transportation with $109 billion for roads, bridges and other major projects, $49 billion for public transit, $66 billion for passenger and freight rail upgrades, $25 billion for airports, and $16 billion for ports and waterways, which includes $2.5 billion designated for ferry systems.
The prospect of a major boost in federal funding comes as high growth and aging infrastructure is driving discussions about how to increase transportation spending. A recent state report calls for an increase of $20 billion in transportation investments over the next decade.
Broadband infrastructure aimed at rural and underserved communities would receive $65 billion in funding. Water infrastructure, including a plan to eliminate the use of lead pipes in all public water systems, is budgeted at $55 billion.
Another $71 billion would be used to upgrade the nation's power grid. Accelerated Superfund site cleanup and other environmental remediation would be funded at $21 billion.
Although at this point the exact impact in North Carolina is hard to discern, the size of the framework agreement portends an unprecedented surge of funds should the bill become law. And it could be just the start.
Democrats intend to link the legislation with a larger $3.5 trillion bill aimed at housing, schools, caregiving assistance and research innovations. That legislation would move through the budget reconciliation process, which requires only a simple majority to pass.
It also includes large-scale investments in green energy and climate resiliency, including flood mitigation and solutions focused on the use of natural and working lands, areas that dovetail with state efforts proposed in this year's North Carolina General Assembly session.
President Joe Biden said Wednesday that resiliency is a key part of the plan.
"Americans will strengthen our infrastructure, like our levees, in the face of extreme weather like superstorms, wildfires, droughts, hurricanes, and heat waves," Biden said in a statement.
The White House fact sheet also touts the framework agreement as "the largest investment in the resilience of physical and natural systems in American history"
It notes that road and bridge improvements will be focused on "climate change mitigation, resilience, equity, and safety for all users, including cyclists and pedestrians."
In interviews following the announcement of the Senate framework, Transportation Secretary Pete Buttigieg said climate mitigation and resiliency will be an important part of the overall transportation strategy and part of the requirements for any projects seeking funding.
Forward progress
U.S. Senate leaders intend to move forward on both the infrastructure deal and the reconciliation package in the coming weeks. The legislation would then move to the House.
Last week, House Speaker Nancy Pelosi said the House would only take up the bills in tandem.
U.S. Rep. David Price, a Democrat who represents the state's 4th district that includes the Triangle, chairs a key House appropriations subcommittee, called the Senate infrastructure deal an important step forward in investing in communities in North Carolina.
"While narrower than I would prefer, this compromise plan includes vital investments in roads, bridges, ports, and water infrastructure that would benefit all North Carolinians," Price said Thursday. "I'm pleased to see it also includes plans to mitigate future natural disasters, like hurricanes and threats from rising sea levels, by funding climate resilience for infrastructure construction and upgrades."
Price, who chairs the Transportation, Housing and Urban Development Appropriations Subcommittee, stressed that the larger reconciliation plan remains necessary as well.
"While this package represents progress, we cannot lose sight of America's pressing need for a broader package that makes simultaneous investments in affordable housing, climate resiliency, and our care infrastructure," he said.
The White House fact sheet on the Senate framework includes the following funding levels:
| | |
| --- | --- |
| | Amount (billions) |
| Total | $579 |
| Transportation | $312 |
| Roads, bridges, major projects | $109 |
| Safety | $11 |
| Public transit | $49 |
| Passenger and Freight Rail | $66 |
| EV infrastructure | $7.5 |
| Electric buses / transit | $7.5 |
| Reconnecting communities | $1 |
| Airports | $25 |
| Ports & Waterways | $16 |
| Infrastructure Financing | $20 |
| Other infrastructure | $266 |
| Water infrastructure | $55 |
| Broadband infrastructure | $65 |
| Environmental remediation | $21 |
| Power infrastructure incl. grid authority | $73 |
| Western Water Storage | $5 |
| Resilience | $47 |
*New spending + baseline (over 5 years) = $973B
*New spending + baseline (over 8 years) = $1,209B