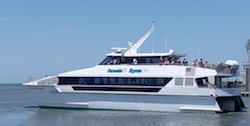 Reprinted from the Outer Banks Voice
Passenger ferry service aboard the Ocracoke Express will begin May 25 and will operate through Sept. 9.
During the tourist season, travelers between Hatteras and Ocracoke Village can reach their destination by passenger or vehicle ferries that already serve the popular route.
Departures from Hatteras: 9:30 a.m., 1 p.m. and 4:30 p.m.
Departures from Ocracoke: 11 a.m., 3 p.m. and 8 p.m.
The fares are $5 per person one way and $1 per bicycle one way. The crossing time to Ocracoke Village is 70 minutes.
The ferry whisks as many as 96 passengers per trip across the Pamlico Sound directly into Ocracoke Village and in walking distance of all the village has to offer, from dining to shopping to strolls along the waterfront.
The Silver Lake Ferry Terminal is within easy walking distance of most of Ocracoke's shops and restaurants. Hyde County also provides free tram service around the village, and bikes and golf carts are available for rental near the ferry terminal.
Although not required, reservations are recommended. Make a reservation by calling 1-800-BY-FERRY or Book online.