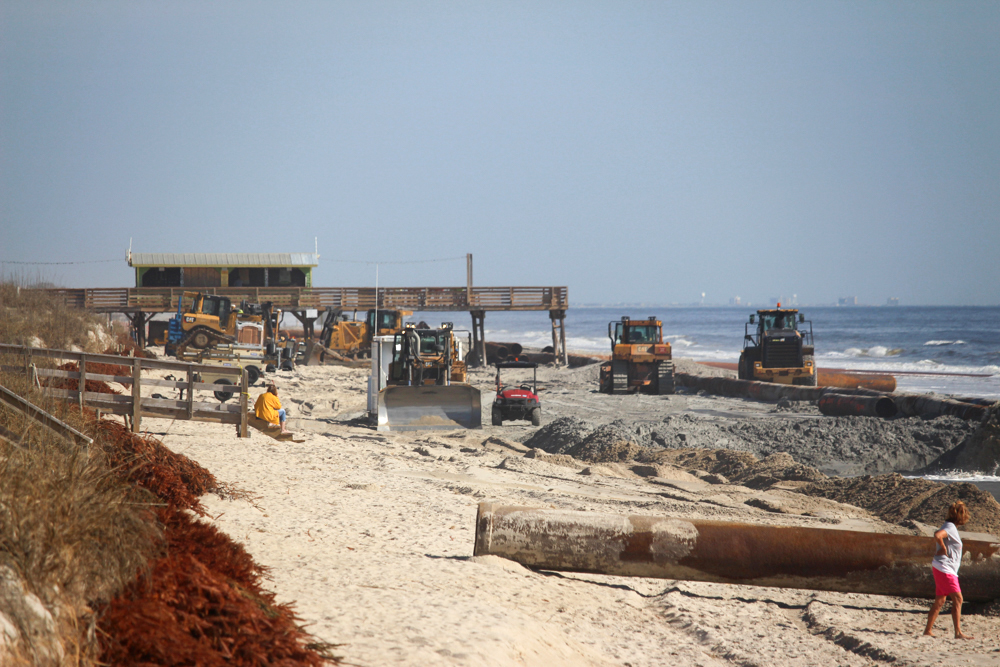 More than a month has passed since New Hanover County's beach towns were shocked to learn their longstanding shoreline maintenance projects did not receive federal funding, leaving them in a scramble to figure out how they may move forward with nourishing the beaches this fall.
"We are still trying to find out what happened and we're working toward a remedy," said Tim Buckland, New Hanover County intergovernmental affairs manager.
County and town officials have been elated at the news that beach nourishment projects in Carolina Beach, Kure Beach and Wrightsville Beach were authorized under the Water Resources Development Act, or WRDA, which was included in a $1.4 trillion omnibus spending package former President Donald Trump signed into law Dec. 27, 2020.
After projects receive federal authorization, federal appropriations for the projects still have to be approved.
The omnibus spending bill included the Energy and Water Development Appropriations Act, which doled out more than $53 million for operations and maintenance projects within the Corps' Wilmington District.
The Corps delivered its fiscal 2021 Work Plan for the Army Civil Works program to Congress on Jan. 19. That plan does not include appropriations for New Hanover County's beach nourishment projects.
"It was quite a surprise when the work plan was released," Buckland said. "We went from elation to disappointment."
Officials were anticipating another round of federal funding and, when they didn't get it, they were caught off guard, New Hanover County's Shoreline Protection Manager Layton Bledsoe said.
"This is maintenance money that we've been getting for years," he said. "Historically, the nonfederal has been cost-shared by the state 50/50. In this maintenance event, the federal contribution would have been 65% for Kure Beach, 65% for Wrightsville Beach and 50% for Carolina Beach."
The projects were first authorized in Wrightsville and Carolina Beaches in the mid-1960s, according to information provided by the Corps. Kure Beach's project was authorized in 1997.
"These are some of the earliest (Coastal Storm Risk Management) projects in the Corps," Emily Winget, a public affairs specialist with the Corps' Wilmington District, said in an email.
For Carolina Beach and Kure Beach, these maintenance projects occur every three years. Wrightsville Beach's project is completed every four years.
Every 12 years the maintenance cycles align. This is the year all three projects were set to take place at the same time.
The plan is to inject between 700,000 to 750,000 cubic yards of sand onto about 8 miles of Carolina Beach's ocean shoreline. That same amount of sand will be spread across just under 3 miles on Wrightsville Beach's shore.
Kure Beach is set to get about 500,000 cubic yards on nearly 4 miles of its beachfront.
Federally authorized beach maintenance projects are highly sought after by beach towns up and down the North Carolina coast as a way to fortify shorelines to protect infrastructure in coastal storms, be they hurricanes or powerful winter nor'easters.
"I think the projects speak for themselves," Bledsoe said. "I don't recall in the past several years any structural damage from ocean or wave overwash in the projects' templates."
"Simply put, they work," Buckland said.
Local officials are hoping to kick off the projects this year after the Nov. 16 environmental window opens, but the work may be pushed back a year if federal funding is not made available.
"The board (of county commissioners) and the (county) manager and the municipalities will be sitting down soon, I understand, and a firmed-up direction will be put forth," Bledsoe said.
In the meantime, Corps officials are looking into possible funding options.
"The Corps is evaluating funding alternatives for Wrightsville, Carolina Beach and Area South (Kure Beach) renourishments and is working with the sponsors to be transparent as we move forward," Winget said.
The push to allocate federal funding for the projects is backed by Republicans Rep. David Rouzer and Sen. Thom Tillis.
"The projects in question were reauthorized for funding by this past Congress," Rouzer said in an emailed statement. "However, when Congress banned earmarks years ago, all specific funding decisions were removed from the Legislative branch and given to the Executive branch. Therefore, the Army Corps of Engineers determines which projects they fund with the tax dollars appropriated by Congress. Demand for dollars nationwide far outstrips the supply, even when Congress appropriates more funding for the Army Corps accounts as it did this past Congress. While we're disappointed the work plan put forward by the Army Corps' national office did not include funding for these projects, we are supporting efforts by the Army Corps' Wilmington District office to reallocate funds unused from other projects where and if possible."
Tillis spokesperson Adam Webb said in an email that the senator "has been actively engaging on the funding issues facing the Carolina Beach and Wrightsville Beach renourishment projects."
"He has been in touch with the U.S. Army Corps of Engineers and other members of the delegation to coordinate and explore other funding options to ensure these critically important projects can move forward."