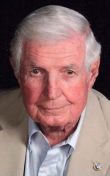 Former Elizabeth City mayor, Henry Richard "Rick" Gardner, died Sunday, Feb. 21, 2021, at home. He was 94.
Gardner served as a city councilman from 1989-1991 and as mayor of Elizabeth City from 1993-1999.
His service will be at 11 a.m. Saturday at Twiford Memorial Chapel with Wayne Gardner officiating.
Born in Chesterfield, South Carolina, March 18, 1927, to the late John Gardner and Amy Shaw Gardner, Rick was one of 12 children, seven brothers and four sisters. He was the husband of Lydia Worsley Gardner.
Gardner graduated from Chesterfield High School in 1944. He served his country in the U.S. Army and the Merchant Marines in the Atlantic and Pacific War Zones during World War II. Working at Southern Bell Telephone Co. from 1948 to 1955, he then joined Gardner Construction Co. as the office manager until he was appointed corporation president in 1961. In 1983 Rick founded the Rick Gardner Co. Inc, a company specializing in commercial and industrial construction in North Carolina, Virginia and Florida.
Gardner served on the board of directors of the former Centura Bank, the Elizabeth City State University Foundation, the Elizabeth City Chamber of Commerce, Friends of ECSU, and as chairman of Coastal Resources Advisory Council. He also served on other boards and committees such as chairman of the Pasquotank Board of Elections, chairman of the North Carolina Seafood Industrial Park Authority, member of the Girls Club Board, and a former member of the Elizabeth City Council.
In 1994, he received an honorary degree presented by Elizabeth City State University. He was also in various fraternal organizations.
In addition to his wife, he is also survived by his children, Cathy Arnold and husband Charlie, Andrea Gardner Miller and husband Brian, Wayne Gardner and wife Catherine, all of Elizabeth City; stepchildren, Kelly Clark and husband Kent of Burlington, Claudia Boyd of Arlington, Virginia, and Troy Boyd, Jr. and wife Sandra of Elizabeth City; brother, Reece Gardner of Kinston; 16 grandchildren; and 10 great-grandchildren.
He was preceded in death by his siblings, Dorothy Hart, Sally Bryan, Louise Harrell, Mary Copeland, Clarence Gardner, Fred Gardner, Doug Gardner, John Gardner, Jack Gardner, and Jerry Gardner.
In lieu of flowers, memorial donations may be made to Albemarle Hopeline, P.O. Box 2064, Elizabeth City, NC 27906.
Arrangements are by Twiford Funeral Home of Elizabeth City. Online memorial condolences may be sent to the family at www.TwifordFH.com.