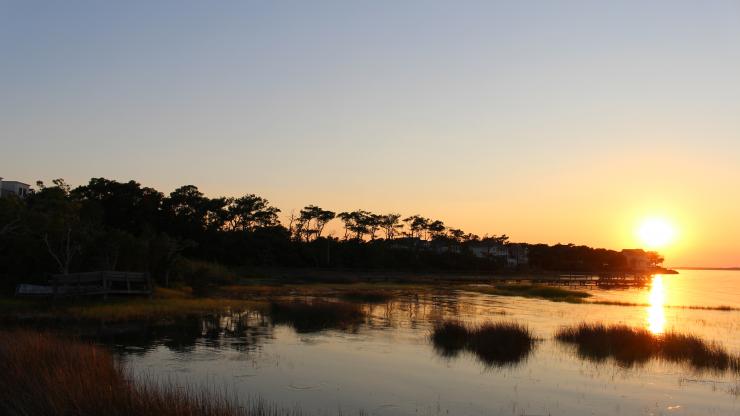 A new law expands an Environmental Protection Agency program to protect and restore estuaries of national significance, including in North Carolina.
The Protect and Restore America's Estuaries Act, which had bipartisan support and that President Trump signed Wednesday, also nearly doubles the annual funding authorization for the National Estuary Program established in 1987 as a result of amendments to the Clean Water Act. Program funding supports grants and research proposals that address the increasing threats to estuaries, such as pollution, accelerated land loss and risks to biodiversity in 28 estuaries.
"These actions demonstrate a clear recognition by Congress of the economic and environmental importance of wetlands and coastal environments in the United States," Rob Shane of the national nonprofit Restore America's Estuaries said in a press statement. The organization established in 1995 leads a national alliance of 10 coastal conservation organizations that protect and restore bays and estuaries as essential resources.
Rep. Tom Malinowski, D-N.J., a member of the House Transportation and Infrastructure Committee, was the original sponsor of the bill introduced in July 2019. Fellow committee members Reps. Lizzie Fletcher, D-Texas, and Garret Graves, R-La., were cosponsors.
"Estuaries nurture a vast array of marine life, filter pollutants from rivers before they reach the sea, and are the natural infrastructure that protects human communities from floods and storms," said Malinowski. "As extreme weather events increasingly threaten these nurseries of the sea, I'm very proud this important legislation was signed into law, so these critical waterways will continue to be protected."
In addition to funding grants, the National Estuary Program ensures that the management plans governing nationally significant estuaries consider the effects of increasing and recurring extreme weather events and develop and implement appropriate adaptation strategies. It also expands eligibility for grants to organizations working to address storm water runoff, coastal resiliency and accelerated land-loss issues.
The Albemarle-Pamlico National Estuary System is a study area in the nonregulatory program, which develops and implements long-term conservation and management plans based on local priorities. The Albemarle-Pamlico National Estuary Partnership was among the first 28 National Estuary Programs and works to identify, protect and restore significant resources in the Albemarle-Pamlico estuarine system under an agreement with the EPA and the Commonwealth of Virginia.
Last year, APNEP, along with the North Carolina Commission of Indian Affairs and others, began work to develop a project to increase engagement among Tribal communities, government agencies and universities to bring in these communities' cultural perspectives regarding the impacts of climate change.