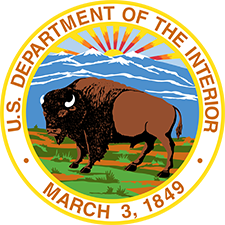 The Biden-Harris administration announced Wednesday first-day appointees of key leaders for the Department of the Interior who are tasked with addressing COVID-19, economic recovery, racial equity and climate change.
"With today's announcement, President Biden is delivering on his commitment to build teams that exude talent and experience, and look like America," Jennifer Van der Heide, incoming chief of staff, said in a statement. "We look forward to working with the dedicated civil servants at the Department to fulfill Interior's missions, advance President Biden's vision to honor our nation-to-nation relationship with Tribes and uphold the trust and treaty responsibilities to them, address the climate and nature crises, and build a clean energy future that creates good-paying jobs and powers our nation. We are ready to get to work on behalf of the American people."
More than 80% of the appointees announced Wednesday identify as people of color, women or LGBTQ. Additional members of the Biden-Harris appointee team are to be named in the days ahead. All appointees received an initial ethics training Thursday following their swearing-in, according to the administration.
Biographies of the new team listed below were provided by the Biden administration:
Robert Anderson, Principal Deputy Solicitor — Anderson is a law professor with experience in American Indian law, public land and water law. He is an enrolled member of the Bois Forte Band of the Minnesota Chippewa Tribe. He taught at the University of Washington School of Law and directed its Native American Law Center for the past 20 years. For over a decade he has been an annual visiting professor at Harvard Law School. He served as the associate solicitor for Indian Affairs and counselor to the secretary under Interior Secretary Bruce Babbitt. He began his career as a staff attorney for the Native American Rights Fund.
Travis Annatoyn, Deputy Solicitor for Energy and Mineral Resources — Annatoyn joins the Department of the Interior from Democracy Forward Foundation, where he represented national and regional conservation organizations in novel challenges to the Trump administration's environmental agenda. He began his litigation career as a trial attorney at the Department of Justice's Environment and Natural Resources Division, and holds a bachelor's from the University of Michigan and a J.D. from Columbia University.
Ann Marie Bledsoe Downes, Deputy Solicitor for Indian Affairs — Bledsoe Downes most recently served as the executive vice president of Community Impact and Engagement at Ho-Chunk Inc. She previously served as the deputy assistant secretary for Policy and Economic Development for Indian Affairs at the U.S. Department of the Interior and as Interim Director of the Bureau of Indian Education. She was also Executive Director of the Indian Legal Program at Arizona State University. She received a bachelor's from Wayne State College and a J.D. from Arizona State University Sandra Day O'Connor College of Law. She is an enrolled member of the Winnebago Tribe of Nebraska.
Tyler Cherry, Press Secretary — Cherry most recently served as director of Rapid Response for the Biden-Harris Arizona coordinated campaign. Before joining the campaign, Tyler was Director of Public Affairs at the political consulting firm SKDK, where he crafted and executed strategic communications plans for dozens of political, advocacy, corporate, and legal clients. He also previously worked at Media Matters for America as a campaigns associate and researcher. Tyler is a Los Angeles native and graduated from UCLA with a political science degree. He lives in Washington, D.C. with his partner and two exuberant cats.
Laura Daniel Davis, Principal Deputy Assistant Secretary Land and Mineral
Management — Daniel Davis has more than two decades of experience in the public and nonprofit sectors. She served as chief of staff to Interior Secretaries Sally Jewell and Ken Salazar in the Obama administration. She was most recently the chief of policy and advocacy for the National Wildlife Federation.
Shannon Estenoz, Principal Deputy Assistant Secretary, Fish and Wildlife and Parks — Estenoz most recently was the chief operating officer of The Everglades Foundation. Previously, Estenoz served as Interior's director of Everglades Restoration Initiatives and executive director of the South Florida Ecosystem Restoration Task Force. Estenoz's 24-year career in conservation includes roles with the World Wildlife Fund and the National Parks Conservation Association, and appointments by three Florida Governors including to the Governing Board of the South Florida Water Management District. Estenoz is a fifth generation native of Key West, Florida, and holds degrees in International Affairs and Civil Engineering from Florida State University.
Morgan Gray, Deputy Director of Congressional Affairs, Senate — Gray has nearly two decades of experience in the Senate and House of Representatives working on climate, energy and environmental policy. Prior to joining the Department, he served as legislative director for Sen. Edward J. Markey, D-MA, where he oversaw the senator's policy agenda. Gray previously served as Markey's senior policy advisor, directing his climate and energy policy, and before that as a senior staffer on the House Natural Resources Committee and on the staff of the House Select Committee on Energy Independence and Global Warming. Gray graduated from Pomona College and is originally from Lincoln, Massachusetts.
Ruchi Jain, Deputy Solicitor for General Law — Before joining Interior, Jain was the Pro Bono Counsel for the Washington, D.C., office of Kirkland & Ellis LLP. Previously, Jain served as special assistant to President Obama, where she worked with other senior White House officials on federal agency management, executive branch nominations and personnel matters. She held several other roles in the Obama-Biden White House and the Department of Justice. She began her career in private law practice. Jain has a J.D. from Georgetown University Law Center and a bachelor's from Rice University.
Kate Kelly, Deputy Chief of Staff, Policy — Kelly most recently was the public lands director at the Center for American Progress. During the Obama administration, Kelly served as senior advisor to then-Secretary of the Interior Sally Jewell and also served as communications director on behalf of Secretary Jewell and former Secretary of the Interior Ken Salazar. Prior to joining the Interior Department, Kelly worked in the U.S. Senate. Kelly received her bachelor's degree from Washington University in St. Louis and hails from Colorado.
Marissa Knodel, Advisor, Bureau of Ocean Energy Management — Knodel is a passionate advocate for climate and environmental justice through a just and equitable transition to a clean energy-based society, and resilient adaptation to a changing climate. As legislative counsel with Earthjustice, her area of expertise included federal onshore, offshore, and Arctic oil and gas leasing and regulations. Prior to joining Earthjustice, Knodel managed a campaign at Friends of the Earth to stop new fossil fuel development on federal lands and waters. Knodel holds a dual J.D. and Master of Environmental Management degree from Vermont Law School and the Yale School of the Environment.
Shantha Ready-Alonso, Director for Intergovernmental and External Affairs — Ready-Alonso served as executive director of Creation Justice Ministries, Community Mobilization Manager for NETWORK Catholic Social Justice Lobby, and director of the National Council of Churches Poverty Initiative. Ready-Alonso is listed among the 2018 "Grist 50 Fixers" and is the recipient of the 2020 National Council of Churches USA J. Irwin Miller Excellence in Ecumenical Leadership award. Ready-Alonso holds a Master of Social Work from Washington University in St. Louis and a Master of Pastoral Studies from Eden Theological Seminary. She did her undergraduate studies at the University of Notre Dame.
Paniz Rezaeerod, Deputy Director of Congressional Affairs, House — Rezaeerod previously served on the staff of Rep. Joe Cunningham, SC-01, where she was responsible for legislation to ban offshore drilling, protect irreplaceable natural resources, and secure full and permanent funding of the Land and Water Conservation Fund through the Great American Outdoors Act. Prior to Rep. Cunningham's office, Paniz worked for the House Financial Services Committee and for CoBank. A first-generation American born in Iran and raised in South Carolina, Paniz is a graduate of Sewanee: The University of the South.
Melissa Schwartz, Communications Director — Schwartz is a strategic communicator and adjunct professor with two decades of experience in government, the private sector, and at nonprofit organizations. She most recently served as senior advisor to Dr. Jill Biden. As chief operating officer at The Bromwich Group for nine years, projects included coordinating communications strategy to protect the Arctic National Wildlife Refuge, raise awareness of the rape kit backlog and gender-based violence, defend national monuments and the ocean, and facilitate a just transition for coal communities. Schwartz is a former senior spokesperson for the U.S. Departments of Justice and Interior, and Sen. Barbara Mikulski, D-Md.
Janea Scott, Counselor to the Secretary — Scott was most recently a commissioner and vice chair of the California Energy Commission. Scott also served as the Vice Chair of the Western Interconnection Regional Advisory Body and is a member of the Western Interstate Energy Board and the Department of Energy's Hydrogen and Fuel Cell Technical Advisory Committee. Scott previously worked at Interior as the Deputy Counselor for Renewable Energy and at Environmental Defense Fund as a senior attorney. She earned her J.D. from the University of Colorado Boulder Law School and her master's of science and bachelor's of science in earth systems from Stanford University.
Rachael Taylor, Principal Deputy Assistant Secretary, Policy, Management and Budget —Taylor most recently served on the U.S. Senate Committee on Appropriations for nearly 16 years. In her role as Democratic clerk of the Subcommittee on the Interior, Environment, and Related Agencies, she negotiated a $38 billion annual appropriations bill and oversaw the budgets of federal environmental, tribal and cultural agencies. Taylor has also served in several other legislative and executive branch roles during her career, including in the Office of Vice President Al Gore. A West Virginia native, she received a B.A. from the University of North Carolina Chapel Hill and a Master in Public Administration from American University.
Maggie Thompson, White House Liaison — Thompson was most recently the North Carolina State Advisor and Chief of Staff for the Biden campaign and currently serves on the campaign's Education Unity Task Force. Thompson was also the State Director for Elizabeth Warren's presidential campaign. She is the former executive director of Generation Progress, the youth engagement arm of the Center for American Progress. Thompson also worked in the Obama administration at the White House Council on Environmental Quality and in the office of the Director at U.S. Citizenship and Immigration Services. She graduated with a degree in economics and classical archaeology from Macalester College.
Maria "Camille" Touton, Deputy Commissioner, Bureau of Reclamation — Touton returns to Interior after serving as professional staff for the U.S. House Committee on Transportation and Infrastructure. She was the staff lead on the resiliency provisions enacted as part of the Water Resources Development Act of 2020. Touton's congressional experience also includes serving as professional staff for Interior's authorization committees: the Senate Energy and Natural Resources Committee and the House Natural Resources Committee. Camille also served as Interior's Deputy Assistant Secretary for Water and Science under the Obama administration. Camille holds a BS in Engineering (Civil), BA in Communication Studies, and a Master of Public Policy.
Tanya Trujillo, Principal Deputy Assistant Secretary, Water and Science — Trujillo is a water lawyer with more than 20 years of experience working on complex natural resources management issues and interstate and transboundary water agreements. She most recently worked as a project director with the Colorado River Sustainability Campaign. Before then, she served as the executive director of the Colorado River Board of California. She has served as senior counsel to the U.S. Senate Energy and Natural Resources Committee and as Counselor to the Assistant Secretary for Water and Science at Interior. A native New Mexican, Trujillo attended Stanford University and the University of Iowa College of Law.
Jennifer Van der Heide, Chief of Staff — Van der Heide has over 25 years of federal, state and local experience in legislative, legal and electoral sectors. She most recently served as chief of staff for Congresswoman Deb Haaland, and had been Chief of Staff and Political Director for Rep. Mike Honda. Van der Heide previously served as the Washington Director and on-reservation Tribal Attorney for the Hoopa Valley Tribe; Tribal Attorney for California Indian Legal Services; and in private litigation practice in CA. She has a B.A. in International Relations from Tufts University, and a J.D. from UC Hastings College of the Law in San Francisco, with a focus on public interest law.
Andrew "Drew" Wallace, Director of Congressional Affairs — A native of Houston, Texas, Wallace has worked in senior policy roles in both houses of Congress. Over the last 12 years, he has served in the office of former Sen. Tom Udall, D-N.M., finishing as chief of staff. Wallace has a record of significant contributions to bipartisan legislative successes across a range of issues, in particular energy, the environment, and conservation. He received a B.A. in Political Science from Kenyon College in Ohio and a J.D. from George Mason University School of Law in Virginia. Drew lives in Arlington, Virginia, with his wife and two sons.
Martha Williams, Principal Deputy Director, Fish and Wildlife Service — Williams focused on public lands and wildlife, first as attorney for the Montana Department of Fish, Wildlife & Parks, then as deputy solicitor Parks and Wildlife at the Department of the Interior, as a professor at the Blewett School of Law at the University of Montana, and most recently returning to the Montana Department of Fish, Wildlife and Parks as its Director.