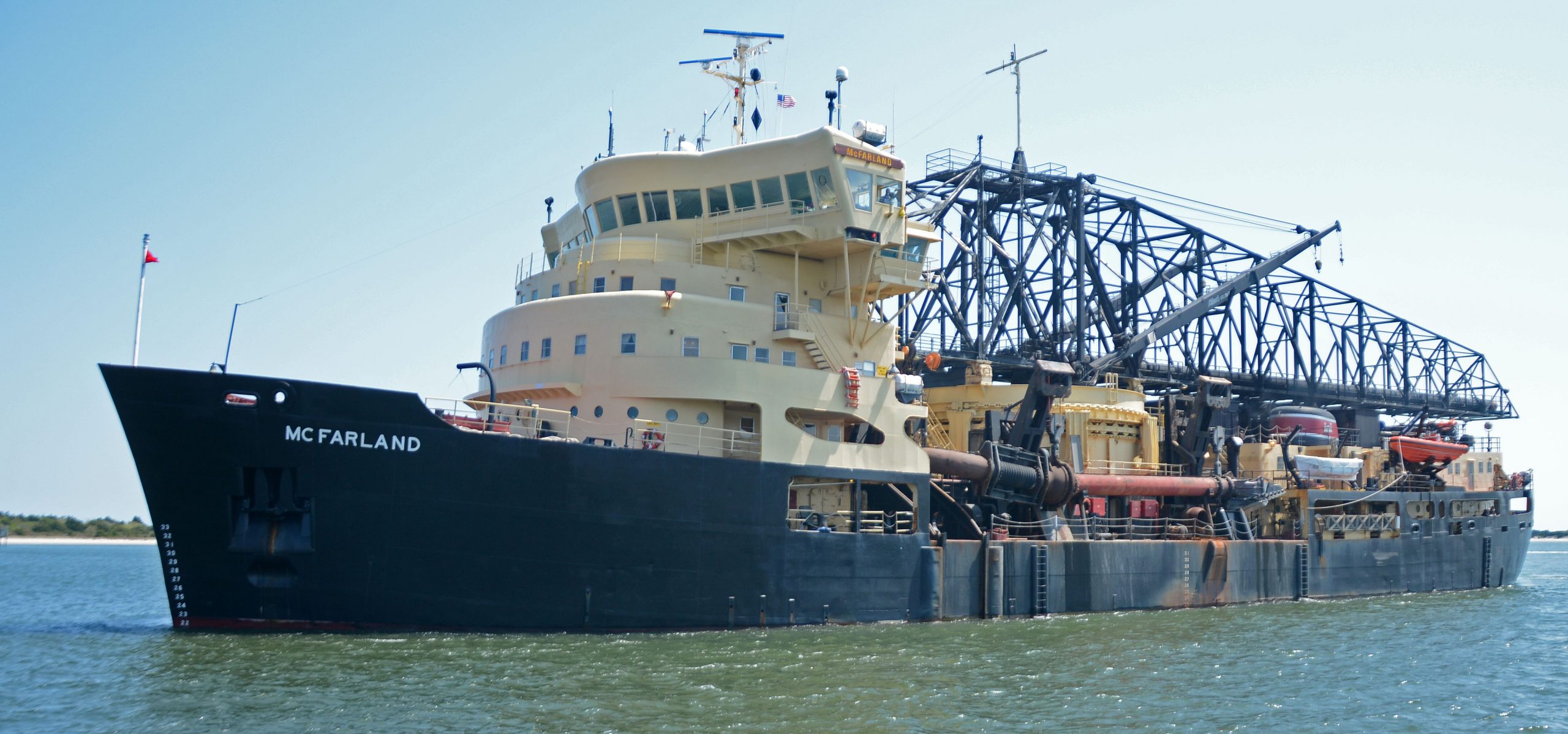 Harbors at North Carolina's ports may now be maintained year-round under a new agreement between the state and the U.S. Army Corps of Engineers.
The North Carolina Division of Coastal Management recently approved the Corps' request to eliminate the seasonal dredging window at the ports in Morehead City and Wilmington.
The Corps may clear the outer portions of the channels using a hopper dredge and bed leveling, where plow-like equipment is used to level out ridges and trenches created during dredging, any time of the year through Dec. 31, 2023.
In an addendum to its original proposal to eliminate the seasonal dredging window, the federal agency will monitor and report dredging and bed leveling impacts on various species and their environment within the channels.
DCM spokesperson Christy Simmons said in an email that the Corps' modeling, monitoring and reporting data will be done in coordination with state and federal partners.
"The three-year period will provide additional time to expand on initial data collection efforts that were conducted during the summer 2020 Beaufort Inlet dredge event, to include modeling and monitoring of Cape Fear Inlet in addition to Beaufort Inlet," Simmons said. "The findings will be important in further evaluating future seasonal moratoria for hopper dredging and bed leveling in these areas."
The Corps added the monitoring and reporting data following concerns raised by various agencies, including the North Carolina Division of Marine Fisheries and North Carolina Wildlife Resources Commission, environmental groups and local governments.
In their comments to DCM on the original proposal to permanently eliminate the dredging window, fisheries officials said completely removing that window is inconsistent with North Carolina Marine Fisheries Commission policies and the North Carolina Coastal Habitat Protection Plan pertaining to estuarine waters.
State wildlife resources officials as well as the National Marine Fisheries Service also expressed concerns about the Corps' environmental assessment, or EA, released last August.
WRC indicated resource impacts were not adequately addressed in that EA and National Marine Fisheries Service officials said the Corps' assessment did not "review the historically successful application of environmental windows."
The Corps began requesting the state drop its environmental dredge window about three years ago, a move that agency officials say will give them more flexibility to maintain the deep-draft channels and save millions of dollars.
The confines of North Carolina's hopper dredging window, which is Dec. 1-April 15, compound the Corps' Wilmington District when it comes time to bid for a dredging contract.
Hopper dredges are in short supply. There are 13 available for the East Coast from Maine to Florida and across the Gulf Coast to Texas.
In 2017, Wilmington District came under the Corps' Regional Harbor Dredge Contract, or RHDC, which includes the agency's districts in Charleston, South Carolina, and Savannah, Georgia.
By obtaining regional contracts, the Corps is able to lower costs for its harbor maintenance projects.
Wilmington District is the only one within the RHDC that has an environmental window for hopper dredging.
That, however, has not resulted in the districts having to pass a dredging cycle because they could not secure a hopper dredge.
Prior to the regional contract, projects in the Morehead City Harbor had to wait another dredging cycle because of hopper dredge availability.
A hopper dredge vacuums material from the channel floor and holds that material on the vessel. They are the preferred dredge to maintain portions of the harbors leading to the state's ports because they are more efficient, safer and economical, compared to other types of dredges, according to the Corps' EA.
Emily Winget, a Wilmington District public affairs specialist, stated in an email responding to questions that a dredging schedule is not yet available at the ports.
"A schedule will be developed following receipt of appropriations," she said. "The Deep Draft EA was written to address the entrance channels maintenance dredging on Wilmington Harbor project as currently constructed, requesting permission to be more flexible as to when the entrance channels can be dredged. With approval, future maintenance dredging contracts, will be awarded based on funding availability; contractor availability; and current shoaling. It is anticipated that these reaches will not be dredged more often, but possibly at different times of the year."
The material removed from the channels is placed within preapproved offshore disposal sites, not on adjoining beaches.
Corps officials have said the agency's disposal practices of dredge material and placement of that material will not change with the elimination of the environmental window, a concern raised by both environmental groups and local governments.
"As long as the Corps adheres to the original dredge dimensions, methods and disposal areas the state has originally authorized under previous consistency reviews, no additional authorization is needed," Simmons said in an email. "The Corps has historically notified DCM before any dredging activities."
Several fish species are present in the project areas between the months of April and June. Those include the following: Atlantic sturgeon, American Atlantic sturgeon, American shad, river herring, shad, white shrimp, blue crab, gag grouper and summer flounder.
Protections for federally listed species, including Atlantic sturgeon, are included in the National Oceanic and Atmospheric Administration's South Atlantic Regional Biological Opinion, or SARBO, for dredging and material placement.
SARBO dates back to the late 1980s to early 1990s.
In March 2020, NOAA updated SARBO to include consideration of all listed species under the Endangered Species Act while easing some restrictions on dredging time frames.
The trade-off is that the Corps will ratchet up monitoring and coordination efforts with NOAA.
In its addendum to DCM, the Corps' monitoring and reporting in the Beaufort and Cape Fear inlets will include the following:
Hydrodynamic modeling to better understand seasonal transport, plume dynamics, tidal dynamics and flushing rates.
Monitoring and reporting any capture of non-listed species on hopper dredges and capture relocation trawlers to state fisheries. Those include state-managed species blue crab, red drum, spotted sea trout, silver perch, weakfish, flounder, Atlantic croaker, Atlantic menhaden, spot, alewife, American shad, blueback herring, striped bass, hickory shad, sea mullet, sheepshead, black drum, Florida pompano, bluefish, coastal sharks, hard clam and eastern oyster; and federally-managed species shrimp, grouper, snapper, black sea bass, sharks, triggerfish, dolphin and porgy.
Monitoring sediment plumes and their impact on water quality and marine ecology and sampling water quality before, during and after dredging and bed leveling operations, during extreme weather and king tides.
Collecting tissue samples from injured or dead sea turtles to assess whether they are disproportionately impacted by hopper dredging outside of the environmental window.
Injured or dead turtles will be transferred from the dredge operation to the North Carolina Wildlife Resources Commission for evaluation and analysis.