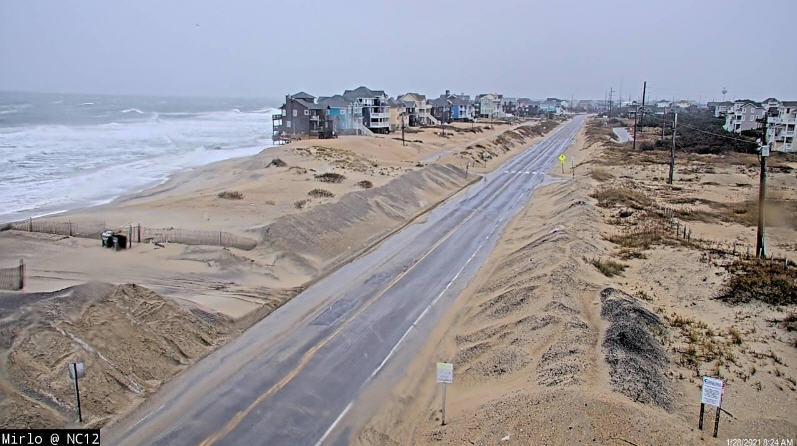 The North Carolina Department of Transportation's ferry division announced on social media Thursday that ferry routes in the northeast region of the state have been affected by high winds.
The Cedar Island-Ocracoke, Swan Quarter-Ocracoke and Hatteras-Ocracoke ferries were all offline Thursday because of the wind.
The Currituck-Knotts Island route was suspended Thursday morning but NCDOT announced at midday that the ferry was back on schedule. Wind gusts of 40-50 mph were reported at Hatteras and on Pamlico Sound. Winds were expected to die down later Thursday.
The Southport-Fort Fisher, Cherry Branch-Minnesott Beach and Bayview-Aurora routes were also running on schedule Thursday.
Snow flurries were reported on both Hatteras and Ocracoke islands Thursday morning but there was no accumulation on the southern Outer Banks, the Island Free Press reported. Standing water and blowing sand were also reported in several vulnerable stretches of N.C. 12, including Pea Island and Ocracoke Island, but there were no reports of saltwater flooding.
N.C. 12 was open and passable but there was wind-blown sand on the highway in some areas, and road crews were to be out Thursday to move the sand back into place, NCDOT posted on social media shortly before noon Thursday.
A coastal flood  advisory and wind advisory for eastern North Carolina was in effect until 7 p.m. Thursday and a high surf advisory remained until 1 p.m. Friday, according to the National Weather Service office in Newport.
Any lingering moisture on the roadways was expected to likely freeze Thursday night, possibly resulting in icy spots during the night and into Friday morning. Wind chill values in the teens were forecast for Thursday night and Friday morning.