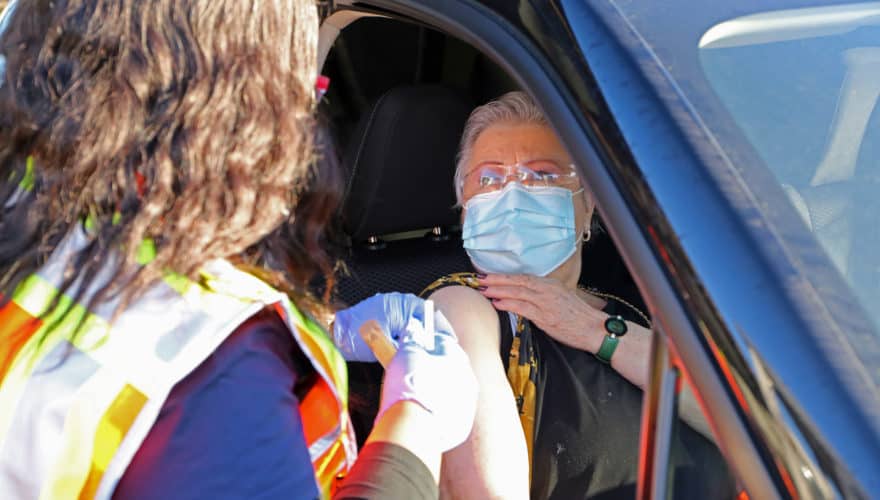 From a North Carolina Health News report
Since North Carolina received its first allocation of the vaccine against COVID-19, North Carolina Health News has been inundated with queries from readers as to where they can find information on getting vaccinated.
As of early January, the state is in the early phases of the vaccine rollout, vaccinating people in groups 1a, which is health care workers fighting COVID-19 and long-term care staff and residents, and 1b, adults 75 years or older and frontline essential workers.
As manufacturing and distribution speed up, the state will proceed into different phases. Some counties will move into different phases at different times depending on the number of health care workers, older adults, prisoners, teachers and other priority groups.
"Every county is making their own roll out plans, so no two are alike in their approach," wrote Leah Holdren, a spokesperson for Wake County Government in Raleigh.
Vaccine rollout is expected to stretch into the spring, even the summer, for lower priority groups. That means unvaccinated people will have to continue wearing masks and keeping their distance for a few more months.
North Carolina Health News reached out to the 85 state county health directors — some of the state's 100 counties share health departments, as well as used information from county websites, social media pages and press releases.
Visit the state website to find your spot to take your shot or get more detail about the vaccine phases.
Beaufort County
According to the county health department website Beaufort is still in phase 1a of vaccination. Next phase will be phase 1b.1, estimated to begin mid-January, which includes anyone 75 years or older, regardless of health status or living situation.
More information can be found on the Beaufort County Health Department Facebook Page
Bertie, Camden, Chowan, Currituck, Gates, Hertford, Pasquotank and Perquimans Counties
Information is available on the Albemarle Regional Health Services Facebook page.
Brunswick County
According to a press release from the Brunswick County Health and Human Services, those 75 years or older could start on Wednesday scheduling required appointments with county health services for a COVID-19 vaccine as part of the health department's transition to phase 1b group 1 of the state's vaccination plan.
Under phase 1b group 1, anyone 75 years or older, regardless of medical condition or residency, who does not live in a congregate living facility is eligible to receive the free vaccine from Brunswick County Health Services.
The department's release said officials are not aware of other health care providers in Brunswick County offering vaccinations as of Jan. 5. Individuals should check their provider's communication channels for more information on their vaccination plans. Individuals can still request a vaccine from Health Services if they have a different health care provider.
The health department will only schedule appointments 9 a.m. to 5 p.m. Monday through Friday at 910-253 2339.
More information can be found on the Brunswick County Facebook Page, Brunswick County Health and Human Services COVID information page,  or  at http://brunswickcountync.gov/news.
Carteret County
The Carteret Health Care is now taking COVID vaccination appointments for individuals in phase 1b group 1, 75 years or older, according to the department's Facebook page. No walk-ins will be accepted. Residents who are 75 and older can call to make an appointment at either Carteret County Health Department at 252-728-8550 Select option 2 or Carteret Health Care at 252-499-6185.
More details are on the Carteret County Facebook Page or Carteret Health Care webpage.
Craven County
CarolinaEast Health System and the Craven County Health Department are currently working to vaccinate phase 1a priority groups, which consists of health care workers caring for and working directly with patients with COVID-19, including staff responsible for cleaning and maintenance in those areas, and health care workers administering vaccine, according to a statement on the health department's Facebook page.
CVS and Walgreens pharmacies are working to vaccinate long-term care staff and residents.
Patients of CarolinaEast or CCHC, will be contacted directly by their medical provider's office to have vaccine appointments scheduled. Patients of CarolinaEast and CCHC do not need to call their physician's office.
The Craven County Health Department will soon begin vaccinations of the phase 1b priority groups which consists of individuals 75 years of age and older, health care workers and frontline essential workers. Health Department patients 75 years of age and older will be called by the Health Department to schedule their visit so there is no need for those patients to call for an appointment.
The statement notes there are about 16,000 people who are 75 and older and there's uncertainty about how many doses the county will receive in a given week. A COVID-19 vaccine call center is being established to answer questions and schedule vaccination appointments for those who will not be called by their medical providers to be scheduled. That call center will go live on Jan. 11.
Where can people find out more information?
Craven County COVID-19 vaccine information page
Craven County Health Department Facebook Page
Dare County
Dare County Health Department is now accepting registration information for Priority phase 1b, group 1, individuals 75 and over. Submit information online or call the COVID-19 call center at 252-475-5008.
The county is receiving a very limited amount of the vaccine each week. Dare County receives an email each week from the state, typically on the weekend, with how much vaccine they will be receiving that coming Monday. On Dec. 21, they received 400 doses, on Dec. 29 300 doses on on Jan. 4, 200 doses.
The state is releasing general information but it is up to the county health department to provide the specific details and make the arrangement to schedule the vaccination clinics, register recipients, etc.
Individuals from the appropriate phase will be scheduled as the vaccine supply allows. Based on the anticipated number of individuals 75 and older who wish to receive the vaccine and the amount of vaccine the county may receive each week, it will likely be the beginning of February before phase 1b, group 2 can register appointments.
Visit www.darenc.com/covidvaccine or the NC DHHS website at  www.covid19.ncdhhs.gov/vaccines for more information.
Hyde County
Those 75 years of age or older living in
Hyde
County
, both mainland and island, are eligible for the vaccine, according to a
release
Wednesday from the county health department.
The Ocracoke Health Center will receive the
vaccine
to immunize islanders but residents can go to the mainland for vaccination. Call the Ocracoke Health Center at 252-928-1511 or the mainland at 252-926-4399 to schedule an appointment. For 24/7 on-call services, dial 1-866-462-3821, the Coronavirus Hotline.
New Hanover County
Since announcing on Tuesday that New Hanover County Public Health would transition into the next phase – phase 1b, group 1 – of the state's vaccination rollout plan, the county has scheduled 3,000 individuals to receive a COVID-19 vaccine.
Based on the limited vaccine supply made available to the county, all appointments are now full and have been scheduled through Jan. 12.
"There are around 17,000 people who are 75 and older in New Hanover County," wrote Health and Human Services Director Donna Fayko in a press release. "And we are trying to get to as many of them as possible, as quickly as we can – but we can only vaccinate as many people as the doses we have. We hope to receive an additional supply from the state next week, but at this time we don't know when or how many that will be."
When additional vaccine is received from the state, more timeslots will be available to those in phase 1a and phase 1b, group 1, or those 75 and older. When that occurs, an announcement will be shared with the community, the press release said.
For up-to-date on local vaccination efforts, phases, and frequently asked questions, visit Health.NHCgov.com/Coronavirus.
Onslow County
Onslow County as of Friday is only accepting registration forms to schedule an appointment for those 75 and older. There are two documents on the website that must be completed and emailed to OCHD-Vaccine@onslowcountync.gov. Onslow County Health Department staff will contact the applicant to schedule an appointment. Call the Citizens Phone Bank 910-989-5027 for additional questions.
Pamlico County
The Pamlico County Health Department is distributing the Moderna vaccine for COVID-19. Visit the website for detailed information on how the vaccine will be administered and how to register
Pender County
"We started phase 1b, group 1 today (Jan. 5), which is those individuals 75 years of age and older," wrote county health director Carolyn Moser.  "We will remain in this phase and group until we are satisfied that anyone want the vaccine receives it."
She said the county receives weekly emails with shipment dates and number of doses. Three shipments have been received to date for a total of 1300 doses. More details are on www.pendercountync.gov.
Tyrrell, Washington Counties
Residents of Martin, Tyrell and Washington counties can register for the vaccine online or by calling 252-793-3023. As of Jan. 6, the counties are vaccinating groups 1a and 1b.
This article first appeared on North Carolina Health News and is republished here under a Creative Commons license.
North Carolina Health News is an independent, non-partisan, not-for-profit, statewide news organization dedicated to covering all things health care in North Carolina. Visit NCHN at northcarolinahealthnews.org.