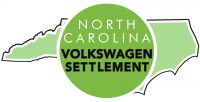 Those interested in installing zero-emission vehicle, or ZEV, charging units through Phase 1 of the North Carolina Volkswagen Mitigation Settlement Program can attend a webinar next week to learn more about the application process.
The Request for Proposals (RFP) for the Level 2 ZEV Charging Infrastructure Program will help applicants apply for funding to install light-duty Level 2 charging projects as described in the North Carolina VW Mitigation Plans.
During the webinar set for 1-2:30 p.m. Jan. 13, North Carolina Department of Environmental Quality's Division of Air Quality staff will answer questions about new user access to the DAQ Grant Management System, request for proposals, Level 2 application and required documentation. Register to attend through the form.
Level 2 is one of three types of charging unit for ZEVs. An hour charge for Level 1 is 2 to 5 miles of range and 10 to 20 miles of range for Level 2. For DC Fast Charging 20 minutes of charge is a 60 to 80 miles of range.
Applications, which will be accepted in the grant management system the starting at noon Jan. 25, will be approved on a first-come, first-served basis until funds are exhausted.
DEQ anticipates awarding the allocated 25% of the Phase 1 ZEV infrastructure allocation, or about $1.1 million, to these Level 2 charging infrastructure projects. Increasing the use of ZEVs in place of gas-powered cars is to mitigate nitrogen oxides, particulate matter, and greenhouse gas emissions in the state.
The Volkswagen Mitigation Settlement is the result of Volkswagen admitting that it violated the Clean Air Act in 2015 by installing illegal software on some of its diesel vehicles. The vehicles with the illegal software emit up to 40 times the allowable levels of nitrogen oxides. Settlement agreements of $14.7 billion nationally were agreed upon to resolve matters related to the violations.
North Carolina has been allocated $92 million in Volkswagen settlement money and is seeking public input on how to use the funds. The Department of Environmental Quality manages the state's share of the national settlement. More than $27 million in potential funding is available in the first round of funding, according to DEQ.
For additional information and documents regarding the RFP, please visit: https://deq.nc.gov/volkswagen-settlement/level-2.