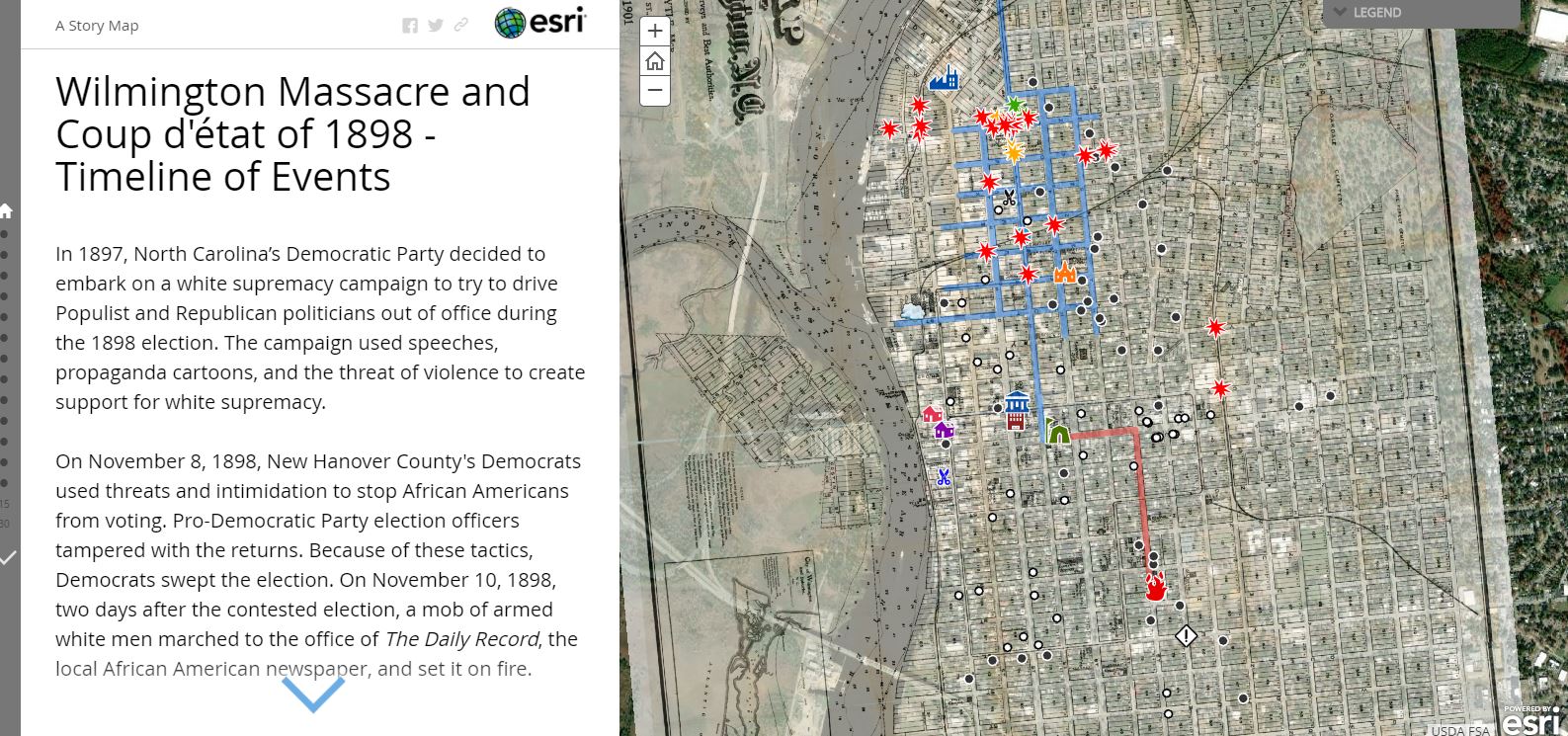 A new online resource allows the public to explore the context and history of the 1898 massacre and coup that took place in Wilmington.
A collaborative effort of the New Hanover County's Cape Fear Museum of History and Science, Public Library and Information Technology Department, the resource features a detailed map of events and important landmarks of the time as well as a timeline that starts with emancipation and ends when the first Black city council member since the coup was appointed in 1972, the county announced Monday.
The new online tool may be accessed at bit.ly/NHC1898MapTimeline.
The resource was written and created by Jan Davidson, historian at Cape Fear Museum, and evolved out of a project to digitize three late 19th century and early 20th century city directories, which were transcribed, mapped and made searchable to provide a way to view the city's population at the time.
It was designed as part of the museum's continuing efforts to provide inclusive information that addresses African American experiences in the Lower Cape Fear, according to the museum.
"This resource is an accessible and engaging way to explore the history of Wilmington's white supremacist massacre and coup d'etat. We're happy to provide it to people at this time, when the subject matter is so relevant, and people cannot visit the Museum in person or see our exhibition on the topic," Davidson said in a statement. "We can all learn important lessons from the history of 1898 about the role of democracy in our society, and about the deep, longstanding, and violent effects that racism can have on a community."
In addition to the map and timeline, the New Hanover County Public Library digitized three Wilmington city directories that provide information about the people and businesses in the city in 1897, 1900 and 1902, accessible at bit.ly/NHCLibWilmDirect.
New Hanover County's IT Department also created a set of demographic maps that show where the African American population of Wilmington was concentrated in the late 1890s and early 1900s, accessible at bit.ly/NHCLibDemoMaps.
These tools are all resources to help people better understand Black history and an important moment in the region and state's history.