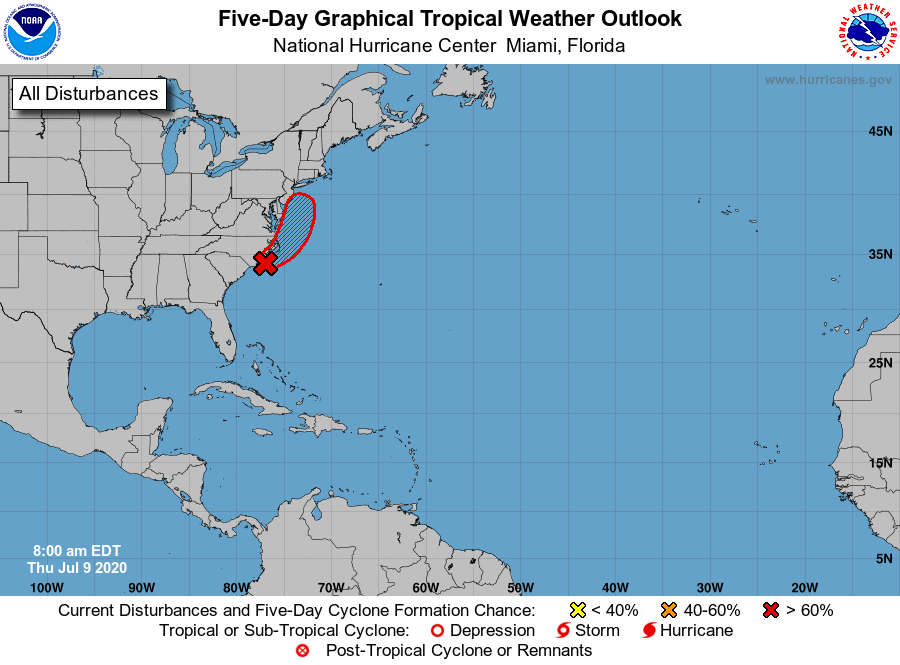 8 a.m. Thursday
Though the chance of the low pressure just off the North Carolina coast developing into a tropical or subtropical cyclone later Thursday is likely, about 80%, the heavy rains are expected to stay off the coast, according to the Thursday morning briefing from the National Weather Service's Morehead City/Newport office.
There is the chance of brief, tropical downpours Thursday that may produce brief ponding of water in low spots and urban areas.
Wind is expected to be light though there may be a few gusts between 20 and 30 MPH over the Outer Banks, because of the area's proximity to the storm.
The storm is expected to lift north and east Friday, away from the area.
2 p.m. Wednesday
Eastern North Carolina could see heavy rainfall, gusty winds and minor flooding through Friday.
A low pressure near the coast of northeastern South Carolina Wednesday is expected to move near or just offshore of the Outer Banks Thursday and possibly cause gusty winds, according to the National Weather Service.
The rain is expected to continue through Friday, when the forecast has the system tracking to the north, up the eastern seaboard.
Conditions will likely be conducive for development, and a tropical or subtropical cyclone could form within the next day or so, according to the 2 p.m. Wednesday tropical weather outlook. The low pressure has a high chance, 70%, of development over the next two days and a 70% chance of developing over the next five days.