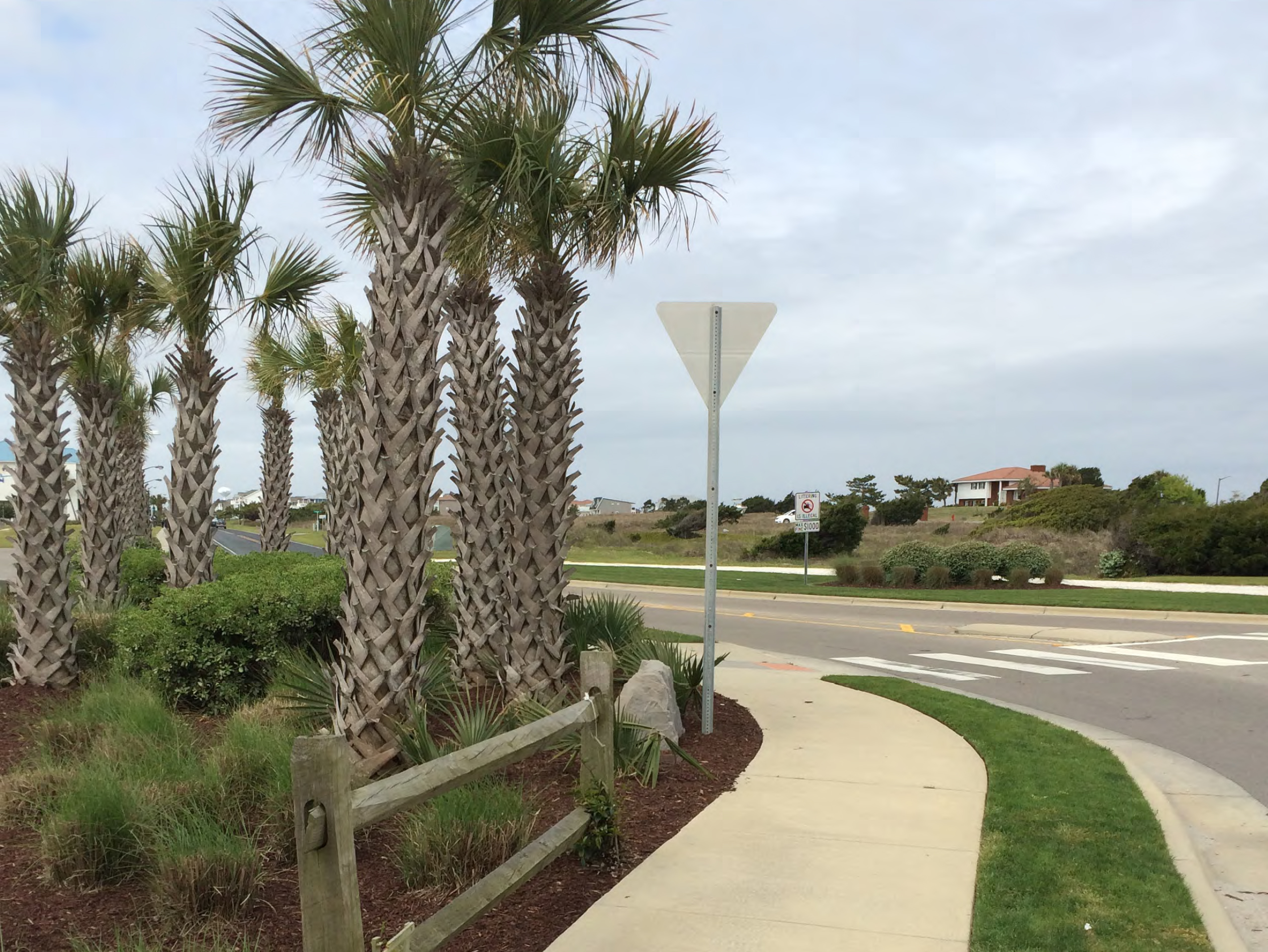 OCEAN ISLE BEACH – The numbers tell the story of just how underserved two-wheel travelers are in this Brunswick County beach town.
Ocean Isle Beach has 19 miles of streets and nearly half of those are lined by sidewalks – 8.9 miles of sidewalks to be exact, according the town's bike and pedestrian plan published in 2014.
There are also 0.9 miles of multi-use paths.
The town's one and only on-road bicycle lane spans little less than a half-mile on West Third Street.
"It's very much needed," Ocean Isle Beach Commissioner Wayne Rowell said of additional bike lanes.
With a $300,000 matching grant from the North Carolina Department of Transportation Bicycle and Pedestrian Planning Grant Initiative the town received in 2013, plans are in the works to install bike lanes along both sides of First Street.
There's one hitch, according to resident David Martin.
Plans call for each bike lane to be 4 feet wide.
"It's just – that much impervious surface is too much," he said. "It's going to be 8 feet more of asphalt. First Street just can't handle much of a rain anymore. First Street, the street and yards get flooded."
"It's going to be 8 feet more of asphalt. First Street just can't handle much of a rain anymore.

–David Martin, Ocean Isle Beach resident
Martin has lived in his oceanfront home off East First Street for 20 years. He owns a vacation home across the street from his full-time residence.
He has a front-row view of pedestrians and bicyclists regularly traversing the sidewalks and street.
"Our First Street, that's where people want to be," Rowell said. "First Street is very, very heavily used by runners, walkers, golf carts."
Sixty-eight percent of property owners, residents and visitors who participated in a series of public workshops, voiced their opinions through the town's website and in comment forms in 2014, said improving bicycling conditions in the town is "very important," according to the bike and pedestrian plan.
That survey showed that proponents wanted bike lanes on First Street.
"That's where people like to ride (bicycles) and I understand that," Martin said. "I have 6 inches of standing water in my yard from a hard rain. It just seems to be getting worse. DOT said they'd put in a drainage system that could support it, but nobody's really said what that is or how that's going to work. It's really bad. Are they going to make it worse? I'm trying to present this in a fair and reasonable manner. I just think they need to be planning for mitigating for stormwater in the future."
Like so many barrier island towns along the North Carolina coast, Ocean Isle Beach grapples with stormwater drainage issues. Hard rains and, certainly, storm events flood some streets and properties in these low-lying areas.
First Street was initially paved in the 1950s. Several years ago, Rowell said, French drains were installed along East and West First Street. A French drain is a gravel-filled trench with a perforated pipe at the bottom.
Once that pipe fills, there's nowhere for the water to go, Rowell said.
"At high tide the water really has no place to go until the tide is low," he said. "We do need the bike lanes and we do understand people's concerns about it and we try to address those concerns as we go. The drainage issues will be addressed by DOT."
The department plans to install the bike lanes in conjunction with resurfacing First Street.
"DOT plans to raise the level of the road about 4 inches so that's going to make a big improvement in water runoff, particularly where Mr. Martin is, I believe," Ocean Isle Beach Mayor Debbie Smith said. "I certainly think it's not going to hurt us. I think it will help us."
"DOT plans to raise the level of the road about 4 inches so that's going to make a big improvement in water runoff …"

— Mayor Debbie Smith
First Street has been resurfaced periodically throughout the years, she said, but this will be the first time the street has been raised.
"We're a resort area and bike riding, walking, exercising is something that people do a lot," Smith said. "It's so much safer to put them on sidewalks and bike paths than to put them on the roads."
The town's population during the summer tourism season increases by 40 times its normal size, up to about 25,000 people, according to the 2014 bike and pedestrian plan.
Between 2007 and 2011, four crashes involving pedestrians and bicyclists occurred within the town. Three of those four involved children under 12 and between June and September, according to information provided by DOT.
The resurfacing of First Street was originally scheduled to begin sometime this fall or winter, Smith said.
DOT is facing a revenue shortfall due to the current pandemic.
Smith said it will likely be a couple of months before she has an indication on when resurfacing work may begin.