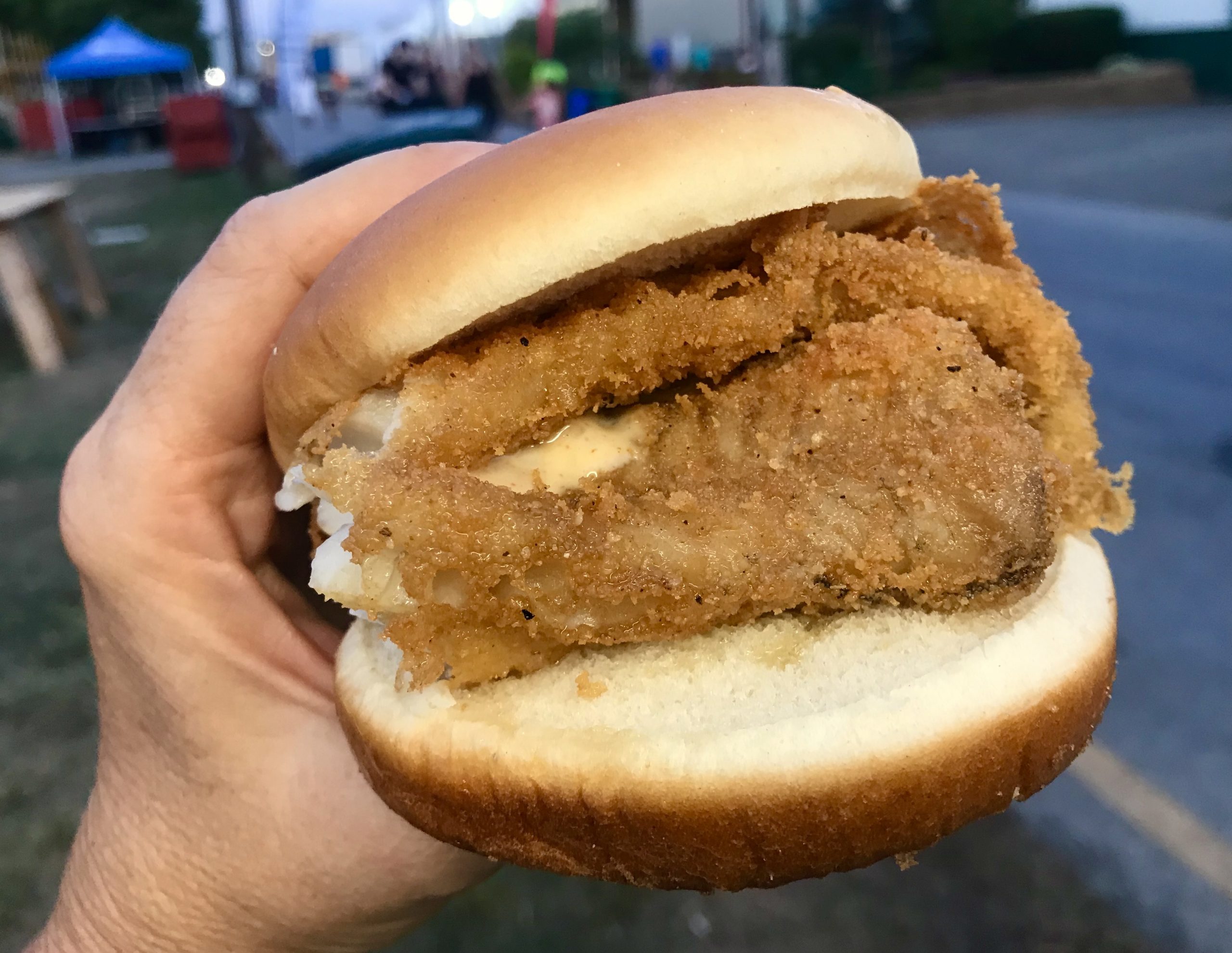 Back in the spring, fast-food mega giants McDonald's and Arby's went at it over which chain produced the best fried fish sandwich. It was a fight that anyone who's ever been on or near the North Carolina coast knew neither restaurant could win.
The battle boiled down to peelable breading on a square piece of whitefish atop American cheese at McDonald's vs. a near-parallelogram-shaped fried whitefish filet on a lot of shredded iceberg lettuce at Arby's. Plenty of tartar sauce garnished each stack, both of them built on soft, white burger buns.
No doubt, fans hemmed and hawed over one or the other, but in my mind, both sandwiches were disqualified for breaking every single rule about what constitutes the best fried fish sandwich.
Great fried fish sandwiches are made with fresh, identifiable fish filets, hand-breaded and fried to order. They're towers of tender, tasty fish contrasted by crisp, refreshing slaw and smeared with a zingy tartar sauce that never bullies the fish.
You'll find the real thing up and down the North Carolina coast, deep into the Piedmont and all the way to Asheville, too. Each place might put its own spin on the classic, but rest assured no matter the variation, all those sandwiches are likely to be better than whoever won the so-called "Fish Sandwich War of 2020."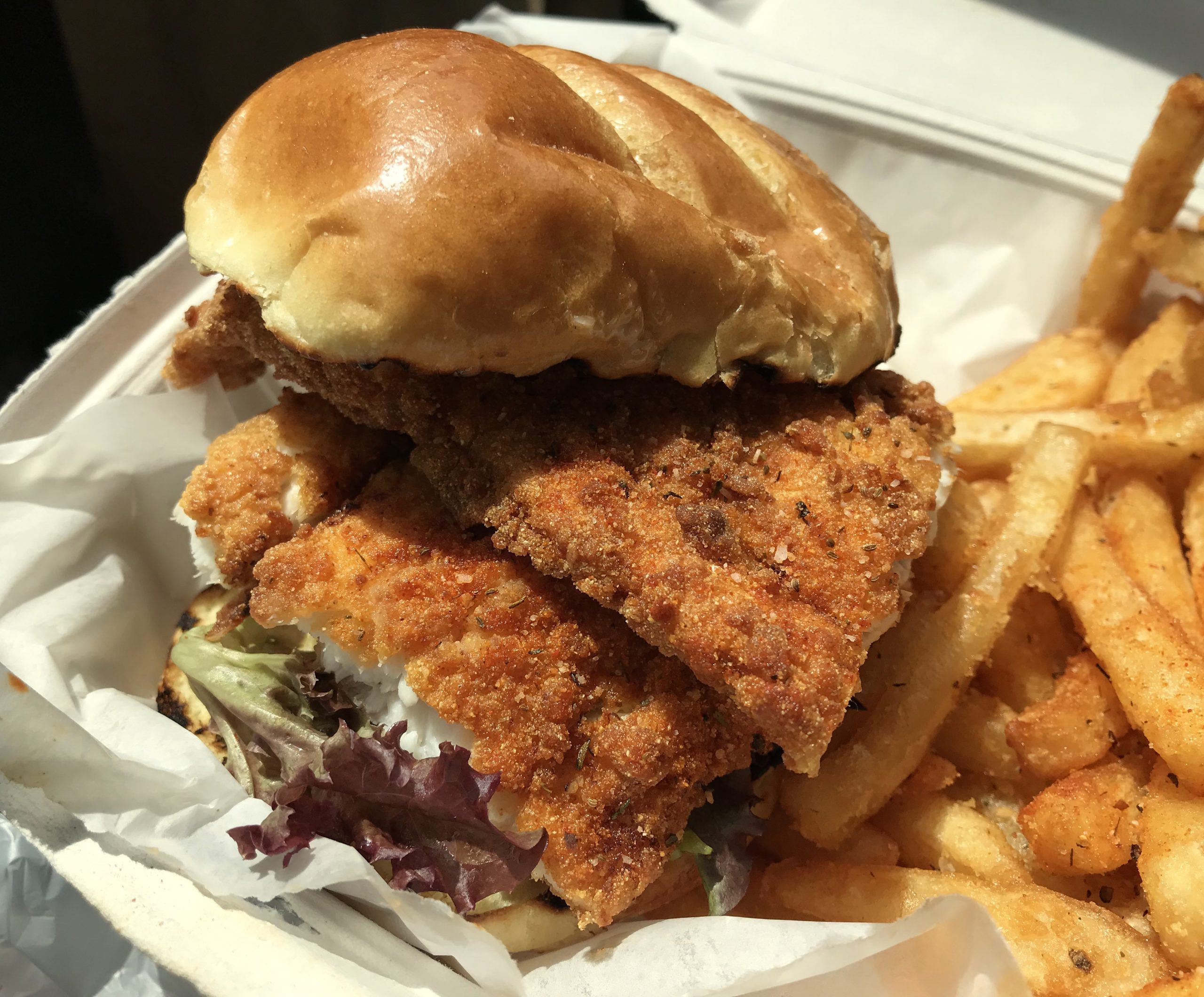 Five of the best fried fish sandwiches in North Carolina
Stop wishing you could have one of those fried fish sandwiches people keep posting on Instagram. Go get one. These restaurants serve fried fish sandwiches featuring fresh North Carolina seafood, and you can get these sandwiches to go.
O'Neal's Sea Harvest
618 Harbor Road, Wanchese, 252-473-4535, onealsseaharvest.com
All seafood is locally caught and purchased daily at this Outer Banks market and restaurant on Roanoke Island. The lunch-only spot is known for lightly fried seafood and putting gourmet touches on fish sandwiches. Recently, grilled golden tilefish landed with fresh spinach, tomato and lemon remoulade on a potato roll. Don't miss the fries seasoned with Old Bay.
Salt Box Seafood Joint
2637 Durham-Chapel Hill Blvd., Durham, 919-237-3499; 608 N Mangum St., Durham, 919-908-8970; saltboxseafoodjoint.com
Chef Ricky Moore's tribute to fish camps and seafood shacks has been featured in just about every major food magazine since he opened his first location in 2012. This year, Moore is a semi-finalist in the James Beard Awards best chef southeast category. The New Bern native brings native North Carolina seafood to the inland masses via walk-up, take-out and online ordering services. Fresh catches, fried or griddled, are posted daily and land on the classic fish sandwich, topped with slaw.
Seaview Crab Co.
1515 Marstellar St., Wilmington, 910-769-1554, seaviewcrabcompany.com/midtown
Much respect if you can leave the parking lot before digging into your fish sandwich. Mine came with crispy fried flounder stacked two pieces high, tangy mojo aioli, greens and a tomato slice. Normally, I shun tomatoes on fried fish sandwiches, but the fish's extra-crispy breading and the toasty grilled roll totally stood up to the juicy tomato.
Quality Seafood Market
309 E. Ehringhaus St., Elizabeth City, 252-335-7648, qualityseafoodco.com
Folks line up all the way to the five-lane street fronting the market for flounder sandwiches, no frills, just crispy fish on a bun for $5.99. Get a side of slaw if you want to dress it up. Do take-out, pick-up at the drive-thru window or dine-in. Family-owned and operated for 40 years, the market stocks a range of seafood from shucked oysters to whole steamed crabs and fish filets.
Southern Salt Seafood Co.
701 Evans St., Morehead City, 252-499-9528, southernsaltseafood.com
Fishing boats pull right up to the dock beside this building, which has been a seafood restaurant since 1941 and a seafood market before that. If you don't see a fried fish sandwich on the menu, don't be afraid to ask for one. Local fish is guaranteed, and the kitchen will fix your sandwich just about any way you like it.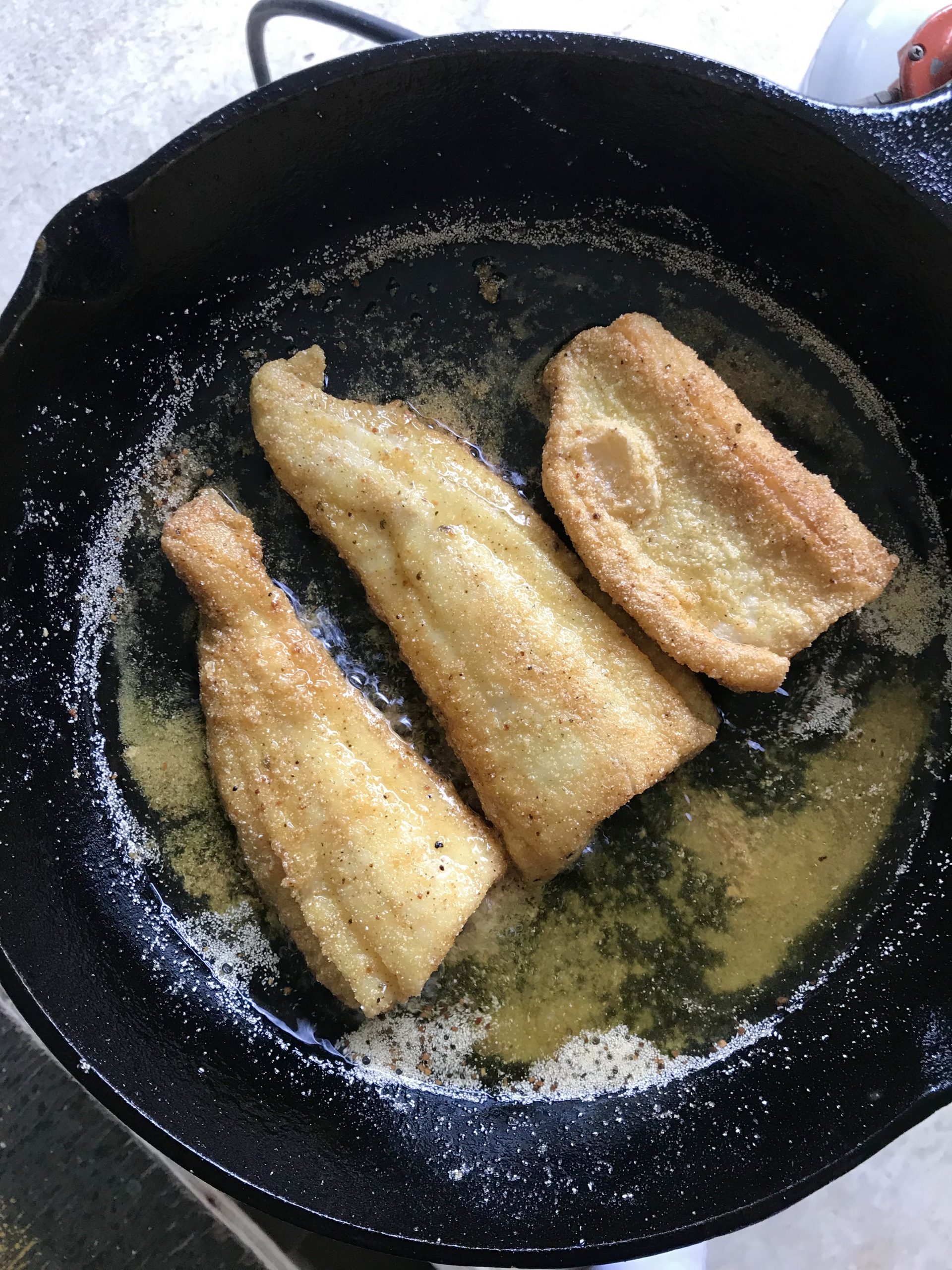 Make your own
Fish sandwiches are not so hard to make at home. Follow these guidelines to create your own ultimate version.
Full-flavor fish
Skip mild flounder, especially now as state regulators work to restore overfished populations. Trout, mahi, sea bass, tilefish and triggerfish seasoned simply with salt and pepper are all flavorful and firm enough to shine in a fish sandwich. Be generous. Plan two filets per sandwich, using pieces of fish large enough so some of the meat hangs over the sides of the bread.
Breading
A combination of cracker meal and panko bread crumbs makes a crunchy crust while a simple dusting of cornmeal is lightly crispy and adds that true Southern flavor. The latter also lets you pan-fry fish in less oil, a big deal when facing the challenge of frying at home.
Deep-frying dates back more than 1,500 years to the Greeks, and the Portuguese and Spanish had fish frying down to an art by the 1200s and may have inspired the British fish and chips. After all those years, we still struggle with deep-frying in our own kitchens. If you need a refresher, revisit our story about how to fry fish. And always use a heavy skillet. Nothing works better than a cast-iron pan. And stick to oil that can take the heat, like grapeseed or avocado oil.
Don't fuss with seasoning the bread crumbs. The sandwich's toppings and spreads should be all the added flavor you need on that crispy piece of fish.
You must have slaw
Iceberg lettuce on a fish sandwich is, well, kind of a cop-out. Tender fish, hot from the fryer and laid on a soft bun begs coleslaw's zesty crunch. Go with vinegar-dressed rather than creamy slaw. Shave cabbage, green or red, super thin. Use about ¼ to ½ cup of slaw per sandwich, but not so much that the fish is overwhelmed. Serve the slaw for the sandwiches cold but not ice-cold. You want a cool contrast that doesn't reduce the fish's temperature. Try the recipe below on your next fish sandwich.
Amp up the tartar sauce
It's not a fish sandwich without homemade tartar sauce that touches the fish. If you smear it into the bread, the sauce's flavor will get lost. Dollop and gently spread a couple spoonfuls on the bottom bun and/or on top of the fish. Store-bought tartar sauce just doesn't have the same zip and freshness as sauce you make yourself. The recipe below includes jalapenos and Southern chow-chow relish.
Soft, humble bread
This is not the occasion to break out the brioche, sourdough boule, onion rolls, sweet Hawaiian bread, rustic whole-grain or those everything bagels. Stick to simple, white buns or hoagie rolls soft enough to bite through without mashing the delicate fish. Toast the buns insides up under the broiler until they are lightly browned. That will add a bit more crispiness to a fish sandwich and help ensure the bread doesn't soak up tartar sauce. Rub the toasted sides with a half clove of garlic to add a little more spice.
Extra crispy things
Pickled onions, sliced bread-and-butter pickles, potato chips and crunchy fried bacon are fun, optional garnishes to set on the table so that guests may doctor their fish sandwiches. Put out lemon wedges and Texas Pete, too. Stay away from sliced tomatoes. They'll water down the fish's flavor and make the sandwich soggy.
Vinegar Coleslaw
¼ cup apple cider vinegar
2 tablespoons sugar
½ teaspoon celery seeds
1 tablespoon olive oil
¼ pound red cabbage, finely shredded
½ pound white cabbage, finely shredded
1 small carrot, scrubbed, trimmed and shredded
1-2 tablespoons pickled mustard seeds
Place apple cider vinegar, sugar and olive oil in a small sauce pan and gently heat until sugar has melted. Remove pan from heat and stir in celery seeds.
Place cabbages and carrot in a medium bowl. Pour warm dressing over vegetables and toss. Fold in pickled mustard seeds. Season with salt and pepper to taste. Refrigerate until ready to serve.
Makes about 3 cups.
Jalapeno Tartar Sauce
3/4 cup prepared mayonnaise
¼ cup chopped gherkins
3 tablespoons chopped capers
2 tablespoons chow-chow relish, drained
1 small, fresh jalapeno, finely diced
1 tablespoon minced parsley or dill
1 tablespoon lemon juice
Salt and black pepper to taste
Stir together all ingredients in a small bowl. Refrigerate for 30 minutes. Taste tartar sauce, adding more salt and pepper if needed. Makes 1 cup.
Source: Liz Biro