Last of two parts
There are a number of important ingredients in a good fish fry. Let's run through them.
Good quality fish is probably the most important ingredient. Take time to shop for the right fish with the best, fresh flavor.
To dip or not to Dip: In general, the fish cooks we talked to recommend dipping in a wet mixture of only for certain types of seafood, like fish or scallops, or if you like a thicker crust. Otherwise, it's a good idea to rinse and moisten the filets with water and shake off, said Nick Wolosuk.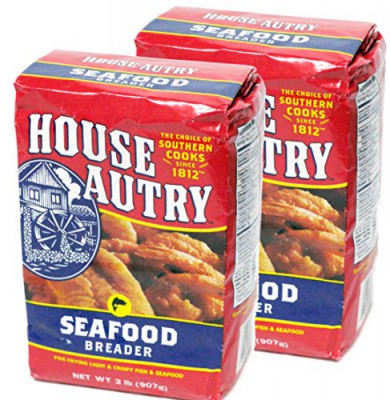 Breading: Try a North Carolina-based seafood breader, such as Moss' or those from Atkinson Milling Co. or House Autry Mills. You can also try making your own breader. Use the recipe below as a guideline or make your own cracker meal with crushed saltines.  Whatever method you select, go for light seasoning that doesn't overpower the fish and shake off excess breading.
Oil: This was one of the most widely differing points among the cooks. Some use regular vegetable oil, or peanut oil. Others use soybean oil or even lard, which has the longest tradition in coastal Carolina frying.  For deep drying, canola oil is hard to beat because it's mild tasting and inexpensive. Butter isn't a bad choice for gentle sautés. Olive oil, on the other hand, is not a good choice for frying because it will break down and smoke at lower temperatures than will other oils.
Cooking temperature/method: No matter the fat choice, cook the fish at a high temperature, of at least 350 degrees and up to 375 degrees. Most chefs recommend a deep fryer.  Submerging the fish in hot oil will seal the outside a golden brown and produce a flaky, moist inside. You can also pan-fry, but again make sure the temperature is hot and there is ample oil. Colder oil results in soggy, fatty fried fish.
Frost's Fried Fish
4 fresh fish filets
1-2 cups cracker meal, ground fine
2 eggs, optional
½ cup milk, optional
Peanut oil
Salt and pepper to taste
Rinse fish fillets and shake off excess water. If using the wet dip, mix together eggs and milk in a shallow dish. Place the cracker meal in a separate shallow dish. Salt and pepper the fish, and then dip fish in the egg mixture (if using), followed by the cracker meal. Shake off excess breading. Heat oil in deep fryer to at least 350 degrees. Drop fish pieces in hot oil and fry for about five minutes, or until golden brown. Drain on paper towels. Sprinkle with additional salt and pepper and serve. Makes four servings.
Recipe adapted from Norwood Frost and Frost Seafood House.
Seafood Breader
½ cup all-purpose flour
½ cup yellow corn meal
1 teaspoon salt
½ teaspoon black pepper
½ teaspoon garlic powder
½ teaspoon onion powder
½ teaspoon paprika
Mix together ingredients and store in an airtight container.
Recipe adapted from Original Ocracoke Cook Book.
Pan-Fried Catfish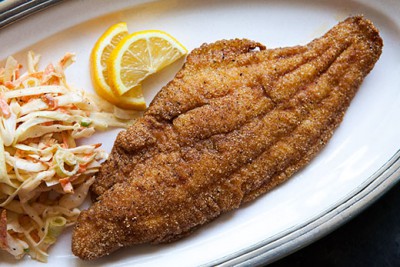 For those who don't have a deep fryer, here is a recipe adapted from John T. Edgerton's classic book on Southern food.
4 catfish filets, each about a ½ pound
Lard, for frying
Salt and pepper to taste
½ cup yellow corn meal
Lemon wedges
Rinse the fish fillets in cold water and pat dry with paper towels. In a heavy iron skillet, melt enough lard, or shortening, to reach a depth of ½ to 1 inch. Rub the fish with salt and black pepper and coat with white cornmeal, shaking off excess. When the fat in the skillet is hot, but not smoking, place the fish pieces gently in the skillet, spaced so as not to touch. Fry for about four minutes, until crisp and well-browned. Turn the pieces and fry on other side to same crispness. Lift the pieces out of the fat and place to drain on paper towels. Serve with lemon wedges.
Recipe from Southern Food: At Home, on the Road, in History.