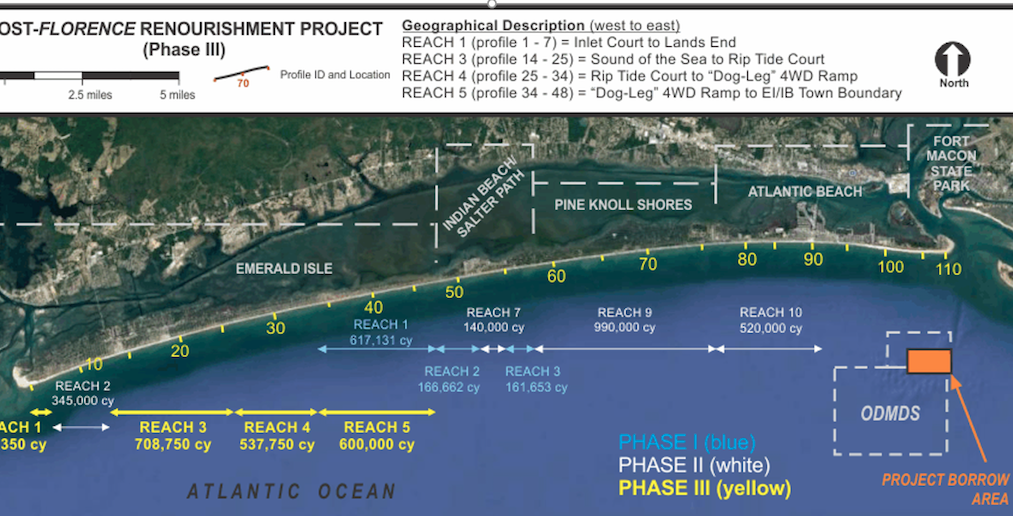 Reprinted from Carteret County News-Times
EMERALD ISLE — It's been about two months since the last Bogue Banks beach renourishment project ended April 29, but Carteret County officials are moving to go out for bids for the third phase of what's known as the post-Hurricane Florence project.
Greg Rudolph, manager of the County Shore Protection Office, said Thursday he hopes to release the bid document for the project to potential contractors Thursday and have a bid opening by July 30.
If the county gets bids from three companies, they can be opened that day, but if there are fewer bids, the project will have to be readvertised for a week.
"Our (engineering) team at Moffatt & Nichol is furiously preparing the plans and contract documents," Rudolph said. "The bid solicitation schedule isn't quite set in concrete yet," but the idea is to get the bid documents out and award a contract as soon as possible, as that generally results in lower bids and a more favorable contract.
The phase three project is to include the last stretch of western Emerald Isle. Most of western Emerald Isle was included in the project that wrapped up April 29.
In addition, Rudolph said, the project is to include central Emerald Isle, which has not had its beaches nourished in years, and maybe a small portion of eastern Emerald Isle nourished in 2019 but considered a "hot spot" for erosion.
Without going into detail, Mr. Rudolph said engineers at Moffatt & Nichol are "exploring different beach-fill geometries" for eastern Emerald Isle in an effort to find a way to address the hot spot.
"We have a great opportunity here to try something different than the continuous berm-width that is commonly used," he said.
Rudolph has estimated phase three could cost as much as $45 million. The project is to begin late this year or early in 2021.
Although the length of beach to be covered and the amount of sand to be discharged is similar to the $28.2-million phase two, it's farther away from the sand dredge site off Atlantic Beach, so it costs more to move the material.
Phase one covered almost all of Salter Path, all of Indian Beach and eastern Emerald Isle. It was completed in 2019 and cost $20.2 million. Phase two covered western Atlantic Beach, all of Pine Knoll Shores, the remainder of Salter Path and a portion of western Emerald Isle.