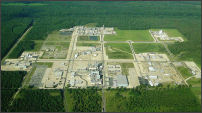 No criminal action will be pursued against a chemical plant near Fayetteville for potentially violating the Clean Water Act.
The Chemours Co. facility in Fayetteville was identified as the source of the GenX chemical North Carolina State University researchers found in the drinking water sourced from the lower Cape Fear River. GenX is a man‐made, unregulated chemical used in manufacturing nonstick coatings.
The state Department of Health and Human Services was notified about GenX and  per- and polyfluoroalkyl substances (PFAS) in June 2017, according to state officials, and along with the state Department of Environmental Quality began investigating that and other compounds from the facility. A consent order was signed February 2019 that requires Chemours to address "all sources of PFAS at the facility to prevent further impacts to air, soil, groundwater and surface waters," according to NCDEQ.
Chemours' Fayetteville Works facility received a notice of violation, or NOV, in February 2019 from the Environmental Protection Agency alleging certain Toxic Substances Control Act violations, the report states.
Civil actions were filed against DuPont and Chemours in state federal court in 2019 relating to discharges from Fayetteville. The court dismissed some of these actions in these lawsuits in April 2019.
"The company responded to grand jury subpoenas, produced witnesses before a grand jury and for interviews with government investigators and attorneys, and met with and the Environmental Natural Resources Division of the U.S. Department of Justice regarding their investigation into a potential violation of the CWA," according to the company's quarterly report ending March 31.
The U.S. Attorney's Office for the Eastern District of North Carolina notified Chemours Co. in March that, "after an extensive review of the law and all the facts, it declined to pursue any criminal action against Chemours and is closing its file," the report states.
Don Connelly, spokesman for the attorney's office, said the charges were dropped after a grand jury investigation but because grand jury deliberations are confidential, Connelly could not comment on the case or release related documents, according to a report Monday from NC Policy Watch.