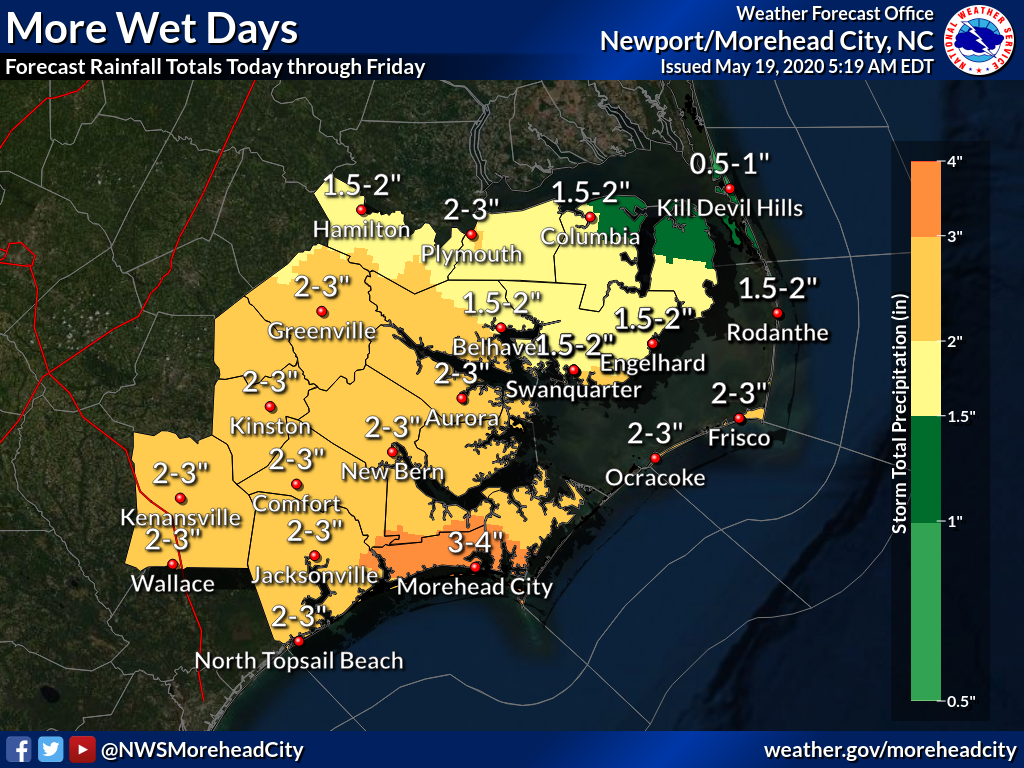 Heavy rains and strong winds are expected through the rest of the week, which could result in flooding in some areas, dangerous rip currents and cause beach erosion and ocean overwash that could affect N.C. 12 north of Cape Hatteras.

A nearly stationary upper low will circulate moisture across the region through the week, creating periodic heavy showers and possible thunderstorms with torrential downpours, according to an update Tuesday evening from the Morehead City/Newport office of the National Weather Service.
There's a possibility of 2 to 4 inches of rain of Friday, locally heavier in some areas, the forecast continued. More rainfall on already drenched soils from heavy rains related to Tropical Storm Arthur that could result in flooding of areas with poor drainage.
On Wednesday and Thursday, strong easterly winds and dangerous seas in excess of 10 feet are expected that will produce a dangerous shore break of 6 to 9 feet along the coast especially north of Cape Lookout.
Intensified rip currents are expected, especially north of Cape Lookout where a High Rip Current Risk is in effect for Wednesday.
The large surf and strong onshore flow will result in beach erosion and ocean overwash around high tide Wednesday and Thursday that could affect portions of N.C. 12 north of Cape Hatteras.