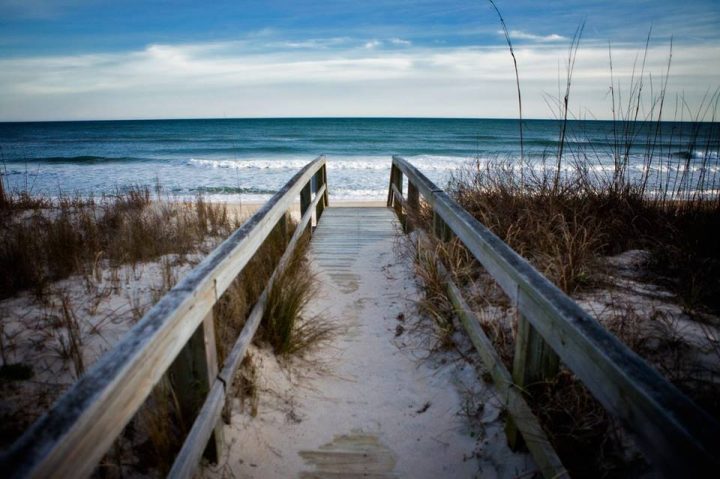 Towns, counties, parks and other services will begin transitioning into Phase 1 of easing restrictions related to the COVID-19 pandemic.
Gov. Roy Cooper announced Tuesday that the first of the three phases to reopen the state will begin at 5 p.m. Friday and be in effect until 5 p.m. May 22. The state will move into phase 2 at this time if data and indicators are in the right place.
Executive Order No. 138 signed Tuesday removes the distinction between essential and nonessential businesses and allows retail businesses to open at 50% capacity. Childcare facilities and summer day camps can operate in compliance with state Department of Health and Human Services guidelines and small outdoor gatherings of no more than 10 will be allowed. Restaurants across North Carolina must remain closed for dine-in meals. Only takeout, drive-through and delivery services are allowed.
The North Carolina Coastal Reserve and National Estuarine Research Reserve will reopen the Rachel Carson, Masonboro Island, and Bird Island Reserves to visitors Saturday, the state Department of Environmental Quality announced Friday. The sites were closed April 3 to protect public safety and reduce the spread of COVID-19 and to support state and local restrictions and guidance. All other reserve sites remain open.
North Carolina State Parks announced this week that trails and restrooms at its parks statewide will open Saturday, including Carolina Beach State Park, Dismal Swamp State Park,  Fort Fisher State Recreation Area, Fort Macon State Park, Goose Creek State Park, Hammocks Beach State Park, Jockey's Ridge State Park and Pettigrew State Park.
Sunset Beach announced Wednesday all special events in the town park and in town limits are canceled through May 31. Restrictions on the beach strand and the town park, which reopened Wednesday for nonstationary physical activities only, will be lifted at 6 a.m. May 15.  Public parking will open at 6 a.m. May 15. Long-term and short-term rentals will be allowed as of May 22.
Ocean Isle Beach lifted short-term rental restrictions April 30, as well as reopened public parking and the beach strand. Holden Beach began allowing rentals Friday and public parking and public accesses were opened April 30. Caswell Beach is opening up public parking Saturday and short-term rentals will resume May 22.
New Hanover County plants to open most facilities for regular business hours starting Monday, including the county Government Center, Health and Human Services building and 320 Chestnut building. Cape Fear Museum, public libraries and the Senior Resource Center remain closed to the public.
Wrightsville Beach is allowing short-term rentals beginning 5 p.m. Friday. Public parking lots at 2698 North Lumina Ave., 2498 North Lumina Ave., Stone Street and 650 South Lumina Ave. are open to the public. Restrooms will remain closed. With the exception of East Salisbury Street, all access points and beaches will be open for individual, nonstationary exercise activities to include only walking, jogging, swimming, and surfing/water sports.
Carolina Beach will lift all town-imposed restrictions including short-term rentals, public parking, and beach activities effective 5 p.m. Friday. Kure Beach is opening the beach to normal activities with limited open parking along Fort Fisher Blvd effective 5 p.m. Friday.
Topsail Island is opening Saturday short-term rentals. Public parking opened Friday. Surf City has reopened the sound side park boat ramp, open-space, and boardwalk and all public beach accesses and will at 5 p.m. Friday reopen public parking and allow short-term rentals.
Onslow County-maintained beach accesses and parking lots within North Topsail Beach were to open Friday in conjunction with the town opening all public beach parking. The town also lifted the ban on short-term rentals Friday to allow rentals to resume Saturday.
Carteret County officials opened April 27 county-maintained beach access points in Salter Path, Radio Island and Harkers Island.
Emerald Isle will lift its short-term rentals at 11:59 p.m. Friday. The restriction had prohibited the renting of a hotel room, motel room, rental housing unit, condominium, RV campsite, primitive campsite, or similar accommodation. Rental properties may accept occupants starting Saturday. The town is opening on Saturday Third Street, Station Street and Eastern Ocean Regional Access parking lots will be open to the public. The restrooms and outside showers will remain closed as well as the Western Ocean Regional Access due to construction.
Atlantic Beach, which opened on April 30 public beach accesses, starting Saturday is lifting its ban on short-term rentals. On May 15, all public parking lots and restrooms will be open and paid parking begins.
Dare, Hyde and Currituck counties are lifting visitor restrictions starting May 16. Duck, Southern Shores, Kitty Hawk, Kill Devil Hills, Nags Head and Manteo; Hatteras Island; Roanoke Island; Dare mainland; Currituck County Outer Banks; and Ocracoke Island will be open to visitors.
Entry restrictions for visitors to mainland Hyde County were lifted Wednesday. Ocracoke nonresident property owners will be allowed entry starting on May 11.
Indoor areas at Cape Hatteras National Seashore, Wright Brothers National Memorial, Fort Raleigh National Historic Site and Cape Lookout National Seashore remain temporarily closed but park lands are open, according to the National Park Service.