Updated 9 a.m. Monday to include service information.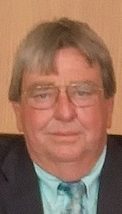 Carteret County Commissioner and former member of the North Carolina House of Representatives Jonathan Robinson, 68, of Atlantic, died late Thursday, May 28, 2020, Carteret Health Care in Morehead City.
The family will celebrate his life at 2:30 p.m. Monday at the Atlantic Community Cemetery with the Rev. Jack Colenda officiating. In keeping with Centers for Disease Control and Prevention guidelines pertaining to COVID-19, the service is being held graveside to allow public attendance. Those who attend will be asked to bring and wear a protective mask. Those who are ill or at-risk are encouraged to stay home.
Arrangements are by Munden Funeral Home and Crematory Inc. of Morehead City. The obituary is online at www.mundenfuneralhome.net, where condolences may be submitted to the family.
"The County is deeply sadden by this loss," county officials said in an email Friday morning announcing the death of the commissioner who was serving a term ending 2022.
A voice for Down East, Robinson represented District 6, which includes Merrimon, North River, Down East or all areas east of North River. Robinson has served on the county board of commissioners since November 1998 and served in the state House from 1995 to 1996.
"Jonathan was a true champion of leadership and was dedicated to the causes, livelihoods, and people of the Down East community. He is irreplaceable. He was from Atlantic and proud of it!" said lifelong friend and fellow Commissioner Ed Wheatly in a statement.
Chairman Bill Smith said, "Those that knew him, know how hard he fought not only for his Down East constituents, but also making sure that the best decisions were made for all of the citizens of Carteret County during his over 21 years as a Commissioner. On behalf of the Commissioners and
the citizens of Carteret County, we offer our deepest condolences to his family as well as his constituents. He will be greatly missed."
Robinson graduated from East Carteret High School and from Atlantic Christian College with a bachelor's degree in business administration. He was a commercial fisherman from 1973-2010 and a driver education instructor for North Carolina Driving School in Winterville, according to a previous report in the Carteret County News-Times.
Robinson also earned his Eagle Scout and served as assistant Scout Master Troop 252, former president and immediate-past vice president of Carteret County Fishermen's Association. He was presented the Highliner Award by the N.C. Forestry Association for "Unselfish Service as N.C. Legislator."  He was also a former volunteer fireman.
"We were saddened to hear this morning about the passing of Jonathan Robinson of Atlantic NC, who died suddenly last evening. Jonathan was a former commercial fisherman and fierce advocate for commercial fishermen and anything 'Down East'. At the time of his death, he was a Carteret County Commissioner, a post he had held for several years. He was a former member of the North Carolina House of Representatives as well, and was the 'go-to' member of the House for issues that affected fishing. Many members of the House and Senate would seek his opinions on fishing issues even after his tenure in the House ended," North Carolina Fisheries Association, Inc. said in a statement posted on Facebook.
"Words are hard to come by when trying to explain how we feel at this time, especially because it was so sudden. NCFA officers, staff and membership offer our prayers and condolences to his family and we ask that y'all do the same," the post states.
In lieu of flowers, memorial donations may be made to Atlantic United Methodist Church at 146 School Dr, Atlantic, N.C. 28511 or Boy Scout Troop No. 252 at P.O. Box 94, Smyrna, N.C. 28579.