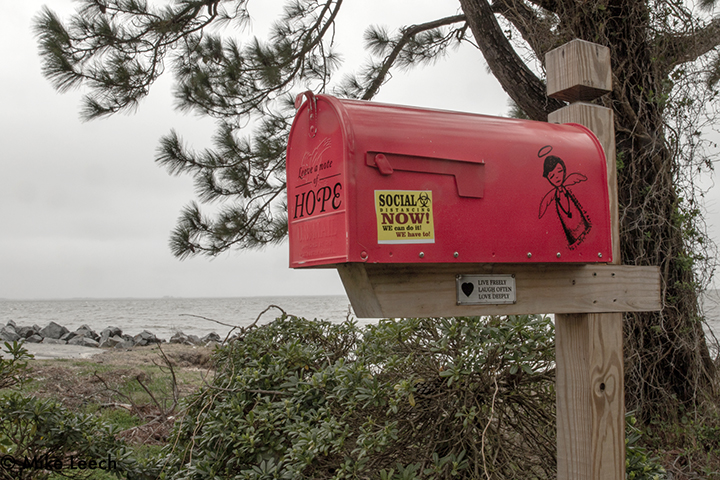 When March began, students all over the Outer Banks were looking forward to warmer weather. Happier, carefree days filled with spring break travels, hanging out with friends at the beach or grabbing a smoothie from The Spot seemed like they were right around the corner. Proms and graduations were on everyone's minds, and talk about the Coronavirus, or COVID-19, seemed like a distant and improbable thing.
Eva Klauser, a 16-year-old junior at Manteo High School, never thought the virus would turn her world upside down. "I remember hearing about it for the first time and thinking that it would never have any sort of effect on me," she said.
"At first I didn't really think anything of it," said Nags Head resident Mike Leech, 18. "I thought that the media was hyping it up way too much."
It only took a few weeks, however, for everything to change.
Universities across North Carolina, as well as the rest of the country, began to shut down, closing campuses, requiring students to return home and moving all classes online. On March 23, Gov. Roy Cooper issued an executive order closing all K-12 schools through May 15. A statewide stay-at-home order took effect March 30.
These lockdown measures meant that face-to-face learning was finished for the school year, and remote learning quickly took its place. Generation Z, which includes anyone born from the late 1990s to the mid-2010s, already spends more than six hours a day on electronic devices. Since remote learning began, students have found themselves in front of their screens more than before.
University of North Carolina Chapel Hill senior and Kitty Hawk native Carla Hardy, 22, was not too bothered by the change initially. "I was apprehensive about transitioning to online classes, but I was truthfully a little relieved," she said. "I was not upset about being able to complete (my general education credits) from my bed."
For high school students, learning from home has allowed them the flexibility to create their own schedule. This is a far cry from the rigid nature of a normal school day.
"I like online school a lot because I can set a time for myself to do it every day," Klauser said. "I was not sure if I was going to be OK with it, but I've learned to just make the most out of it because it is what it is."
While the flexibility of learning from home may be a welcome change, having the school year end abruptly meant that club meetings, retreats and other activities were canceled. For seniors throughout the Outer Banks, that meant losing out on honored traditions and senior events they had looked forward to for more than four years. Commencement ceremonies were postponed.
"I started to become very disappointed. Graduation being canceled was probably the nail in the coffin for me," said Hardy. "I'm really worried about how long this will all last and the long-lasting economic impacts."
Young people across the Outer Banks who were preparing to enter the workforce later this year are now left without any idea of what to expect in the job market. On top of this uncertainty, many dread the isolation and are anxious about the health of their loved ones.
"I know a lot of us are struggling to get through without being able to do many of the things that bring us happiness, such as spend quality in-person time with friends or participate in activities outdoors," Hardy said. But she is keeping her chin up. "I am trying to keep perspective about it all and remember that this is essential for the health of our population. Sometimes sacrifices must be made."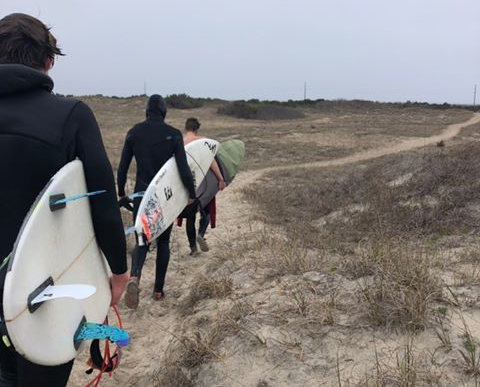 While social distancing has radically changed the average school day, Leech, a professional photographer, hasn't seen much of a difference in his work.
"Being in the water, while keeping my distance, gives me and other surfers a sense of normalcy to our lives," he said. "It's hard to not hang out with friends and go to work, but I am making the most of it."
Even though lockdowns will help in the long run by flattening the curve, or reducing the surge in positive cases, there is no doubt that empty roads and boarded-up stores feel a bit like the apocalyptic novels that took over the Young Adult market in recent years. The sudden and jarring changes have left many young people feeling uneasy.
"Everyone seems a little more anxious, just because how much is unknown to us," Leech said.
According to the American Psychological Association, 27% of Gen Z is likely to report poor mental health. While social media has played a part in this heightened anxiety in the past, it has now become a distraction from the stress and sadness of the virus. A plethora of new memes, videos or artwork await anyone who opens Instagram.
"You can tell that people are starting to get bored because they may post lots of things or post about what crazy thing they have done," Klauser said. Recent challenges included posting embarrassing pictures of yourself, cute photos of pets or favorite Bible verses. Tagging friends' accounts helps the challenge spread, and suddenly old middle school photos are on everyone's feed.
Amid the boredom, anxiety and isolation, there are some bright spots. Hardy's family, which is spread across different households, had a recent Zoom conference call to catch up with one another.
"My mom and sister held their respective cats up to the screen so they could 'meet' each other," said Hardy. "The ridiculousness of it all was really funny."

Klauser's dog Stash is also helping to keep her spirits up. "He's so cute every time I look at him, I can't help but laugh."
With her free time, Klauser has had more time for exercise, art and helping out around the house. She is also catching up on sleep.
While there is no minimizing the severity of the coronavirus, hope has risen despite it. Videos of city residents applauding healthcare workers from their open windows or musicians playing from their balconies have gone viral. Leech said he had seen a shift in the local community.
"This quarantine has given all of us the opportunity to reconnect with our families," he said. "It's given us the chance to spend time together and talk. I think it's better to look at (social distancing as) opportunities rather than inconveniences."
Even in the middle of a difficult time, he said, there is hope for the future, and comfort in routine. Spring is approaching, and with it, the flowers bloom and the birds chirp again. The Earth has begun to wake up, a reassurance that not every aspect of island life has changed.
"It reminds us that the world keeps turning," Leech said. "Waves keep breaking, and time keeps moving forward."