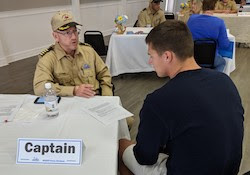 The state Department of Transportation's Ferry Division is hosting career fairs this month in Hatteras and Morehead City to fill several temporary and full-time positions.
"We're looking for exceptional employees in all positions," said Ferry Division Director Harold Thomas in a statement. "We held similar events last year and ended up hiring dozens of qualified applicants."
The Hatteras Career Fair will be 10 a.m.-3 p.m. March 13 at the Hatteras Civic Center, 56658 N.C. 12.  The Morehead City Career Fair will be held, as part of the Eastern North Career Fair, from 2:30-6:30 p.m. March 19, at the Crystal Coast Civic Center, 3305 Arendell St.
Positions are available system-wide, from parking lot attendants and engineers to marine welders, crew members and captains. The division is also looking to fill dozens of part-time and temporary summer positions that are needed every season. Career fair attendees are asked to bring a resume, along with any applicable certifications.
People interested in attending either career fair can preregister at: https://publicinput.com/Ferry-Division-Career-Fair.
The fair is free and open to the public. For information on job requirements and positions available, contact Alma Fountain at 252-423-5125, or at afountain@ncdot.gov.