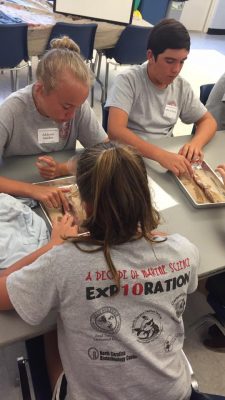 Middle schoolers in Carteret and Craven counties can apply now through April 22 for this summer's Brad Sneeden Marine Science Academy in Carteret County.
The weeklong day camp for rising seventh, eighth and ninth graders June 22-26 features hands-on activities such as trawling from a boat, conducting field research on a barrier island, learning about aquaculture and setting up experiments, remotely operating vehicles and performing dissections. Students also will learn about and observe the many careers in the marine sciences throughout the week.
This year 50 students from the Carteret County Public School System and 10 from the Craven County Public School System will be accepted into the program. Students who participated in previous academies can apply again.
Applications are on the Carteret County Schools website and at schools in Carteret County with middle school grades. Applicants are encouraged to write a one-page essay on explaining their interested in attending the academy.
The Marine Science Academy was founded in 2008 by former Carteret County Public School System Superintendent Brad Sneeden. After his sudden death in fall 2008, Carteret County Board of Education members voted to rename the academy the Brad Sneeden Marine Science Academy.
Students will be notified if they were accepted by mid-May. An information meeting will take place for accepted students and their parent or guardian. Tuition is $185 and partial scholarships are available.
For additional information contact Communications Director Tabbie Nance at tabbienance@cartertk12.org and visit Carteret County Public Schools Facebook page.