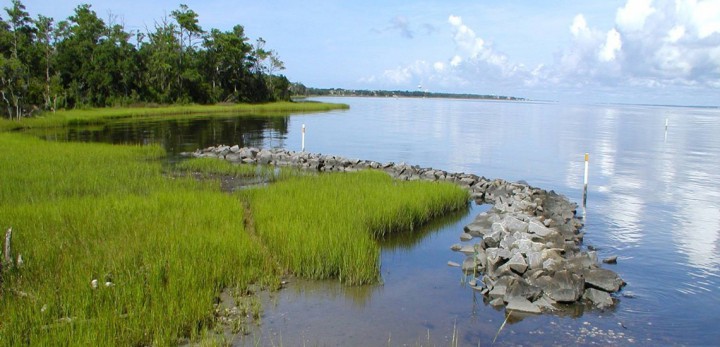 Nine projects in coastal North Carolina have been awarded millions in funding to go toward improving community resilience and wildlife habitat.
The National Fish and Wildlife Foundation, or NFWF, and National Oceanic and Atmospheric Administration's Office for Coastal Management announced March 17 more than $43 million in grants have been awarded to 27 natural and nature-based infrastructure projects nationwide.
The projects are to help recover from hurricanes Michael and Florence, Typhoon Yutu, and the California coastal wildfires of 2018, which together caused more than $50 billion in damage and severely degraded a range of wildlife habitats.
These projects are expected to protect or enhance more than 20 miles of shoreline and nearly 8,000 acres of wildlife habitat and will use nature-based infrastructure such as living shorelines, wetlands, dunes, coastal forests, floodplain habitat and coral reefs to achieve the dual benefits of improving human community resilience while also improving the ecological integrity of coastal ecosystems that enhance fish and wildlife habitats, according to the announcement.
"This new Emergency Coastal Resilience Fund supports conservation projects that strengthen natural systems at a scale that will help protect coastal communities in the states that were impacted by these disasters from the future impacts of storms, floods, wildfires and other natural hazards," said Jeff Trandahl, CEO and executive director of NFWF, in a statement. "These same projects also improve the ecological integrity and functionality of coastal ecosystems to support populations of fish and wildlife."
In addition to the nine projects in North Carolina, projects in Alabama, California, Florida, South Carolina, Virginia and the Commonwealth of the Northern Mariana Islands received funding. These projects will also receive more than $54.7 million in funds from other sources, or matching funds, to generate a total conservation impact of nearly $98 million.
"We must renew and build resilient coastal communities if we are to strengthen and grow our nation's Blue Economy," said retired Navy Rear Adm. Tim Gallaudet, deputy NOAA administrator. "These grants are essential to helping sustain the well being of the citizens affected by these natural disasters. Vibrant coasts power American prosperity."
The North Carolina Division of Coastal Management, under the state Department of Environmental Quality, is among the recipients for their project, Overcoming Local Barriers to Implementation and Getting to Shovel Readiness.
The state Department of Environmental Quality, which is partnering with North Carolina Office of Recovery and Resiliency, North Carolina Sea Grant and The Nature Conservancy, has been awarded $1,141,050. Matching funds are $830,000 for a total of $1,971,050.
The division was awarded the more than $1.1 million to develop a habitat resilience plan for the Rachel Carson Reserve in Carteret County and engineering for two projects to protect the reserve and the neighboring town of Beaufort.
"The Division of Coastal Management is focused on improving the resilience of our communities and natural resources to coastal storms and flooding," said Division Director Braxton Davis in a release about the project. "We are grateful for the financial support for these projects, which will help local governments prioritize and plan for strategic infrastructure investments, and to have shovel-ready projects prepared when future funding opportunities arise."
The North Carolina Coastal Federation, in partnership with Carteret Community College and the North Carolina Department of Transportation, received more than $2.7 million for the project, Protecting Education Infrastructure, Critical State Roadways and Estuarine Habitats with Living Shorelines. Matching funds are $2,894,489 for a total of $5,613,838.
The project is to install three large living shorelines that will protect community infrastructure as well as restore and protect vital salt marsh and oyster habitat in Bogue Sound and the White Oak River, totaling 3,518 feet of saltwater marsh living shorelines, protecting and restoring more than 23 acres of salt marsh, oyster and upland habitat, according to NFWF.
The large-scale living shorelines will be built to protect the causeway on N.C. 24 between Swansboro and Cedar Point, which serves as a storm evacuation route and is heavily used by the Marine Corps, and to protect the community college campus from imminent storm destruction by shoreline erosion. Through this effort, 2,100 linear feet of crucial road and college campus infrastructure will be protected from future storms.
"We are thrilled to be a recipient of this grant and are eager to protect these shorelines from future erosion from storms while at the same time preserve and restore critical salt marsh and oyster habitat. Living shorelines are a more effective, economical and longer term technique to protect shorelines from erosion when compared to bulkheads and seawalls," Lexia Weaver, coastal scientist, said in a news release from the federation.
Living shorelines help reduce shoreline erosion while protecting and restoring salt marsh and oyster habitat. They have proven to fare better through hurricanes and storms than bulkheads or seawalls, are less expensive and require little to no maintenance once established, according to the federation.
Congress provided funding under the Supplemental Appropriations Act of 2019, allowing grants to be awarded through this partnership. NFWF and NOAA launched the Emergency Coastal Resilience Fund in August 2019 two months after Congress passed the emergency supplemental appropriations bill that directed this money to help impacted communities recover more quickly and be more prepared for future events.
NFWF provided the following information on other projects in North Carolina:
Brunswick Town Fort Anderson Shoreline Restoration
The North Carolina Department of Natural and Cultural Resources has been awarded $2,002,500. Matching Funds are $1,516,669 for a total of $3,519,169. The project is to install a living shoreline to protect 1,000 feet along the Brunswick Town/Fort Anderson State Historic Site by attenuating wave action and mitigating erosion. Project will protect and provide salt marsh and oyster habitat, and safeguard the site's historical resources.
Building Adaptive Shorelines for Resilient Coastal Communities
The Carteret County Shore Protection Office has been awarded $1,513,500. Matching funds are $1,514,941, for a total of $3,028,441. The project is to construct living shorelines to naturally stabilize and protect 3,800 linear feet of eroding estuarine shorelines at two important project sites within Carteret County. Project will enable the communities of Beaufort and Down East to enhance existing resilient infrastructure, and protect important fish, shellfish, submerged aquatic vegetation habitat and the largest colony of nesting royal terns in North Carolina.
Clear Run Branch Drainage Improvement and Stream Restoration
Wilmington has been awarded $1,410,345. Matching funds are $4,500,000 for a total of $5,910,345. The project is to build a stable stream channel that can safely accommodate high flows from upstream development during storms and alleviate flooding along the channel. The project will improve wildlife habitat and decrease flood risk through stream and floodplain restoration or enhancement of 7.5 acres of floodplain habitat and 5,900 feet of stream channel.
Shoreline Restoration and Tidal Wetland Creation at the Battleship North Carolina
The USS North Carolina Battleship Commission has been awarded $1,250,000. Matching funds are $1,583,931 for a total of $2,833,931. The project is to restore 800 feet of estuarine intertidal shoreline and create about 2 acres of intertidal estuarine marsh habitat within a North Carolina Significant Natural Heritage Area. The project will remove and reconnect 2 acres of existing parking lot to the Cape Fear River, resulting in 2 acres of tidal wetland creation to build resilience.
Restoring Pocosin Hydrology to Improve Flood Resiliency and Wildlife Habitat
The Nature Conservancy has been awarded $820,644. Matching funds are $220,314 for a total of $1,040,958. The project is to restore hydrologic conditions across 7,500 acres of drained headwater pocosin wetlands on the southern portion of Angola Bay Game Land. Project will produce a finalized design and install restoration infrastructure that will enable managers to effectively control drainage levels, providing community flood resilience benefits in the Northeast Cape Fear River floodplain while enhancing pocosin wetland habitat.
Enhancing Aquatic Connectivity Resiliency and Flood Capacity in the Black River Watershed
Cape Fear Resource Conservation and Development has been awarded $500,000. Matching Funds are $500,000 for a $1,000,000 total. The project is to replace two culverts to enhance up to 2 miles of stream habitat within the lower Black River basin to improve aquatic connectivity resilience and flood capacity for local coastal communities and fish habitat. Project will improve drainage in these areas and decrease the likelihood of over-bank flooding and road overwash during storms.
North Duck Village Living Shoreline
Duck in Dare County has been awarded $384,011. Matching funds are $384,011, for a total of $768,022. The funds will be used to construct 1,100 feet of sheet pile sill and restore eroded wetlands along the shoreline of Currituck Sound. Project will create a more resilient coastal edge, improve coastal habitat, and protect the adjacent sidewalk, bike lane and road that serve as the primary transportation artery.