The Environmental Protection Agency says it has multiple criminal investigations underway concerning pollution from per- and polyfluoroalkyl substances, or PFAS, Bloomberg Environment reported.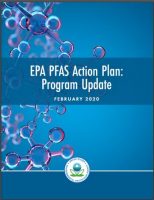 In an update on progress on its PFAS Action Plan started last year, the EPA said it had and will continue to take enforcement action, as appropriate, to address PFAS to protect human health and the environment and cited examples in North Carolina and Virginia.
In addition to the criminal investigations, EPA said it had issued a number of information requests regarding PFAS, including five Clean Water Act information request letters since November 2018 regarding discharges of PFAS from manufacturing or processing facilities, 13 Toxic Substances Control Act information request letters since January 2018, one Comprehensive Environmental Response, Compensation, and Liability Act information request letter in November 2017, and a Resource Conservation and Recovery Act information request letter in April 2018.
In addition, EPA's Office of Enforcement and Compliance Assurance, with support from its National Enforcement Investigations Center and Regional enforcement divisions, has carried out 11 inspections at eight PFAS manufacturing or processing facilities since July 2017, including joint inspections with states, according to the update.
EPA said its regional offices are also assisting their states to address PFAS releases and contamination with technical and enforcement support, including joint-prosecution agreements, investigations, inspections, and sampling, according to the report.
Also, Chemours Co., whose plant near Fayetteville was identified as the source of the substance GenX in the Cape Fear River, disclosed in a recent filing with the Securities and Exchange Commission that the Justice Department's Consumer Protection Branch, and the U.S. Attorney's Office for the Eastern  District  of  Pennsylvania were considering opening a criminal  investigation under the federal Food, Drug and Cosmetic  Act and asking that the company retain  related documents.
"These or other governmental inquiries or lawsuits could lead to our incurring liability for damages or other costs, a criminal or civil proceeding, the imposition of fines and penalties, and/or other remedies, as well as restrictions on or added costs  for  our  business  operations  going  forward,  including  in  the  form  of  restrictions  on  discharges  at  our  Fayetteville  Works  site  in  Fayetteville,  North  Carolina ("Fayetteville") or otherwise," according to the Feb. 14 filing. "Additional lawsuits or inquiries also could be instituted related to these or other compounds in the future. Accordingly, the existing lawsuits and inquiries, and any such additional litigation, relating to our existing operations, PFOA, HFPO Dimer Acid, AFFF, PFAS and other perfluorinated and polyfluorinated compounds, or other compounds associated with our products or operations, could result in us incurring additional costs and liabilities, which may be material to our financial results."
The state Department of Environmental Quality said that because of its investigation, the release into the Cape Fear River of GenX and two other fluorinated compounds had stopped and that tests for the compounds at all finished drinking water sites along the river was within state health goals.