"Troubled Waters: The Fight Against PFAS," is a documentary short by from CDM Smith, the consultants working on Brunswick County's low-pressure reverse osmosis treatment system to address new and emerging compounds.
Brunswick County can now move forward with a Northwest Water Treatment Plant expansion project.
The state Department of Environmental Quality issued a modification to Brunswick County's wastewater permit for the water treatment plant in Leland, according to an announcement Thursday from NCDEQ.
The $137 million project is to expand the plant's conventional treatment facility from 24 million gallons per day to 45 million gallons per day, firm capacity, or one filter out of service, per the county. The low-pressure reverse osmosis system has been designed to recover between 85 and 92% of the intake water, intended to result in a peak low-pressure reverse osmosis treatment capacity of up to 41 million gallons per day.
"Brunswick County is committed to providing safe, clean drinking water to all of our customers, and receiving this permit is a major step forward," Chairman Frank Williams said in a news release. "I am grateful for the hard work our County administration and public utilities leadership and staff have invested in this important effort to add advanced treatment to our water treatment plant, and we look forward to this project being completed."
Brunswick County's water customers and wholesale water customers receive either all or part of their water from the Northwest Water Treatment Plant. After learning that GenX and other PFAS compounds were found in the Cape Fear River in June 2017, Brunswick County has tested each week water samples at the Northwest Water Treatment Plant to measure and track PFAS contamination. All water samples have been below the health advisory levels established by the Environmental Protection Agency and the state Department of Health and Human Services, per the county.
The county decided in 2018 to install a low-pressure reverse osmosis system at the plant to remov contamination and to remain below any future health advisories likely to be established. A pilot low-pressure reverse osmosis program conducted at the Northwest Water Treatment Plant in 2018 did not detect any GenX or other PFAS contaminants in the treated drinking water.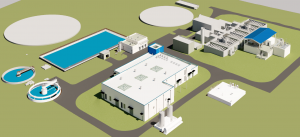 The county had a draft National Pollutant Discharge Elimination System, or NPDES, permit in November 2019 but needed the official permit to be eligible for a low-pressure reverse osmosis system.
DEQ held a public hearing Dec. 5 in Bolivia about the draft permit modification. Based on feedback, DEQ added increased monitoring and more stringent limits for aluminum and alkalinity into the modified permit as well as increased the monitoring frequency for PFAS compounds to quarterly, according to DEQ.
With the official NPDES permit, the board can now consider all the bid alternates for the Northwest Water Treatment Plant expansion and upgrades project, states a release from the county. Alternatives include installing low-pressure reverse osmosis units to remove contaminants such as GenX and other PFAS compounds from the water sourced from the Cape Fear River.
The board is to receive bids for the project's four bid alternates by March 5, give notice of award for the bids at the April 20 regular meeting and then issue a notice to proceed in May.
"This announcement is the result of nearly two years of communication and partnership between our organizations," Public Utilities Director John Nichols said in a statement from the county. "Our staff has worked incredibly hard to support and respond to any inquiries from DEQ, and we are pleased to see that these efforts have led us closer to installing this vital treatment system to protect our drinking water from PFAS contamination and other pollution in the years to come."
The county, which joined other utilities in the region to sue DuPont and Chemours to make Chemours stop polluting our primary source of drinking water, is seeking monetary damages from Chemours to hold it responsible for the millions of dollars the county will spend on the new treatment system.
More information about the Northwest Water Treatment Plant project, water sample test results, and water quality is on the county's website. The modified permit and hearing officer's report, are available on the DEQ website.