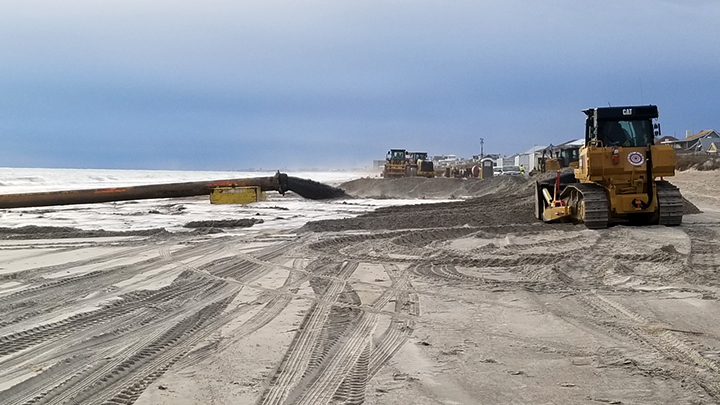 February is traditionally downtime for beach towns, but each year the shoreline along some stretches of North Carolina's central and southern coast is anything but quiet as crews work around the clock to pump millions of cubic yards of sand in a never-ending fight against erosion.
Early last week, bulldozers and pipe haulers began crawling along the swash line where Atlantic Beach meets Pine Knoll Shores, dragging hundreds of feet of metal pipe under the DoubleTree hotel pier to connect with an underwater pipeline that's tethered a few hundred yards offshore.
That's where the Liberty Island, a 325-foot trailing suction hopper dredge, has begun pumping tons of sand-laden slurry sucked up from a borrow site 3 miles away onto the hurricane-damaged beaches of Bogue Banks.
This year's beach renourishment project is the most ambitious in the history of the banks and represents a growing trend in how local governments in North Carolina and elsewhere plan and pay for beach repair.

Greg "Rudi" Rudolph, Carteret County's shore protection manager, who has been coordinating the effort, said developing a plan to renourish nearly all of the 25-mile strand meant overcoming decades of leaving beach projects up to local governments.
"It was a town-by-town effort before that. One town one year, another town the next, and all with different funding sources," Rudolph said.
Recognizing that the area needed a comprehensive approach, Rudolph started working on a master plan that would incorporate all four municipalities on Bogue Banks and Carteret County under one unified approach.
Last year, crews with contractor Great Lakes Dredge and Dock Co. put 1 million cubic yards of sand over 5.2 miles on beaches in eastern Emerald Isle and adjacent Indian Beach.
This year, the plan is to move 2 million cubic yards onto 9.5 miles of beach, working from western Atlantic Beach to Pine Knoll Shores and Salter Path and then a western section of Emerald Isle.
Next year, the final phase of the plan finishes out the rest of Emerald Isle. In all, beaches along 23 miles of the 25 miles of Bogue Banks are to be renourished.
"It's a 24/7 operation."

— Greg Rudolph, Manager, Carteret County Shore Protection
So far, Rudolph said, the weather seems to be cooperating, but because renourishment projects have to be completed during the so-called "turtle window" from November to April to prevent conflicts with nesting sea turtles, there's no room for downtime.
"It's a 24/7 operation," Rudolph said. Since the banks' beaches are south-facing there is not same threat of nor'easters disrupting operations, but the size and scale of the project is massive.
The Liberty Island will be joined by the 480-foot, 15,000-cubic-yard capacity Ellis Island, the largest hopper dredge in the U.S., around mid-March. Depending on progress at that point, Rudolph said the two dredges could work a week or two in tandem, alternating runs to the Morehead City deposit area in Onslow Bay, where sand dredged from harbor has been dumped since the 1930s.
Rudolph said the main goal of the project is to rebuild the secondary line of dunes closest to the shore that were nearly all wiped out during Hurricane Florence.
"Part of our design is to put those baby dunes back," he said. "They'll contour the beach to mimic that."
Planting vegetation on those new dunes also incorporates the new strategy.
"In the past, the dune-planting component has been a town-by-town or property-owner-by-property-owner decision. This year, it's part of the dredging contract," Rudolph said.
The Bogue Banks renourishment did not come cheap, but it did come at the right time. Although funding for the first phases of the project came from a mix of local and state funds, part of the cost going forward will be covered by North Carolina's share of an emergency disaster appropriation that followed Hurricane Florence. The project had just received its permits when Florence hit in mid-September 2018, Rudolph said.
"We had everything in place to go."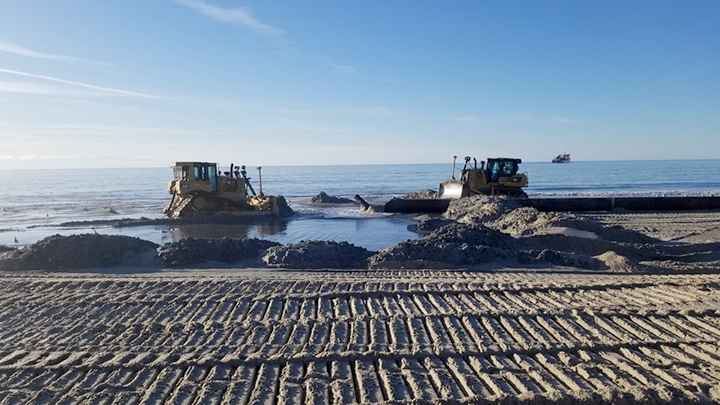 A question of priorities
For Rob Young, director of the Program for the Study of Developed Shorelines, a collaborative effort by Duke University and Western Carolina University based at the latter's Cullowhee campus, the surge in federal money in North Carolina is another example of a troubling shift in how beach renourishment projects are now funded.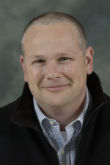 For years, coastal communities and the state were coming to grips with a dwindling flow of federal dollars into beach projects because of tight budgets and the end of earmarks that allowed many of the projects to retain their funding. North Carolina set up a special fund in 2017 for coastal storm damage work to help fill the increasing gap between costs and federal dollars.
That changed with Hurricane Sandy in 2012 and the massive influx of money that followed, which the Army Corps of Engineers used to fund scores of projects along the Eastern Seaboard. A similar scenario of renourished beaches followed in areas hit by Hurricane Harvey in 2017. Young said post-disaster appropriations are rapidly becoming one of the main funding sources for beach projects, especially since the Federal Emergency Management Agency changed rules to allow communities to classify their beaches as infrastructure.
Young said local planners like Rudolph are doing their jobs to leverage resources and develop projects, but at the federal level, there is no oversight and no overall plan to set priorities. "It's all off-budget," Young said. "It's a complete abdication of congressional oversight.
"It's not like Congress is taking a look at all these beach renourishment projects and deciding which ones they want to fund and where the federal interest is. That's not how it works. There's a huge federal contribution and no national plan or vision for how or why this should be happening."
Young said he's not opposed to renourishment projects, but that they have to be better prioritized.
"There's a huge federal contribution and no national plan or vision for how or why this should be happening."

— Rob Young, Director, Program for the Study of Developed Shorelines
The newly approved Topsail Island project, with a price tag at around $230 million, is a prime example of misplaced priorities, he said. "It's a temporary resilience project by making a temporary beach out in front of what are largely investment homes on Topsail Island."
It's understandable, he said, that the locals are supportive, but if they had to shoulder the cost they probably would reconsider.
"If coastal communities had to pay 100% of the cost then they would do some very serious thinking about how they're investing their money, but as long as the federal taxpayers are picking up the entire tab or most of the tab, you're just going to take that money. Why would you not?"
The trade-off, he said, means less focus and incentives on elevating structures, moving them or buyouts, such as the one Young and his colleagues proposed last year for North Topsail Beach. The $30 million plan was roundly rejected by local officials.
"You should be spending money on long-term solutions, not be spending that money in ways that will encourage investment in places that are demonstrably at risk and especially in places where we're not talking about people in their primary residences," he said.
Young said there are also long-running concerns over the cumulative environmental effect of constant beach renourishment. There's been little research on the carbon footprint of the massive projects and there are environmental impacts in both the borrow areas and the intertidal areas from where the sand is pumped.
"When you do it every four years and you do it everywhere, there are cumulative environmental impacts that we have never added up. We should be assessing those environmental impacts," he said. "We don't do it and we don't really know the degree to which massive beach nourishment everywhere from Maine to Texas is slowly but surely diminishing shorebird populations and near-shore fisheries."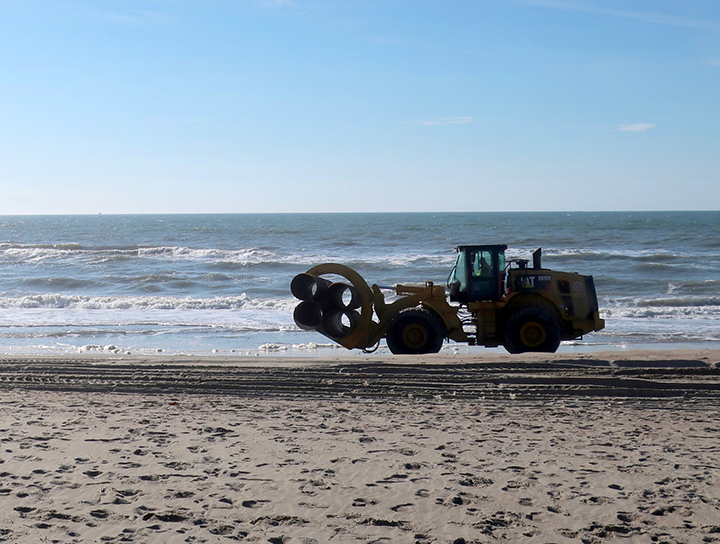 Bogue Banks project studied
Pine Knoll Shores Town Manager Brian Kramer said he's heard some environmental concern about the impact from residents, but assured those folks that the Bogue Banks project had gone through numerous environmental studies before winning approval, even having to pass muster with the federal Bureau of Ocean Energy Management. That's because the offshore borrow site straddles state and federal waters.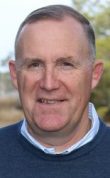 Kramer said that replacing the "baby dunes" is important. Without them, he said, storms would start eroding and more properties would be threatened. Such losses could wipe out a town like Pine Knoll Shores where nearly half of its roughly $1 billion tax base is along that first row facing the Atlantic.
"It's no secret that the major portion of the tax base is just that oceanfront stand," he said.
The money goes for schools, services and infrastructure, he said, and protecting the front row is essential.
"This isn't just in Pine Knolls Shores. The entire town and by extension the whole county benefits from having that tax base."
"That healthy beach is the economic driver of the area."

— Brian Kramer, Town Manager, Pine Knoll Shores
He said the perception is that the renourishment only benefits the oceanfront property owners, but the entire local economy depends on a healthy beach.
"That healthy beach is the economic driver of the area," he said.
Kramer was an avid backer of the banks renourishment plan and more so after Hurricane Florence, which showed that areas with flat, renourished beaches fared far better.
"That kind of says it all," he said. "I think it's a win from every angle."
Young said federal funds and sand are flowing for now, but local governments not planning for a changing climate and a change in federal priorities are delaying the inevitable. The federal cost of dealing with rising seas in places like Miami, Charleston and New York City will dwarf what's available now.
"When we have to spend money for major cities, the money for small resort communities is going to be gone," Young said.
Eventually, the beaches will become harder and harder to maintain, he said. What has been happening in Folly Beach, South Carolina, where a steepening offshore contour is making it difficult to keep sand in place, is part of that future.
"Someday, we're not going to hold everything in place by pumping sand," he said. "If communities are not thinking about that day, then eventually it's all going to come crashing down on them."