Updated Jan. 15 to include comments from Army Corps of Engineers
The Army Corps of Engineers is providing more than $281 million for rebuilding beaches in North Carolina communities damaged by hurricanes Matthew and Florence.
The Corps announced Monday it will use funding provided in the Additional Supplemental Appropriations Disaster Relief Act of 2019 for flood and storm damage reduction projects in the Surf City and North Topsail Beach area and Carteret County's Bogue Banks.
"The supplemental funding allocated to these projects will help to 'move dirt' and reduce the flood risk to these communities from storms in the future," Assistant Secretary of the Army for Civil Works R.D. James said in a statement.
The act provides nearly $3.26 billion for five project categories, including construction, flood control and coastal emergencies. The Corps will use an estimated $281.5 million in construction funding for the two projects.
Surf City and North Topsail Beach will receive $237 million and Carteret County will receive $44.5 million. The announcement is on the heels of the state learning last week that the Corps awarded $39.6 million for design and construction of a new levee in the Edgecombe County town of Princeville, which flooded during Hurricane Floyd in 1999 and Hurricane Matthew in 2016.
"These substantial investments by the Army Corps of Engineers will help make North Carolina safer and more resilient against future storms. North Carolinians have been hit hard by recent storms, and I appreciate the efforts of our federal partners as we work to rebuild smarter and stronger than ever," Gov. Roy Cooper said in a press release.
With the latest announcement, the Corps says it will have allocated around $321.1 million of the $740 million provided by the law for construction to build flood and coastal damage reduction projects.
Greg Rudolph with the Carteret County Shore Protection Office said Tuesday that his office had been pursuing two parallel paths for well over a decade for nourishment along Bogue Banks. The first path is the Corps 50-year project, which he described as long-range plan contingent on Congress providing funding for all the steps that they started working on in 2001.
Rudolph said that the county knew the Corps process would take time and that the county may never actually get the funding, so the county initiated its own 50-year master plan for beach nourishment.
"This (the master plan) is basically a permitting vehicle so we can conduct projects across the island. Everything we have done post-Florence has been under the auspices of the master plan," Rudolph explained. Funding for the master plan comes from a "complex interplay of (county) occupancy tax money and whatever we can get from the state and FEMA."
He said that the Corps project needed tens of millions of dollars from Congress to start construction, "that we honestly thought we would never receive … that is until we received the news over the weekend."
Rudolph explained that the Corps project has a lot more rules of engagement than the one-time, one-storm FEMA projects.
"We will need to fulfill the Corps' parking and access requirements — we've made good headway there — and the Corps has a different easement than we have on record for our oceanfront property owners and both of these requirements will take a considerable amount of work on our (the towns') part," he said.
The Corps program is a 65% federal and 35% nonfederal cost-share agreement and the state has provided 75% of the nonfederal match in the past, but that's not a guarantee moving forward, Rudolph added.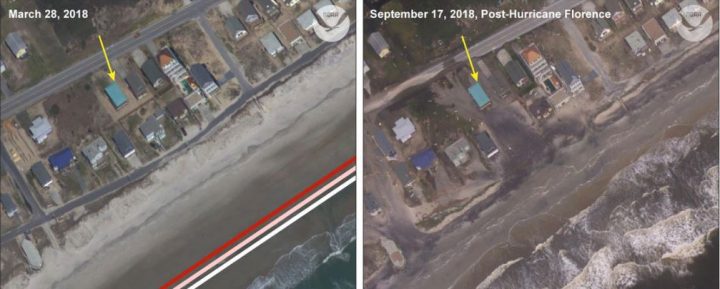 Topsail Island funding
The $237 million marked for federal beach nourishment of Surf City and North Topsail Beach is in addition to a privately funded beach nourishment project, Surf City officials announced Monday.
"We have been working toward obtaining this funding for a significant amount of time and with persistence have now been approved federally. Many people have worked on getting this project approved," according to the announcement.
Decisions regarding the project's timeline and coordination with the privately funded project to maximize the benefit for the town are expected in the coming weeks, Surf City officials said.
Ashley Loftis, Surf City's finance director and assistant town manager, told Coastal Review Online Tuesday that the town was notified several months ago that the federal government may allocate funds for projects such as theirs.
"We were not certain if our project would actually be funded or not. We were pleasantly surprised to find out that it was," she said. "This money will be used to fund the joint federal beach nourishment project between Surf City and North Topsail Beach."
Right now, the town is working to secure a day and time to meet with Corps representatives to discuss details of moving forward. Once those details are finalized, the town will provide the information to the public, she said.
Bryan Chadwick, North Topsail Beach town manager, told Coastal Review Online Tuesday that the town also received word a few months ago that the project might be funded.
"We have been working with federal officials to get this new start but were uncertain if it would actually be funded. As you can imagine, we are very thankful it was," he said, adding that town is grateful to the elected officials who promoted the project.
Chadwick explained that the funding will be used to help build the dune system and beach profile in parts of North Topsail Beach, including Ocean City, which is in North Topsail Beach and in the area of the project, and Surf City. "This will assist in resiliency during storm events," he said.
"We will be meeting in the near future with all stakeholders involved in this project for any next steps," he said.
Dave Connolly, Public Affairs chief with the Army Corps of Engineers, told Coastal Review Online Wednesday that the district submitted the Surf City/North Topsail project as a part of a package of requests for consideration under the fiscal 2019 Supplemental Bill.
"So it was not guaranteed approval but also not unexpected either. The money will be used for the initial construction of an authorized Coastal Storm Risk Management project," he said.
Connolly provided a map of the 9.9 miles that have been authorized for the project. The white line that says project limits is the authorized area. The area does not include Topsail Beach. "Topsail Beach was not included in the funding bill as the town chose not to proceed with the federal project," he said.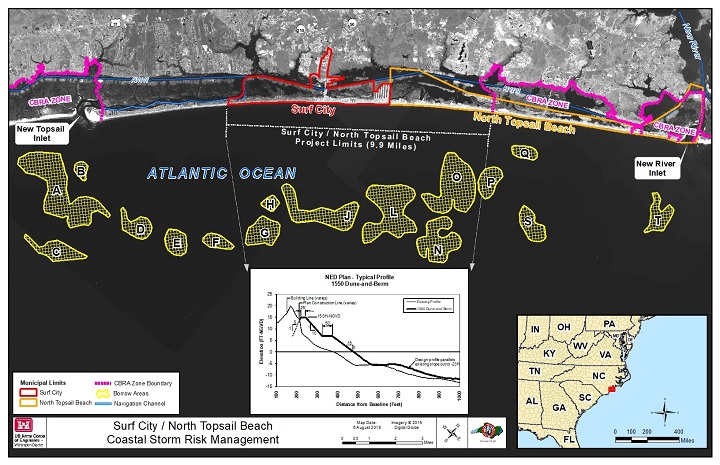 The cost share is 65% federal and 35% nonfederal but for ongoing construction, 100% will be federally funded until construction completion, he said. There will be a 30-year payback of nonfederal share at 35% upon completion.
"The North Topsail/Surf City project was authorized in 2014 and the towns have been in strong support of project implementation since that time. The project, once constructed, will go a long way toward reducing the risk of damage from coastal storms such as Hurricane Florence," he said. "These projects are designed to keep beaches healthy. Healthy beaches not only are important to our quality of life but also protect people and property along the coasts from hurricanes and coastal storms."
Sen. Thom Tillis, R-N.C., and Sen. Richard Burr, R-N.C., responded to the funding with a joint announcement Monday.
"Each storm that hits North Carolina takes a toll on our beaches and river basins," Burr said. "After the historic damage inflicted by recent hurricanes, it was clear that more preventive measures needed to be taken to better protect our coastal communities. This additional $281.5 million allocation will do just that. I applaud the Corps of Engineers for investing more than $321 million in North Carolina so we can reduce the impact of future storms."
The senators cosigned a letter with 7th District Rep. David Rouzer in June 2019, asking the Corps to consider the Surf City/North Topsail Beach project. Tillis also contacted the Office of Management and Budget in July asking for disaster relief funds following hurricanes Matthew and Florence and had recommended to the Corps that the Carteret County project be considered, according to Tillis' office.