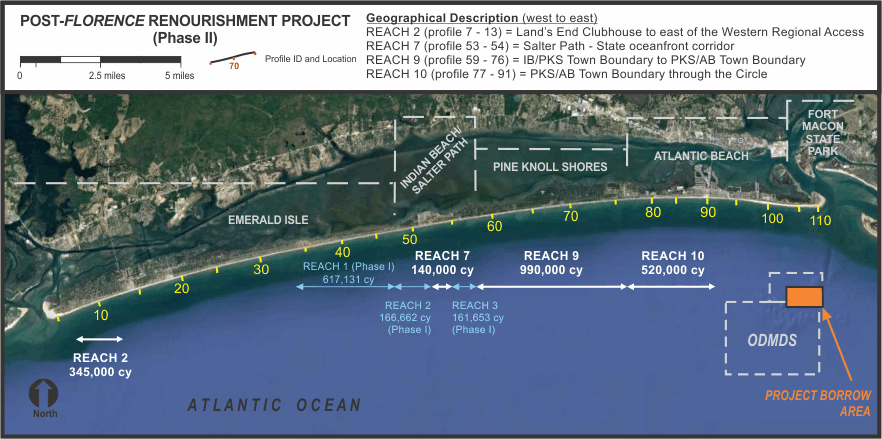 Reprinted from the Carteret County News-Times
EMERALD ISLE — Bogue Banks' next beach nourishment project is ready to roll, with dredging and pumping of sand set to begin the first week of February, a little earlier than originally planned.
Greg Rudolph, manager of the Carteret County Shore Protection Office, met Wednesday with town and county officials, representatives of county beach engineering firm Moffatt & Nichol and dredge contractor, Great Lakes Dredge and Dock Co., of Illinois, for a preconstruction session.
He said everything went well, and "kicked off" the $28.2 million Phase 2 Hurricane Florence sand replacement project in western Atlantic Beach, all of Pine Knoll Shores, a small part of Salter Path and a part of western Emerald Isle.
"The one caveat is that when you hear a date, you have to remember that it's kind of like building a house," he said. "You can know a lot of things, but you can't know, for example, exactly when the electrical contractor is going to show up and wire the master bedroom."
Rudolph said an area at The Circle district in Atlantic Beach will serve as the "main staging area for the land-based pipe that will move the sand east-to-west down the island as it is pumped ashore from the borrow site" in the ocean off the town.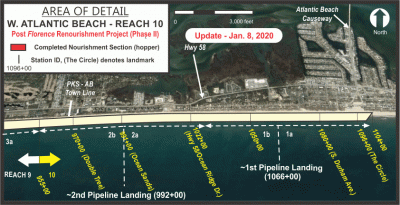 The company's smaller dredge, the Liberty Island, will arrive onsite first and will generally progress and "leapfrog" east to west from Atlantic Beach and continue into Pine Knoll Shores, Rudolph said Thursday.
"At some point in mid-March the larger hopper dredge, the Ellis Island, will relieve the Liberty Island and continue leapfrogging down the beach to finish the effort in west Emerald Isle before the (Thursday) April 30 environmental window closes for the sea turtle nesting season and other biological resources," he added.
Rudolph said Great Lakes should begin mobilizing land- and water-based pipe, heavy equipment and personnel this month.
Once things get underway, the dredges will travel and discharge sand through a buoyed pick-up pipeline offshore that transitions to the preconstruction dry beach via a submerged pipeline assembly, Rudolph said.
 A secondary elbow connection is used to transport material in one direction (east), then the other direction (west) along the beach to complete approximately 1- to 2-mile sections as lengths of pipe are added and subsequently broken down.
Heavy equipment spreads the sand and shapes the constructed beach.
The project will involve 1.995 million cubic yards of sand. Western Emerald Isle, Salter Path, Pine Knoll Shores and western Atlantic Beach will receive 345,000, 140,000, 990,000 and 520,000 cubic yards of sand, respectively, along 9.5 miles of beach.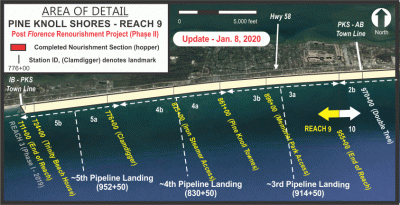 A conventional dump truck holds about 12 cubic yards of wet sand, Rudolph said, so the total sand involved equates to about 167,000 dump truck loads.
The Liberty Island has a maximum capacity of 6,540 cubic yards and the Ellis Island has a capacity of 14,800 cubic yards under optimal conditions.
In a post on the Carteret County Shore Protection Office website, Rudolph added that project engineers will use prepositioned stations along the beach to monitor progress and verify volumes of sand added in those locations.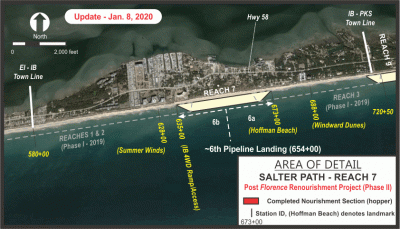 Regarding the financial aspect of the project, the Federal Emergency Management Agency has approved $34 million to reimburse Bogue Banks towns for sand lost during Hurricane Florence in September 2018, and that money will be available if needed to pay for this project when bills come due at completion. Alternately, it could be used in a future project.
The county completed Phase 1 of the Hurricane Florence sand replacement project in April 2019, placing about 1 million cubic yards of sand on beaches in eastern Emerald Isle, most of Salter Path and all of Indian Beach.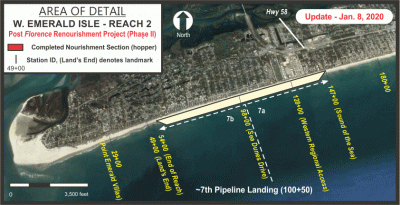 The project to begin in February will be funded largely by about $12 million from the beach nourishment fund, which gets half of the money from the county's occupancy tax, and $15.3 million from $18 million the North Carolina General Assembly set aside last year to help local governments nourish beaches after Hurricane Florence, which robbed Bogue Banks of about 3.6 million cubic yards of sand.
Unlike in the past, the towns will not have to pony up money for the February-through-April project. The towns will, however, reimburse the county for money the county "up-fronted" for the project last year. All that reimbursement money to the county will come from funds reimbursed to the towns by FEMA for the cost of replacing sand lost during Florence.