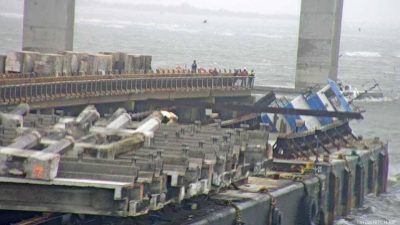 This report has been updated.
The tugboat that struck the Bonner Bridge Sunday is leaking diesel fuel, the Outer Banks Voice reported Wednesday.
The Coast Guard said Monday that it estimated the vessel was carrying about 3,000 gallons of fuel and that the responsible party had deployed measures to contain the leak and was attempting to salvage the vessel.
There were eight people aboard the tugboat, all of whom were returned to shore safely and reported no injuries.
Per sources close to the incident, the tugboat crew was attempting to secure a barge in Oregon Inlet when the vessel ran aground and was subsequently rolled over on its side with the strong surf and currents, according to a report by Island Free Press.