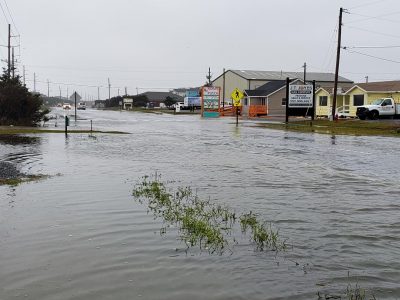 Updated 10:30 a.m. Monday:
State Department of Transportation officials announced Monday morning that sections of N.C. 12 remain closed and they are unsure when it will be safe to reopen the Outer Banks road.
Sections of the Outer Banks road are covered with sand and water due to dune breaches and ocean overwash. NCDOT crews are assessing impacts and are working to clear the road of sand caused by the dune breaches between Rodanthe and Oregon Inlet.
N.C. 12 is still closed after high winds, ocean overwash and wind-blown sand covering sections of the road between the Oregon Inlet and Rodanthe. The last of the storm is forecast to exit coastal North Carolina later today.
NCDOT officials also announced Monday it has resumed operations on four of its coastal ferry routes after having to close all seven ferry routes during the weekend due to strong winds and heavy rain from a powerful storm.
Ocracoke-Swan Quarter, Ocracoke-Cedar Island, Aurora-Bayview, and Cherry Branch-Minnesott Beach resumed Monday. The ferry division is assessing the Hatteras-Ocracoke Silver Lake and Currituck-Knotts Island ferry routes, which could resume operations later Monday. The Southport-Fort Fisher route resumed operations Sunday afternoon.
Original story reprinted from Island Free Press
On Monday morning, standing water and sand remained on portions of N.C. 12 that were affected by ocean overwash with this weekend's nor'easter.
Saltwater and sand were reported in Avon from the Avon Pier to the southern end of the village, in northern Buxton, and in north Rodanthe and Mirlo Beach.
Per a Monday morning update from the National Weather Service Newport/Morehead City office, the threat of minor coastal flooding continues Monday along the Outer Banks, and additional overwash is possible with Monday's high tide cycles. The next high tide is between 11 a.m. and noon.
Water levels on the sound side of Hatteras and Ocracoke Islands were down slightly Monday morning, but minor soundside flooding is still possible through early afternoon.
The low-pressure system off the Mid-Atlantic coast is forecast to continue moving Monday away from the Outer Banks region and lose its influence on the weather for eastern North Carolina.
N.C. 12 was still closed from Rodanthe to Oregon Inlet Monday morning, and state transportation officials were to reassess road conditions Monday and begin clearing the sand and making repairs required to reopen the road.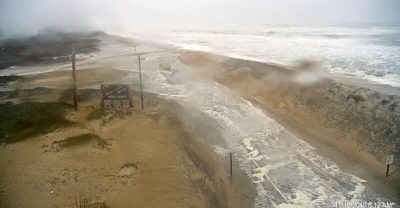 Limited visibility, severe ocean overwash and wind-blown sand prompted the North Carolina Department of Transportation to close the road between Oregon Inlet and Rodanthe at 5 p.m. Saturday.
Significant oceanside flooding was also reported with multiple breaches along the dune line on Ocracoke Island.
Due to weather conditions, Cape Hatteras Elementary School and Cape Hatteras Secondary School were closed for staff and students Monday. All other Dare County schools were on their regular schedule.
A high surf advisory remains in effect until 7 p.m. Monday, and a coastal flood advisory remains in effect until 2 p.m. Monday.
For more information on the local forecast, visit www.weather.gov/mhx for weather information, or the National Weather Service office in Newport/Morehead City's Facebook page.
This story is provided courtesy of the Island Free Press, a digital newspaper covering Hatteras and Ocracoke islands. Coastal Review Online is partnering with the Free Press to provide readers with more environmental and lifestyle stories of interest along our coast.