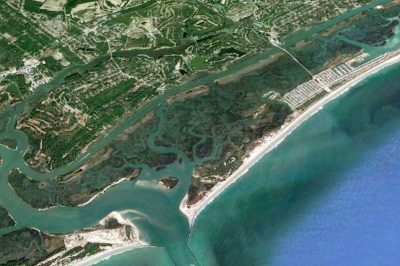 BRUNSWICK COUNTY — The North Carolina Council of State approved Tuesday the planned purchase of 35 acres at the western end of Sunset Beach for $2.45 million, the StarNews reported.
The 35 acres is between the developed section of Sunset Beach and the 1,481-acre Bird Island Reserve, which consist of around 135 upland acres and more than 1,300 acres of marsh, intertidal flats and subtidal area.
The state budgeted in 2018 the around $2.5 million to purchase the property to add to the reserve in Brunswick County, according to a previous report. The state agreed to purchase the land, which was the subject of a protracted legal battle between an area developer and the town. Under the agreement, the parcel is to be kept in its natural state and will be added to the adjacent state-managed Bird Island Reserve.
According to the agenda for the Council of State, the $2.45 million will be paid out to the various owners of the 35 total acres but the town will not receive proceeds from the sale per an agreement, according to the StarNews.
Todd Miller, executive director of the North Carolina Coastal Federation, which has monitored potential development there for years, said the purchase will prevent development of homes that could have been vulnerable to storm surge and erosion.
Learn More