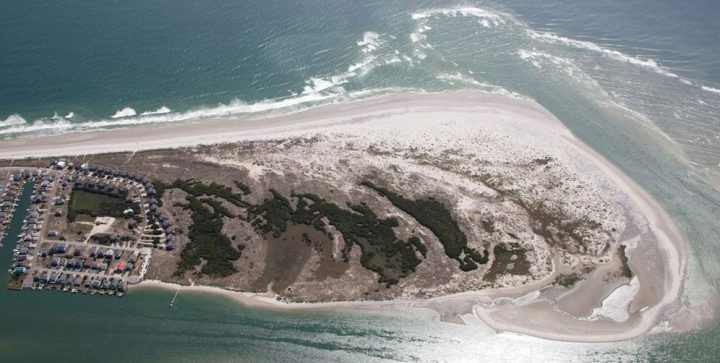 TOPSAIL BEACH – A growing expanse of undeveloped land at the southern tip of Topsail Island is once again on the market, prompting debates and speculation about what could happen to the property if it sells.
The 110-acre tract that stretches from the ocean to New Topsail Inlet to Banks Channel offers stunning, panoramic waterfront views – a potentially high selling point on an end of a barrier island that has consistently been migrating south and gaining ground for decades.
Any developer eyeing the property would have their fair share of hurdles to clear if they wanted to build on the land.
The property is zoned C-4 Conservation District – Inlet Area, which is defined by the town of Topsail Beach as a district designed to preserve and protect areas of environmental concern and identifies land "that is not zoned for residential use."
The land is also within a federally designated Coastal Barrier Resources Act, or CBRA, zone.
While building is allowed in CBRA (pronounced "cobra") zones, the federal government discourages development in these hurricane-prone, biologically rich areas by prohibiting federal subsidies, including national flood insurance and Federal Emergency Management Agency aid. Public utilities that have received federal funding are prohibited from providing service to developments within a CBRA zone. Counties and towns that allow developments in a CBRA zone to tap into public utilities run the risk of being cut off from future federal funding.
Thus was the case a few years ago in Brunswick County when commissioners there reversed an offer to let a proposed development in a CBRA unit at the west end of Sunset Beach tap into the county's public utilities.
County commissioners rescinded their vote to allow a developer to connect to Brunswick County Public Utilities for water and sewer service after receiving a letter from the U.S. Fish and Wildlife Service warning of possible implications for the county if it provided service to the CBRA zone.
Fish and Wildlife officials explained that even establishing connections outside of the CBRA zone and allowing public utilities to travel through private pipes could cause the county to be cut off from receiving future federal funds.
Topsail Beach Town Manager Mike Rose was not available for comment in time for publication of this report.
Town Commissioner Steve Smith said he could not specifically address CBRA restrictions.
"There's a lot of issues in terms of this property being developed. It's actually been on the market several times. I think this is just a cycle."

— Steve Smith, Topsail Beach commissioner
"I know the town would follow all the federal and state guidelines to any property like this," he said. "There's a lot of issues in terms of this property being developed. It's actually been on the market several times. I think this is just a cycle."
The property's unspoiled, sandy shores have been a popular draw for locals and tourists, many of whom are calling out efforts on social media to conserve the land, which has, for years, been on the radar of the North Carolina Coastal Land Trust.
"We made a serious run at acquiring this property almost a decade ago before the real estate recession," said Coastal Land Trust Executive Director Camilla Herlevich. "We never did get it under contract."
Then the recession hit. Grants the trust applied for did not come through. The North Carolina Clean Water Management Trust Fund grant the land trust did receive came in at less than the amount needed to buy the land.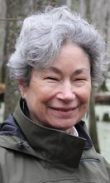 "We are very aware of its conservation values," Herlevich said. "It would make a great conservation property."
But coming up with the money to meet the current asking price of $7.95 million, more than three times its listed tax value of about $2.9 million, would be a real challenge for the nonprofit.
"The price right there is not a price that would be easy to put together," Herlevich said. "That's a lot of money, so we'll just have to wait and see."
The Nature Conservancy's North Carolina chapter is focusing its efforts in the southeastern part of the state protecting and restoring longleaf pine forests as well as ancient cypress trees on the Black River.
"Currently, the Conservancy is not doing acquisitions on the low-lying islands off North Carolina's southern coast," Debbie Crane, the chapter's communications director, said in an email. "With sea level rise, those areas are likely to be inundated in the not-to-distant future. As we evaluate land acquisition going forward, we are managing to a changing coastline. We are actively looking at providing corridors for species to migrate on our coastal plain."
North Carolina Coastal Federation Executive Director Todd Miller said in an email that the federation does not have current plans to attempt to buy the land, "and such an acquisition at this significant price will require a lot of leg work and community support to make happen."
"Such public acquisitions typically take a year or two to undertake, and this one in particular will require a big effort by a lot of collaborating parties to purchase," Miller said. "Major funds have been earmarked in this year's state budget (one the Governor has vetoed) by the N.C. General Assembly to acquire property on Lee and Hutaff Islands just south of this property (the other side of the inlet). There might be a chance that additional acquisition could take place in future years to complement that land that is being protected."
The land is owned by the McLeod Family LLC, according to Pender County property records. Franklin McLeod III of Wake Forest is listed as the principal on company documents on file with the North Carolina Secretary of State's Office. The real estate holding company was formed in October 2008.
The description in the real estate listing publicized late last week describes the property as "a very unique opportunity to purchase one of the last remaining large oceanfront tracts in the region" with more than a mile of water frontage along the ocean, inlet and Banks Channel.
The property description goes on to state that New Topsail Inlet's steady southern migration is significant "because while other beaches have seen trends of erosion, the Subject has considerably increased in size due to the steady and consistent accumulation of sand along the oceanfront and southern boundary."
In March, the North Carolina Coastal Resources Commission approved preliminary boundaries and building rules at inlets.
The proposed updated inlet hazard area, or IHA, includes all of the southernmost end of Topsail Beach. If approved, the IHA at the south end of the island would extend another 170 acres.
The North Carolina Division of Coastal Management recommends that if the inlet continues its southerly migration, the IHA should move with it.