COASTAL NORTH CAROLINA -– Two of the state's aquariums are under new leadership.
The North Carolina Aquariums Division announced Monday that Larry Warner will serve as director for the Roanoke Island location and Liz Baird will oversee the aquarium in Pine Knoll Shores.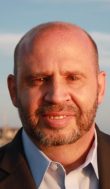 Warner, who has worked in museums and aquariums for 32 years, most recently acted as the director of exhibits for Connecticut's Mystic Aquarium, overseeing the development of numerous conservation-based exhibits. Previously he has served for six years as exhibits curator at the Roanoke Island aquarium, where he was instrumental in the development of several of the aquarium's programs and the aquarium's $6.5 million renovation, completed in 2016.
Warner holds a master's degree from Arizona State University and has served on the honors and awards committee for the Association of Zoos and Aquariums and acted as co-vice chair of evaluation for the Visitor Studies Association Zoo & Aquarium Focus Interest Group.
"It's truly an honor to be returning as director to a facility, a staff, and a community for which I have great respect," Warner said in a statement. "I'm eager to strengthen and forge new community and statewide partnerships for preservation and conservation of aquatic environments while continuing to provide an educationally enriching and quality guest experience."
Warner's arrival follows the departure of Maylon White, who accepted the position of division director for the North Carolina Aquariums in March.
"Larry's familiarity and previous contributions to the North Carolina Aquarium on Roanoke Island, as well as the new perspectives he gained while at Mystic Aquarium, make him a great pick for director," White said. "His experience and knowledge will help us continue our mission and advance the aquarium's goals."
Baird, the new director of the Pine Knoll Shores aquarium, served for 24 years at the state Museum of Natural Sciences and founded national "Take A Child Outside week" program in 2007 to reconnect children and nature and was instrumental in the development and cultivation of the museum's education and outreach program.
"We've had the opportunity to work with Liz on a variety of projects over the years and her experience and partnerships in research will be invaluable to the work the aquariums are currently doing," White added. "Her understanding of dynamic ecosystems from rainforests to reefs and how to share with people of all ages is incredible and make her an excellent fit for the aquarium team."
Baird is a 2010 recipient of the environmental educator of the year from the Environmental Educators of North Carolina and succeeds Hap Fatzinger, who accepted the position of director for the North Carolina Aquarium at Fort Fisher in December.
"This is like coming home," Baird said in a statement.  "I have grown up going to and camping at Salter Path. It was here that I grew a love for the coastal region."
Baird has a bachelor's degree from Salem College and a master's science education from North Carolina State University. She serves as an adjunct professor for Johns Hopkins University in addition to her work at the museum.