A webinar at 1 p.m. July 16 will show how to navigate an online mapping tool that helps visualize a community's exposure to coastal flood hazards.
Registration for the National Oceanic and Atmospheric Administration's Using Flood Exposure Maps Live Session is required and can be done online.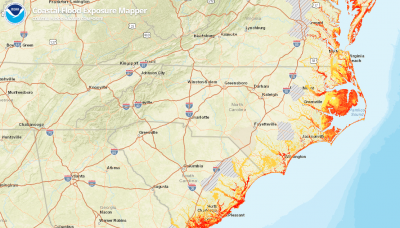 Guest speaker Alex Rosen, floodplain management specialist with the Washington Department of Ecology, will provide during the 40-minute webinar real-world examples of how to use the flood exposure maps and how to engage stakeholders in understanding local flood risks and improve coastal resilience, according to a release.
The Coastal Flood Exposure Mapper is an online visualization tool that helps communities assess coastal hazard risks and vulnerabilities.
"The tool creates a collection of user-defined maps that show the people, places, and natural resources exposed to coastal flooding," per the NOAA website. "The maps can be saved, downloaded or shared to communicate flood exposure and potential impacts. In addition, the tool provides guidance for using these maps to engage community members and stakeholders."
The webinar is intended for planners, emergency managers, city officials, community activists, those with coastal commercial and industry interests or those who wants to use maps to engage stakeholders.
Attendees can receive one hour of certification maintenance credit through the American Institute of Certified Planners.