WILMINGTON – The University of North Carolina Wilmington has announced leadership changes ahead of the new academic year, including top marine science and research posts.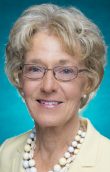 UNCW Provost Marilyn Sheerer announced the new appointments Tuesday as part of a message that also included that she would be returning to the university faculty next summer, a step she had planned to take after serving in the provost role for five years.
Sheerer announced that Stuart Borrett was named associate provost for research and innovation, effective immediately. Borrett had served as interim associate provost for research and president of the nonprofit UNCW Research Foundation since last year.
In his new role, Borrett will be UNCW's chief research officer, assisting the university leadership in developing, coordinating and growing research activities. He will also oversee the Center for Innovation and Entrepreneurship.

"He came to UNCW in 2007 and brings to his new role a record of academic research accomplishments and leadership experience, as well as enthusiasm for helping UNCW continue to build its research capacity," Sheerer said in the announcement.
Graduate School Dean Chris Finelli is to take on additional duties as executive director of marine sciences, overseeing the Center for Marine Science, the Shellfish Research Hatchery and Marine Biotechnology in North Carolina, or MARBIONC, UNCW's research- and development-based economic development program on the Myrtle Grove campus, as well as the finfish mariculture center on Wrightsville Beach. Finelli is a former chair of the Department of Biology and Marine Biology and a former interim chair of Mathematics and Statistics. His appointment is effective Aug. 1.
Lynn Leonard is to serve as director of the Center for Marine Science, effective Aug. 1. Leonard is former chair of the Department of Earth and Ocean Sciences and succeeds Martin Posey, who is to return to the faculty to devote more time to teaching and research after three and half years as director.
Senior Associate Provost Rich Ogle is to become interim dean of the College of Arts and Sciences, effective Aug. 1, succeeding Dean Volety who has taken on a role at Elon University.
Christine Pesetski was named interim director of University College, where she has served as associate director since 2018. She is to work with Associate Vice Chancellor and Dean of Undergraduate Studies Paul Townend while the university conducts a search for a new director.
Also, Campus Space Planner Woody Sutton is set to retire after nearly 30 years at UNCW. His role included the challenging task of finding space on campus to relocate faculty and staff who were displaced by Hurricane Florence.
The university is to begin national searches for a provost and a dean of the College of Arts and Sciences this fall.