George Bonner will take over leadership of the North Carolina Renewable Ocean Energy Program starting Aug. 1, East Carolina University's Integrated Coastal Programs and the Coastal Studies Institute, or CSI, announced Wednesday.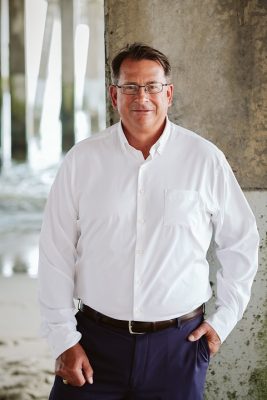 As director of the program, Bonner will be responsible for integrated research, education, training and outreach efforts in the area of ocean renewable energy, working in conjunction with the CSI executive director and the program's technical advisory board to revisit and implement the programs strategic plan and vision.
"We are excited to have Mr. Bonner lead the North Carolina Renewable Ocean Energy Program as we enter this next stage of growth in our research on renewable ocean energy for the State of North Carolina. Bonner's proven leadership and experience working across many coastal systems will be a valuable asset to the program, NC State, ECU and CSI,"  Reide Corbett, CSI and Dean of ECU's Integrated Coastal Programs executive director, said in a statement.
Bonner, a Roanoke Island native, has 30 years experience as an officer and civil engineer in the U.S. Coast Guard. Most recently, he served as the Coast Guard deputy director of operational logistics, supervising the mission support headquarters in Norfolk, Virginia, and was responsible for the Coast Guard's overall mission support and logistics.
"Throughout my 30 year Coast Guard career, I have strived to support our motto of Semper Paratus. I am thrilled to return home to Roanoke Island and the opportunity to work with the NC State, ECU, and the Coastal Studies Institute team in the emerging renewable ocean energy sector to help our state and nation remain Always Ready!" Bonner said in a statement.
The program, supported by state legislature since it began in 2010, is led by CSI with the colleges of engineering at North Carolina State University, North Carolina A&T, University of North Carolina Charlotte and East Carolina University, and includes a range of scientists, students and industry professionals whose work focuses on various aspects of marine hydrokinetic power generation. The position is filled in partnership with the Department of Civil, Construction, and Environmental Engineering at North Carolina State University and is at CSI on ECU's Outer Banks Campus in Wanchese.
"With rapidly expanding application of renewable ocean solutions to meet energy demands across the world, I'm excited with this role in advancing industry-leading research across the UNC System and promoting sustainable solutions to best serve our economy, national security, and environment," Bonner said.