When it comes to burgers, forget lettuce, tomato, pickles and onion. "All the way" is code for something completely different in eastern North Carolina.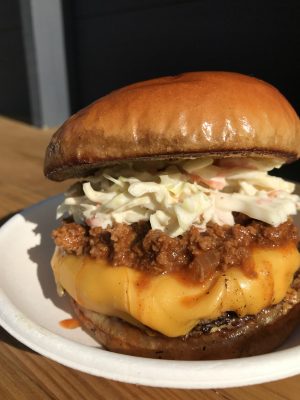 Ask for a burger all the way around this part of the state and you're bound to get the beef loaded down with chili, onions, coleslaw and yellow mustard. Cheese is optional.
What the rest of the country calls a "Carolina burger" is what North Carolinians east of Interstate 95 know as a burger all the way. You can get them west of I-95, too, but, like barbecue, they just don't seem to taste as good in that direction. Maybe it's just me.
How the All The Way came to be is rooted in the first chili burger served in the 1920s at Ptomaine Tommy's, a Los Angles restaurant in business from 1919 to 1958. As for the coleslaw, it's been on the menu at North Carolina barbecue restaurants from the beginning. Understandably, someone figured it would work on spicy chili burgers, too. Onions and mustard added the perfect zing.
The best All The Ways come wrapped in white paper. They're a little squashed, wonderfully messy and normally leave a tasty smear of beef-fat gloss on your lips. Look for them at old grills and drive-ins in small towns and along country roads. Soak up the nostalgia while you wait and have cash in hand. Cards usually aren't accepted, as the burgers mostly cost less than $5. Arrive early, too. Many places close by 3 p.m.
Melvins'
133 W Broad St., Elizabethtown, 910-862-2763
Bring cash and take your place in the usually long but always fast-moving line before closing time at 5:30 p.m. Everyone goes to Melvins'. It's often the first stop vacationers make on their way to the beach or White Lake. The same chili recipe used since opening day in 1938 goes on griddle-pressed burgers made with beef ground in-house daily. You could add cheese to the chili, slaw, mustard and onions, but that wouldn't be a Melvins' classic.
Wards Grill
706 S. Madison St., Whiteville, 910-642-2004
Opened in 1947, Ward's is a Whiteville institution so popular that service starts at 7 a.m., and folks line up even though there's no place to sit. You might have to wait outside the door until it's your turn to fit inside. Don't dally when you're up. The clerk and cook maintain a speedy rhythm you don't want to upset. The burgers are always thick, always juicy, and you may ask for extra-chili. Just be quick about it. The shop closes when burgers sell out.
Cain's Grill
10120 N.C. Highway 53 West, White Oak, 910-866-4185
Hand-pattied burgers aren't cooked until you place your order, which means you may have to wait, which is OK at this friendly, off-the-grid spot open since 1964. Fans have been known to drive from as far away as Fayetteville for a Cain's All The Way. Plenty of chili and plenty of slaw go on top. Some folks like to add a splash of Texas Pete hot sauce. Closing time is 3 p.m.
Dixie Drive-In Restaurant
1930 E. 5th St., Lumberton, 910-738-8118
Although carhops come to vehicles, you're welcome to sit inside. Choose the counter and watch cooks work the griddle and fryers. The misshapen burgers are supposed to look that way. Hand-pattied, they're deliciously imperfect but flawlessly charred right down to some slightly crispy edges. Battered fries cut in-house are as good as the burgers. Sweet tea or a Pepsi is what eastern North Carolinians normally pair with their Carolina burgers, but at this spot, open since 1963, many people go for an old-fashioned cherry Mountain Dew. Closing time is 2 p.m. Wednesday and 4 p.m. Saturday, otherwise Dixie is open until 8 or 9 p.m.
Lane's Ferry Food Truck
For six years, Lane's Ferry restaurant was housed in a 1930s-era general store on Cape Fear River in Rocky Point until Hurricane Florence floods in 2018. Owners continue to serve burgers, dogs and sandwiches from a truck that make stops in Rocky Point and Hampstead. The double cheeseburger Carolina-style is smothered in cheese. Chili and finely chopped slaw are both housemade.
George's Grille
2394 U.S. 13 North, Goldsboro
Since 1972, this super-friendly, true mom-and-pop shop has been a favorite of locals and truck drivers. Order at the window and happily head down the road with your All The Way. Always check the hours at the grill's Facebook page. Lately, George's is only open until 2:30 p.m. Wednesday-Saturday.
The Kitchen Palate
1007 N. Fourth St., Wilmington, on Instagram @thekitchenpalate
When the chef can get his hands on top-quality local beef, a Carolina burger is on the menu at this food truck completely hidden behind Palate Bottle Shop & Reserve wine bar in downtown's Brooklyn Arts District. The thick patty is six-napkins-needed juicy, completely cloaked in American cheese, smothered with chili and loaded with slaw.
El's Drive-In
3706 Arendell St., Morehead City, 252-726-3002, elsdrivein.com
Locals are so loyal to this drive-in opened in 1959 that they crave The Famous SuperBurger and The Famous SuperBurger with Cheese. That's what El's calls its Carolina-style burgers. Each version gets a dose of noticeably sweet, housemade slaw. Servers still come to cars to take orders until 10 p.m., 11 on Friday and Saturday. The wait can be long. Consider it a chance to remember when the delay meant more time to hang with your friends and make eyes across the parking lot at the girl or guy of your teen-age dreams.
Art's Place Bar & Grille
4624 N. Virginia Dare Trail, Kitty Hawk, 252-261-3233, artsplaceobx.com
Beef is ground fresh on-site at this joint opened in 1978. The place changed hands in 2008, but the new owner was a regular and friend of the founder, who guided a smooth transition. Homemade chili goes on the half-pound, hand-pattied Carolina burger with American cheese. As the burger menu says, "Please, no substitutions." Closing time is 9 p.m.