PINE KNOLL SHORES – The North Carolina Aquarium here is set to open July 4 its "Eagle Landing" exhibit, a habitat for two flightless bald eagles, Uwohali and Shagoie Watha.
The aquarium is providing the two eagles, which officials said are unable to fly and would not survive in the wild, a permanent home and lifelong care in a 3,000-square-foot space with large perches and a rock pond designed by aquarium staff.
The aquarium staff worked with the North Carolina Commission of Indian Affairs and North Carolina's tribes to create a short list of names for each bird. Fans of the aquarium on Facebook were offered the chance to vote for the names in March. Naming is a part of the care and training of each bird because it helps build relationships between trainer and bird, fosters respect and awareness for the animal and creates a connection with visitors, officials said.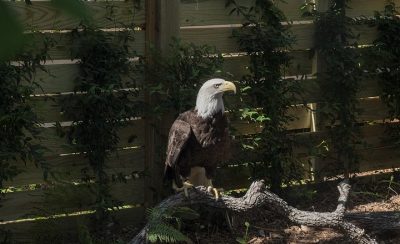 A juvenile, Uwohali came to the aquarium from the Cape Fear Raptor Center in Rocky Point. Both of her wings were amputated near the wrist after being electrocuted by what staff believe was an encounter with power lines. Her name, which means "one who soars with the creator," comes from the Meherrin Indian Tribe and is pronounced "oo-woe-hah-lee."
Shagoie Watha, an adult female who came to the aquarium from TreeHouse Wildlife Center in Dow, Illinois, had her left wing amputated just below the elbow after being found with an irreparable injury. Her name, which means "one who causes an awakening," comes from the Meherrin Indian Tribe and is pronounced "Sha-go-ee-yay Wa-ta."
"I have wanted to work with eagles in any capacity my entire life," Amanda Goble, the aquariums' aviculturist who has worked with birds for more than 10 years, said in a statement. "This is truly a childhood dream. Being able to care for them and work with them every day is a huge responsibility and a complete honor."
The habitat was initially set to to open Memorial Day but was delayed due to the ongoing effects of Hurricane Florence.
"It is a trickle-down effect. Materials and labor were hard to get into place after the hurricane," said Clint Taylor, aquarium curator, in a statement. "Although the habitat was completed by Memorial Day, we also needed time to allow the birds to acclimate to their new environment. Moving the habitat opening date was the best thing to do for the welfare of animals in our care."