RALEIGH – Comments on the community mapping system with environmental justice tool can be submitted through July 10 to the North Carolina Department of Environmental Quality.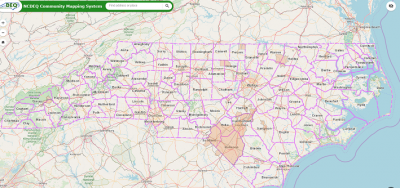 Public feedback will help DEQ improve the next version of the mapping system that provides communities with up-to-date information for future planning.
Comments can be made by email to ej@ncdenr.gov, online survey or  by mail to N.C. Department of Environmental Quality, Attn: Renee Kramer,  217 West Jones St., 1646 Mail Service Center, Raleigh, NC 27699-1646.
The beta release of the mapping system intended to increase outreach and public participation was in May during the Secretary's Environmental Justice and Equity Advisory Board's fourth meeting.
The system has existing data from DEQ divisions along with census data, other geographic and socioeconomic data collected by federal or academic institutions, and health data provided by the N.C. Department of Health and Human Services. The system also includes more state-specific information, such as state tribal layers and environmental permits, providing a complementary screening tool to the U.S. Environmental Protection Agency's EJSCREEN. New data layers will be added as they become available, according to the website.