YOUR NATIONAL PARKS – Last year, more than 3.5 million visited five National Park Service lands on the North Carolina coast.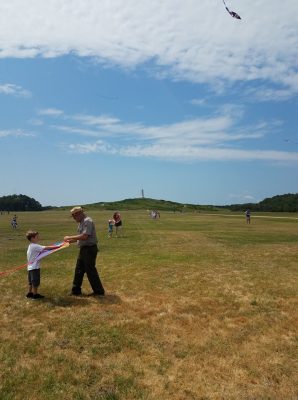 Cape Hatteras National Seashore, Fort Raleigh National Historic Site, Wright Brothers National Memorial, Cape Lookout National Seashore and Moores Creek National Battlefield visitors spent more than $225 million in the communities within 60 miles of the parks, with a cumulative benefit to the local economies of about $280 million, according to a newly released National Park Service report. The five parks make up National Parks of Eastern North Carolina.
The state's national parks had 18.1 million visitors, who spent an estimated $1.3 billion during their visit, supported 206,000 jobs, $660 million in labor income, which includes wages, salaries and payroll benefits. North Carolina national park lands were the fourth most visited in the country in 2018, behind California, Alaska and Arizona, in that order.
Countrywide, there were 318 million National Park Service visitors who spent around $20.2 billion, supporting 329,000 jobs, $13.6 billion in labor income, and $40.1 billion in economic output, which is the total estimated value of the production of goods and services supported by National Park Service visitor spending, according to the website.
In total, the more than 300 million visited the 419 areas within the National Park System, which covers more than 84 million acres, and spent an estimated $20.2 billion in the communities near the parks. Total visitor spending estimates increased by 11% in 2018 compared to 2017.
"Visitation to national parks, in 2018, exceeded 300 million visits for the fourth year in a row," BG Horvat, Cape Lookout National Seashore chief park ranger told Coastal Review Online.
"With over 318 million visits, it's the third highest recreation visitation total since record keeping began in 1904. With at least one NPS unit located in every state, parks of the national park system are easily accessible and affordable places," he continued. "Over the past five years, there's been approximately 1.6 billion recreational visits to the parks. The demand for folks to enjoy their national parks seems to still be very appealing, especially for an affordable experience."
Economists Catherine Cullinane Thomas and Egan Cornachione of the U.S. Geological Survey and Lynne Koontz of the National Park Service conducted the peer-reviewed visitor spending analysis, according to a release from the National Park Service. An online interactive tool allows users to view data trends by year, explore visitor spending, jobs, labor income, value-added and output effects by sector for national, state and local economies.
Moores Creek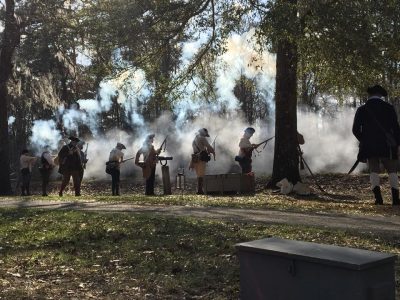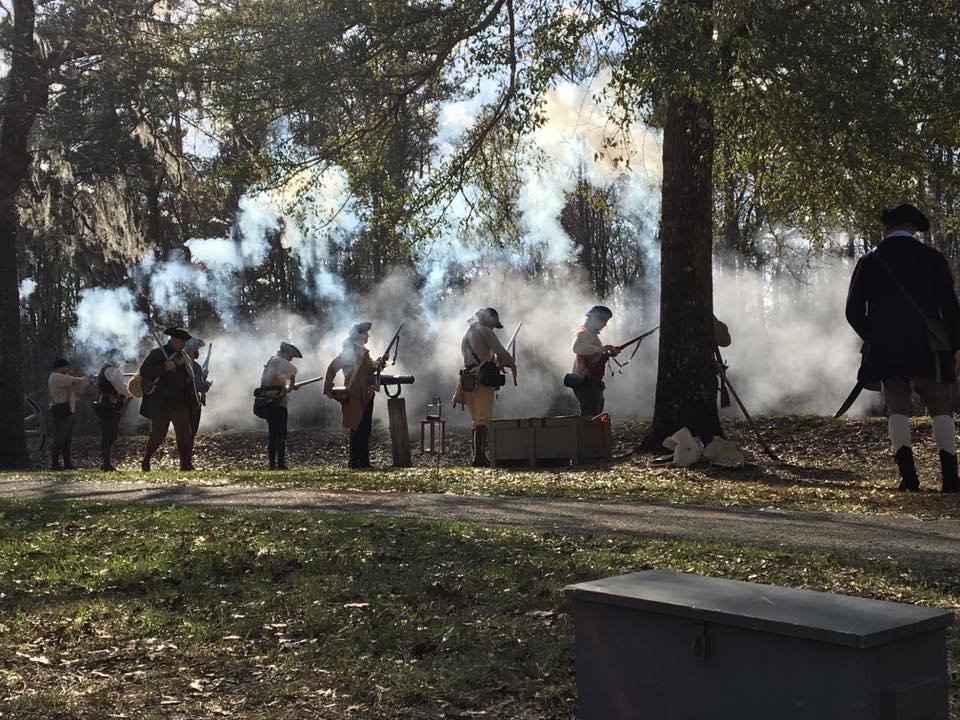 Southeastern North Carolina's Moores Creek National Battlefield, where the Battle on Moores Creek Bridge took place in Feb. 27, 1776, brought in 58,531 visitors last year who spent $3.8 million supporting 52 jobs and a cumulative benefit to the state economy of $4.5 million.
The battle between Loyalists and Patriots ended with the Loyalists surrendering and putting an end to the colony being regained for the British crown. The park regularly hosts reenactments of the battle and other events in order to share the park's Revolutionary War history with visitors.
"Many local businesses see impacts from park visitors," said Superintendent Matthew Woods about Moores Creek National Battlefield, located in rural western Pender County on the edge of the Black River basin and swamps, about 20 minutes from downtown Wilmington.
The community is considered low-socioeconomic status and the demographics of the community are diverse, with larger percentages of migrant and African American residents than in eastern Pender County, Woods explained.
Of the total of $3.8 million spent in the area, $1.3 million went to lodging, $750,000 to area restaurants, $260,000 to groceries, $552,000 on fuel, $365,000 in retail and $286,000 on recreation, according to the report.
"There are only two restaurants and gas stations within 10 miles of the park and many visitors stop at these sites and bring money into the community. The same goes for the many corner convenience stores," Woods said. "Several birding, kayaking and tour groups utilize the natural parts of the park for their businesses. The park has kayak and canoe access to Moores Creek and the Black River and many watersport enthusiasts and businesses take advantage of this."
Moores Creek draws in visitors thanks in part to the efforts of Pender County Tourism, which promotes the park via brochures, billboards, social media and highway signs, with weekly beach visitors being the primary intended audience. Visitors to New Hanover and Brunswick counties often head out to the park as well.
In addition to the efforts of the county tourism, the National Park Service and its park partner nonprofit organization, Eastern National, have several national programs that bring visitors from across the country to the area, including Eastern National's Passport to Your National Parks passport stamp program.
"Every National Park site has a stamp and visitors love to visit these parks and record their visits. For Moores Creek National Battlefield, it is estimated that nearly 25-33% of all visitors to the park come for this reason," he said.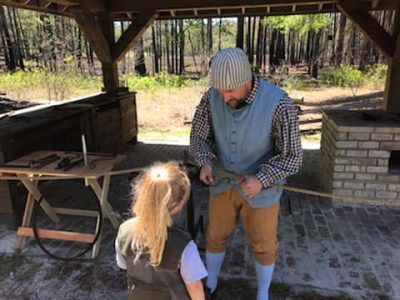 With larger parks like Grand Canyon or Yellowstone, you visit the park for the story and experiences and then get your stamp but with parks like Moores Creek, you visit the park for the stamp, and then learn the story. "These passes bring visitors off of I-95 as they are passing through North Carolina or from Myrtle Beach as they are visiting the coast on vacations."
Every National Park has a Junior Ranger Program, an educational program targeting youth and their families that also brings in visitors.
"Visitors who complete these programs receive a Junior Ranger badge and other items from that park. Many families target National Parks during their travels," he said. "We recently had two teenagers who recently completed every Junior Ranger Program in the National Park Service and had over 600 badges from state and federal sites. As you can see, this 88-acre historic battlefield draws visitors from all over, thus bringing many tourists from outside the region and state to western Pender County and the Cape Fear Region."
Another draw for the battlefield is that it is one of few designated green spaces in western Pender County.
"Many locals use the park for what it is – a park. Daily, we see walkers, joggers and four-legged visitors," Woods said, adding that families use the park and its two pavilions for family reunions, weddings, birthday parties, group outings, picnics and other gatherings.
"On just about any Saturday, this area is full of visitors from the community, the region and beyond who are here to enjoy family experiences," he said.
The park, which has a campsite for Boy Scouts, Girl Scouts and Trail Life, sees about 1,000 campers each year, and the military uses the Moores Creek battle as an educational resource for troops from nearby bases. More than 2,000 military personnel come through the park on scheduled guided tours and staff rides yearly.
The park has an active volunteer corps of about 25 with volunteers for special events reaching close to 300 volunteers annually. Volunteers contribute an average of 7,000 hours annually in support of the park.
Cape Lookout
At more than two hours away in central North Carolina, Cape Lookout National Seashore in Carteret County is the closest national park to Moores Creek National Battlefield.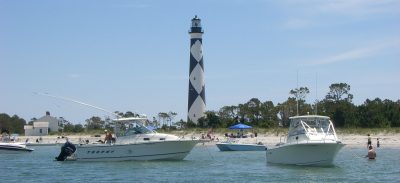 Cape Lookout, with its 56 miles of undeveloped beach, is home to the historic Portsmouth Village, Cape Lookout Lighthouse, Shackleford Banks horses and is only accessible by boat.
The park rangers provide year-round programs to introduce visitors to the natural barrier island ecosystem making up the national seashore and its history
Cape Lookout National Seashore had 408,399 visitors last year spend $18.8 million, supporting 262 jobs with a cumulative benefit to the economy of $20.3 million.
Of the $18.8 million spent, $5.4 million was on lodging, $4.2 million was in restaurants, $2.7 million was at grocery stores, $2.7 million was on fuel, $1.5 million was in retail shops and $1.3 million was on recreation.
Cape Hatteras
Cape Hatteras National Seashore, which includes the Ocracoke and Bodie Island light stations, saw its highest visitation numbers in 15 years.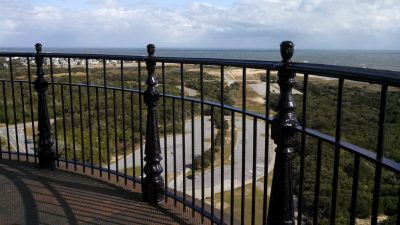 "Based on the upward trend in visitation at Cape Hatteras National Seashore over the last five years, it appears that demand is increasing," Mike Barber, public affairs specialist, said in an interview. "In 2018, Cape Hatteras National Seashore had 2,591,056 visitors, which is almost 440,000 more visitors than the seashore had in 2014."
Cape Hatteras visitors spent $166 million, supporting 2,397 jobs with a cumulative benefit to the area's economy of $208 million. Of the total $166 million spent, $57.1 million went to lodging, $32.7 million to area restaurants, $11.6 million on groceries, $24.3 million on fuel, $16.1 million in retail and $12.5 million on recreation. The cumulative benefit to the state economy was $208.4 million.
Also on the Outer Banks are Fort Raleigh National Historic Site in Manteo and the Wright Brothers National Memorial is in Kill Devil Hills.
The Fort Raleigh National Historic Site, home to the long-running "Lost Colony" outdoor drama, had 261,199 visitors who spent $15.4 million in the surrounding communities, supporting 231 jobs and cumulative benefit to the local economy of $19.7 million. Of the total $15.4 million spent, $4.8 million went to lodging, $3.6 million to area restaurants, $871,000 in groceries, $2 million on fuel, $1.8 million in retail and $1.4 million on recreation.
The Wright Brothers National Memorial had 360,669 visitors spend $21.3 million, supporting 319 jobs with a cumulative benefit to the local economy of $27.4 million. Of the total $21.3 million spent, $6.7 million went to lodging, $4.9 million was spent in area restaurants, $1.2 million on groceries, $2.8 million on fuel, $2.5 million in retail stores and $1.9 million on recreation.