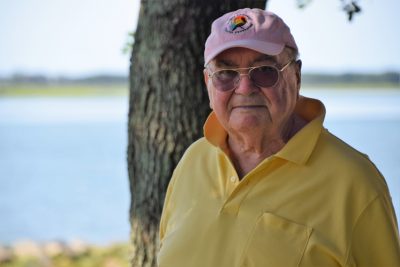 RALEIGH –Former longtime president of the North Carolina Coastal Federation board of directors, the late Dick Bierly was awarded posthumously the Jane Sharp Lifetime Achievement Award by the North Carolina League of Conservation Voters.
The award was presented along with others during the Green Tie Awards Wednesday at the Marbles Kids Museum.
The ceremony was hosted by the nonpartisan organization with the goal "to protect, preserve, and enhance the quality of life for North Carolina citizens," according to website. Held each spring, the annual Green Tie Awards honor environmental champions who have stepped up and spoken out on our issues at the General Assembly and in the public.
The Jane Sharp Award is given to an individual who has made extraordinary contributions to the environmental movement. This is the league's highest award and not awarded annually. A Republican, Bierly was a fierce advocate for coastal conservation who believed that environmental protection is also good for tourism and business, according to the announcement.

University of North Carolina Chapel Hill marine scientist Pete Peterson and NC Policy Watch journalist Lisa Sorg received Catalyst Awards. Peterson has been leading for decades coastal science research. Sorg is an environmental investigative reporter. The Catalyst Award is presented to someone who has taken exceptional action to create change or to bring attention to an important environmental issues.
Other award winners include Representative of the Year, Rep. Robert Reives, D-Chatham, and Senator of the Year, Sen. Valerie Foushee, D-Chatham. This Green Tie award acknowledges legislators that sponsor and pass sound environmental legislation, are proactive on environmental issues, and have a notable environmental record.
Rep. Darren Jackson, D-Wake, will accept the Defender of the Environment Award. This award recognizes legislators who not only are a strong and consistent voice for the environment, but who are willing to take a stand against bad environmental legislation and the well-heeled pollution lobby, or defend communities against environmental degradation.
"These three legislators are long-time champions on environmental issues. We are excited to recognize their leadership," said Carrie Clark, NCLCV Executive Director in a statement.