CAPE LOOKOUT NATIONAL SEASHORE — Comments must be received by Monday regarding the U.S. Coast Guard's proposal to remove aids to navigation in Barden Inlet, a federally mandated channel that is the main access to the national park only accessible by boat.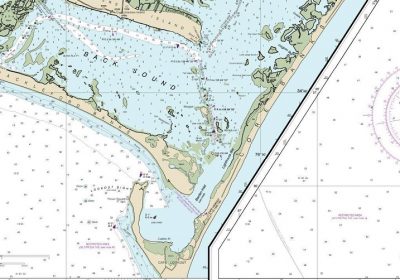 According to an April 25 announcement by Cape Lookout, because of the shoaling between Barden Inlet buoy 8 and light 35, the Coast Guard is proposing to permanently discontinue 21 aids to navigation, which are most of the remaining markers in the area.
This proposal would affect National Park Service authorized ferry and tour services that provide transportation to over 120,000 visitors, and about 100,000 recreational boat visitors.
"Captain's licensed by the U.S. Coast Guard would be operating in 'non-navigable channels' and would be subject to loss of their license should there be any kind of accident involving a ferry or tour service. In a recent meeting the U.S. Coast Guard suggested this proposal would also affect insurance rates for companies operating in the area," the announcement continued. "Our authorized passenger ferry service to Cape Lookout Lighthouse and Shackleford Banks has suggested that if this happens, they would have no choice but to discontinue service to the park."
The seashore is trying to secure funding to dredge Barden Inlet, and are coordinating efforts with Carteret County, the U.S. Army Corp of Engineers, and North Carolina state offices to make it happen, officials wrote in an update to the post.
"Keeping the channel open and maintaining the buoys is critical for commercial and recreational users and also for the park – both for visitation and park operations."
Interested Mariners and other stakeholders are encouraged to comment on the potential impacts this proposal would have on navigational safety.
Provide feedback using the U. S. Coast Guard Fifth District Waterway Data Sheet, available online. Send comments to CGD5Waterways@uscg.mil or by mail to U.S. Coast Guard Fifth District, Waterways Management (dpw), 431 Crawford St., Room 100 Portsmouth, VA 23704. Attn: Ethan Coble. Refer to project number 05-19-029(D) when making comments.