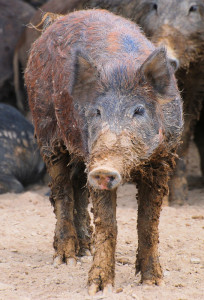 RALEIGH — The Currituck Banks Reserve will be closed April 8-12 while feral swine, an invasive and destructive species, are removed and their damage surveyed.
The state Division of Coastal Management is closing the reserve for the U.S. Department of Agriculture Wildlife Services program to conduct the aerial wildlife damage management operation for feral swine on lands north of Corolla, the state Department of Environmental Quality announced Wednesday.
All activities are to be performed in collaboration with reserve personnel, local law enforcement and other participating landowners, DEQ said.
"Feral swine pollute and degrade water quality, reduce forest regeneration, and kill or displace many kinds of native wildlife," according to the department. "They compete with native wildlife for resources, specifically food, habitat and water. Feral swine also prey directly on the nests, eggs, and young of native ground nesting birds and reptiles."
This operation is not taking place during regular public feral swine hunting season, which is from the beginning of September through the end of March. To hunt feral swine at Currituck Banks Reserve during season, hunters must hold a valid state Wildlife Resources Commission hunting license and a permit from the reserve. More details can be found on the Currituck Banks Reserve website.
Currituck Banks Reserve is a component of the state Coastal Reserve & National Estuarine Research Reserve, a program of DEQ's Division of Coastal Management. The reserve is a network of 10 protected sites and protects more than 44,000 acres of estuarine land and water.
Wildlife Services is a program in the USDA's Animal and Plant Health Inspection Service. The mission of Wildlife Services is to provide federal leadership and expertise to resolve wildlife conflicts to allow people and wildlife to coexist. Wildlife Services works collaboratively with numerous federal, state, local and private partners to reduce damage caused by invasive feral swine.