WASHINGTON, D.C. – The Environmental Protection Agency has significantly weakened a proposed standard for per- and polyfluorinated substances, or PFAS, in groundwater, the New York Times reported.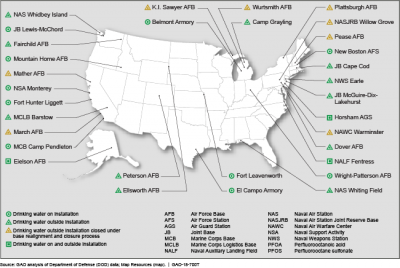 The EPA bowed to pressure from the Defense Department because PFAS is an ingredient in firefighting foam used at military bases.
The EPA on Thursday released standards that did not include a previously proposed section dealing with short-term response, or removal actions, to address "immediate threats posed by hazardous waste sites."
The Defense Department had spent about $200 million on PFAS investigations and response as of December 2016 and identified 401 installations with known or potential releases of these chemicals.
The military had taken actions including providing alternative drinking water to nearby residents at 32 locations as of August 2017. While no North Carolina bases appeared to be included in that list, the Navy has sampled water from 258 private wells near Marine Corps Outlying Landing Field Atlantic in Carteret County
Atlantic Field has been in operation since 1942 and supports training operations for nearby Marine Corps Air Station Cherry Point. There's no documentation that aircraft firefighting foam that could have included PFAS was used, disposed of, or stored at Atlantic Field, two wells sampled exceeded existing EPA standards for PFAS as of March 2018. Both property owners were offered alternate drinking water delivery "until a suitable long-term solution is determined," according to the Navy.
Navy sampling for PFAS in groundwater dates back to a 2014 policy.
The EPA on Thursday opened a 45-day public comment period on the proposed guidelines.
According to the Times report, the Pentagon had complained to the White House about the EPA rule as originally proposed, which had included a standard contamination level of 400 parts per trillion for two kinds of PFAS that could require immediate action. The revised proposal deals instead with longer-term remediation.