WASHINGTON, D.C. – The Environmental Protection Agency has updated a 2008 guide for helping communities create disaster debris management plans to include lessons learned from more recent hurricane seasons.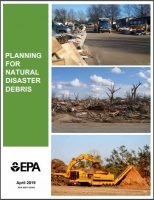 The 2019 "Planning for Natural Disaster Debris" guidance is an update to the version EPA published in March 2008 and aimed to help cities, counties, territories and tribes create their own plans, which EPA said it strongly encourages.
The 150-page guide focuses on planning for natural disaster debris before a disaster occurs and increasing community preparedness and resiliency. It uses as a case study what EPA calls successful collaborative planning between federal, state and local governments to address waterway debris along Florida's coastline.
The collaboration with the National Oceanic and Atmospheric Administration's Marine Debris Program led to development of the Florida Marine Debris Emergency Response Guide, which was meant to help improve preparedness for response and recovery operations following an acute waterway debris incident on Florida's Gulf or Atlantic coast.
"Since its development, the guide has been heavily utilized by state and federal government responders," EPA said in a press release.
According to the new federal guide, the effects that community resiliency, climate change adaptation and hazard mitigation efforts have on disaster debris management have been incorporated in the latest version, which also puts a heavier emphasis on preliminary and preplanning efforts related to natural disaster debris management than the 2008 version. Communities at increased risk from natural disasters due to climate change are among those the EPA said may benefit from the guidance.
"With climate change expected to increase the frequency and intensity of some natural disasters, many communities are going beyond resilience to anticipate, plan, and prepare for the impacts of extreme weather events," according to the document.
The climate change-related aspects of the guide are at odds with the Trump administration's – and EPA Administrator Andrew Wheeler's – rhetoric, the Washington Post reported.
The new guide includes information on the following:
Recommended components of a debris management plan.
Suggested management options for various natural disaster debris streams.
A collection of case studies that highlights how several communities prepared for and managed debris generated by recent natural disasters.
Resources to consult in planning for natural disasters.
EPA's recommended preincident planning process to help prepare communities for effective disaster debris management.
EPA said it had integrated lessons learned from the 2017 hurricane seasons into the new document.