CHESAPEAKE, Va. –  Dredging of the Dismal Swamp Canal, which starts in Southeastern Virginia and ends in Northeastern North Carolina, is expected to begin early next week and should be complete in early April.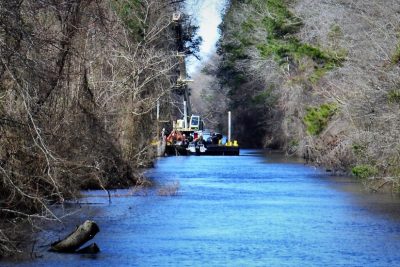 The U.S. Army Corps of Engineers announced Tuesday that the Norfolk District will manage the maintenance project that is about a year ahead of schedule because of residual from the 2016 Hurricane Matthew.
The project is "an effort to eliminate shoaling while enhancing safe navigation and local commercial interests," according to the release.
The Dismal Swamp Canal, along with the Albemarle and Chesapeake Canal, are alternative routes along the Atlantic Intracoastal Waterway between the Chesapeake Bay and Albemarle Sound, according to the Corps.
The 22-mile Dismal Swamp Canal runs parallel to U.S. 17 starting in Chesapeake, Virginia. The canal receives water from a feeder ditch connected to Lake Drummond, and runs from Deep Creek, Virginia, to South Mills, North Carolina. Material often collects at the intersection of the canal and ditch entrance.
"That decreases the maintained depth to less than the 6 feet required for safe navigation," Joel Scussel, Norfolk District's Atlantic Intracoastal Waterway project manager, said in a statement. "The Dismal Swamp Canal is authorized to a depth of 9 feet, but we maintain to a depth of 6 feet because of limited commercial traffic there. The area where we are dredging has a high shoaling rate, so we are actually dredging to 10 feet. That way, we don't end up dredging every year."
He added that the Dismal Swamp Canal was last dredged in 2015. Maintenance dredging of the canal usually takes place every five years, but Hurricane Matthew deposited a large amount of material in the canal, forcing the Corps to dredge sooner. He anticipates about 30,000 cubic yards of shoaling will be removed.
The Corps tries to dredge this time of year because there's fewer boats using the canal, Scussel said. "The vessels that use the canal do have an economic impact to Elizabeth City, North Carolina."
Petersen Companies Inc. out of Minocqua, Wisconsin, was awarded the $845,000 contract, which includes almost $300,000 in upland placement-site repairs that started at the end of January.
Questions or concerns about this project can be referred to the USACE Norfolk District Public Affairs Office at 757-201-7606.